Vol. XXI, No. 5, May 2021
---
---
The return to in-person dining and foodyism
The diners returning to restaurants and entertainment venues where the food is an anchor attraction, such as eatertainment centers, will not be the same diners that came before the pandemic. The pandemic experience has changed them and their tastes and preferences.
While people are waiting for the pandemic to end, they have not lost their love of food and drink. They've been watching food shows on Netflix, YouTube, and elsewhere. They were reading their favorite food blogs. They were drooling over pretty pictures of food porn on social media. And perhaps most importantly, they were cooking more at home, researching family recipes, experimenting with global flavors, and buying more food and beverage products from local producers. In other words, they were focusing on their culinary cultures more than ever.
During the pandemic, people turned to comfort foods for emotional relief. When they return to dining out, comfort foods or their traditional restaurant favorites may be their initial choices. Dataessential, a menu consultancy, predicts that those diners will eventually, after several visits, progress back to their former foodie mindset. Their culinary explorations during the pandemic are likely to raise their food expectations higher than before Covid.

Meanwhile, nearly six in ten diners (58%) say they are already bored with all the comfort foods they've been eating at home. Most will be seeking new adventurous foods on their initial visits (71%).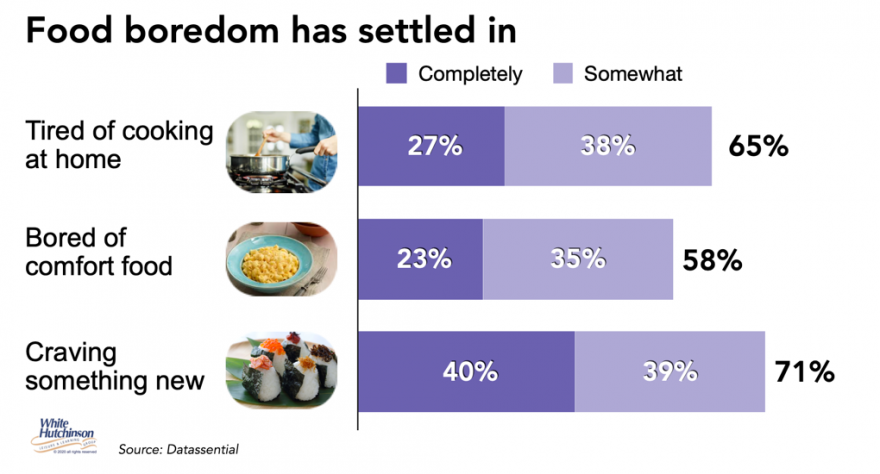 The pandemic also saw nearly half of people (48%) take their health more seriously. 86% of those say they will continue to do the same going forward. Part of the increased focus on health is healthful eating. The Hartman Group, a consultancy for food and beverage brands, found that 44% of consumers say they are eating healthier during the pandemic. They also found that over half of all consumers (54%), and 63% of those 50+, cared more about the healthfulness of their food and beverage choices in 2020 than previously.
Dataessential's research found that healthful eating is the top attribute people are looking forward to when dining out, just slightly ahead of that initial desire to continue eating comfort foods.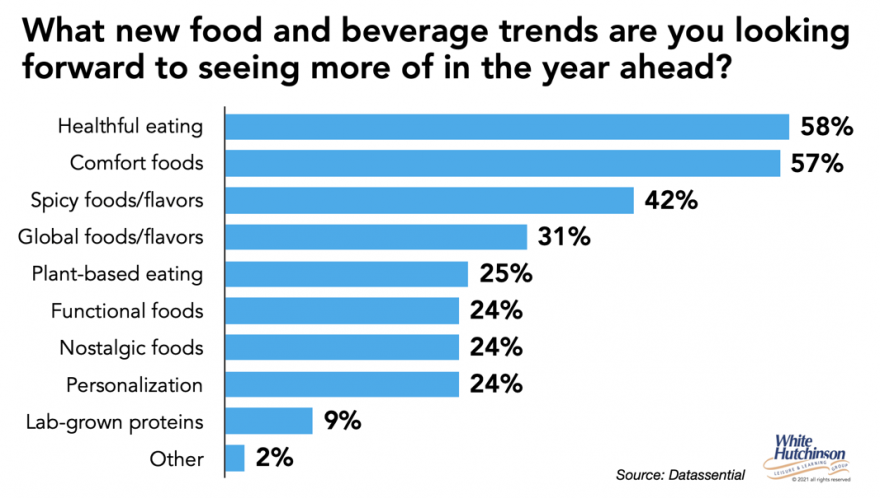 Among The Hartman Group's "Top 10 Food Trends of 2021" was that nearly half of consumers would like more functional foods to manage stress and anxiety and boost their immunity. (Functional foods are foods that have a positive effect on health beyond basic nutrition.)
Datassential says, "Over half of consumers say they want to find immune-boosting ingredients at every place they go out to eat, according to our data, while 48% say they want to find them in everything they eat, including places you wouldn't expect to find them, like burgers, burritos, and pizza. As... concerns about future pandemics and food-borne illnesses continue to be top-of-mind for consumers, expect immune-boosting foods and ingredients from around the world to play an even bigger role on menus and in products in 2021 and beyond. Global superfoods continue to be in demand, driven by consumer interest in natural products and the mindset that these ingredients have been in use in cultures for thousands of years."
Diners' preferences are now different. In addition to the return of foodyism, their preference for healthful and functional foods and beverages has become a new norm.
Vol. XXI, No. 5, May 2021
---
---