Vol. XXI, No. 4, April 2021
---
---
The long-term stickiness of home nesting and the Fourth Place
During the pandemic, people have been rebuilding their entire lifestyles around their homes. People have been home nesting - spending on things that facilitate their lives at home, such as home remodeling, furniture, gyms, electronics, backyards, kitchen equipment, and gardens. Homes became a multiverse where various activities such as working, eating, playing, and connecting with family and friends take place.
A long-term stickiness of home nesting has emerged as the time and money people invested in their homes has paid off with positive experiences. The investments people made to their homes during the pandemic will drive continued elevated levels of commitment, both among higher-income households who made the most investments in things like home offices, gyms, and other upgrades, as well as low-income households who purchased low-cost at-home alternatives such as digital entertainment equipment and services.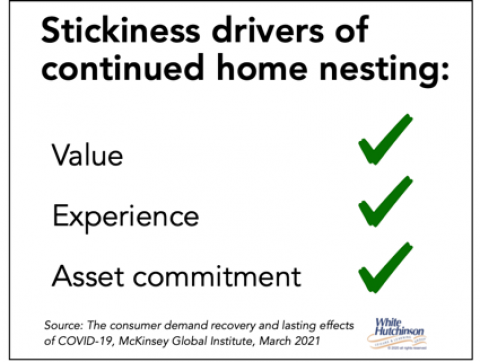 In March, a report by the McKinsey Global Institute found home nesting should continue post-pandemic due to the value and positive experiences people had staying home and their commitment to their investment in home improvements and home entertainment equipment.
Stay-at-home meant playing and socializing at home. It taught people new things about how they like to socialize and entertain. The vast majority of people (75%) learned that they prefer to do them at home or at friends' homes versus going out to bars, restaurants, or nightclubs as they did in the past.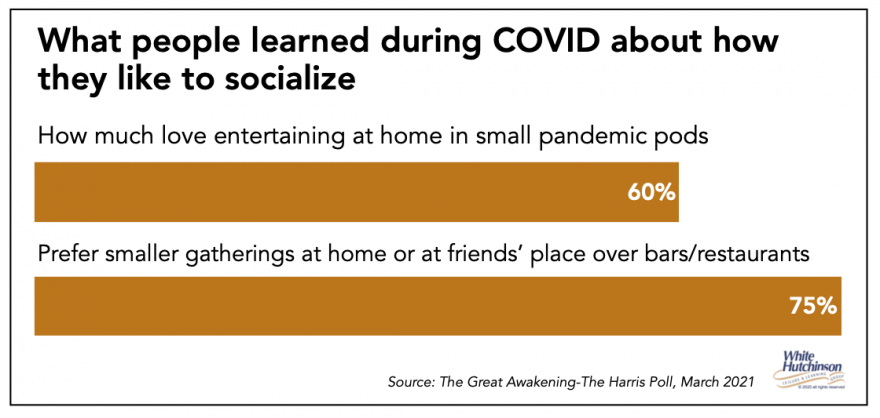 Nearly half of adults (48%) report that post-pandemic, they'll prefer staying home and having friends over or going to house parties with friends vs. going out to restaurants, bars, or nightclubs. This preference holds true across the generations.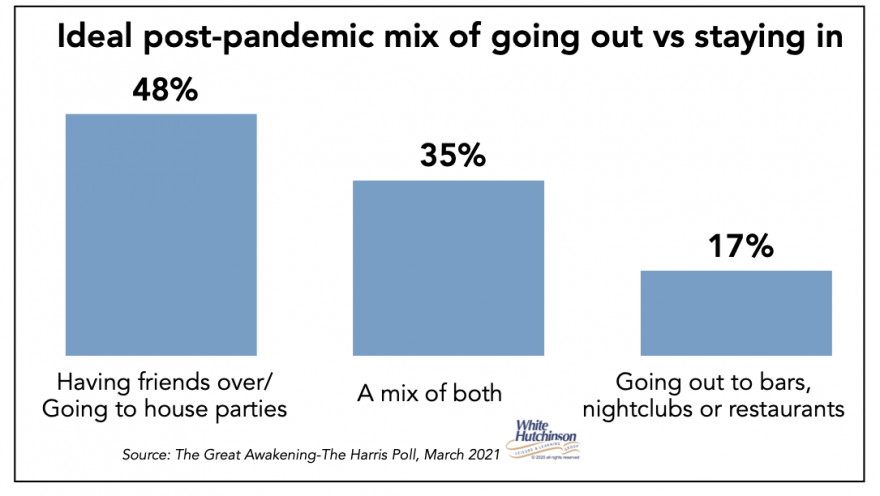 The pandemic has been going on so long, over a year now, that many people have lost interest in many previous out-of-home activities. A Morning Consult mid-March poll found that about one-third of adults report they are not excited about going to a concert, amusement park, museum, or the movies when the pandemic is over, and the economy has fully reopened.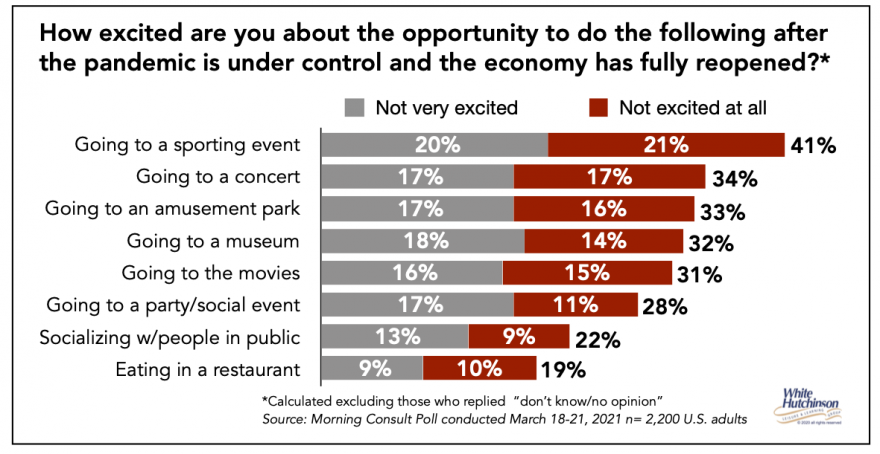 Recent polling by Sense360 found a post-pandemic net decrease in the number of people who will eat in person at restaurants or go to public events compared to how often they did pre-Covid.

Similarly, research by Deloitte suggests that for the majority of people, the habits they've formedduring the pandemic will stick with them, resulting in a post-pandemic net decline in dining at restaurants (-12%) and going to in-person events (-16%).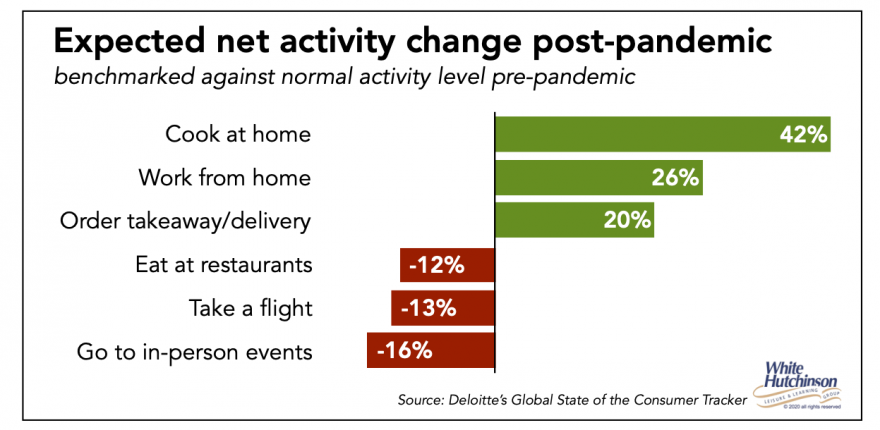 A 4th-quarter 2020 survey by TiVo found the difference between the percent of people who said they expected to do less of an activity and the percent who said they would do more was nearly a one-quarter decline. In other words, there will be a net decrease in the frequency of people going to the cinema, eating in a restaurant, or going to a concert or the theater.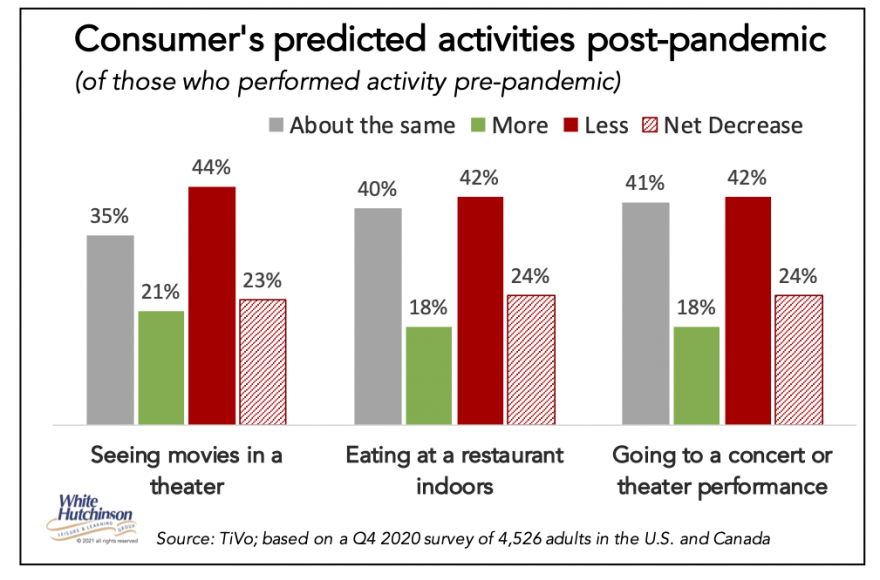 It appears the pandemic has created a lasting acceleration of the long-term trend of people staying home. Research by Impacts Experience found a continual increase over the past decade in the percent of people who prefer to stay home on the weekends when most out-of-home leisure and entertainment activities take place, growing from 37.7% in 2011 to 49% in 2019, and peaking at 53.4% in Q3 2020.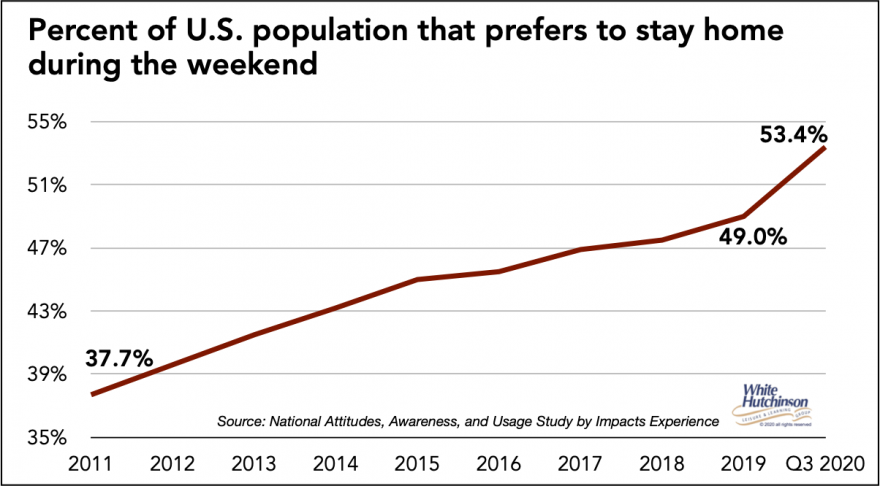 Data from the American Time Use Survey verifies the home nesting trend. ATUS data shows that over the past 15 years through 2019, Americans have, on average, increased their awake time spent at home by 16 minutes per day. This translates into an annual increase of 6.4 days' worth of awake time (averages 15 hours and 10 minutes a day) since 2004. People are also sleeping 14 minutes more per day, increasing the average time at home to 30 minutes every day.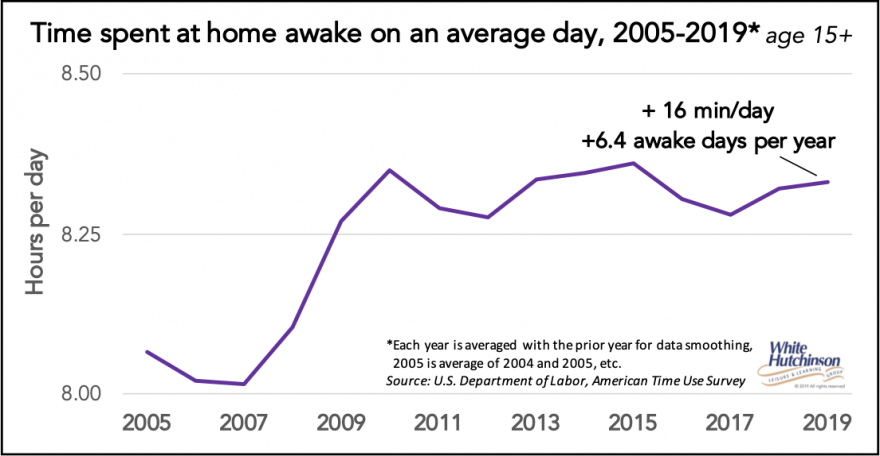 As a result, people spent one half-hour less time each day away from home in 2019 compared to 2004.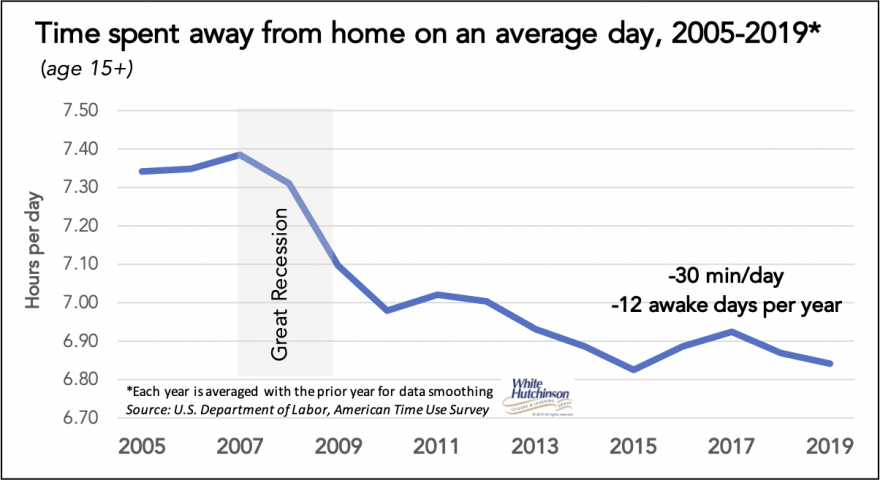 There are many other names for this trend, including home-basing, hometainment, cocooning, bunkering, hygge, and digital-hiving. Regardless of what name you give it, time at home has been on a gradual increase for decades. All indications are that Covid has accelerated the trend, resulting in a future where less time is spent away from home participating in many out-of-home leisure, social, and entertainment experiences.
Home nesting drove the adoption of the Fourth Place
The pandemic forced Americans in a matter of just months to collectively swap the physical for the digital world, accelerating the migration of entertainment and socialization from the real to the digital world. Rapid advances in digital technology options facilitated this shift. We were forced into digital engagement for socialization, shopping, restaurant delivery, health, and entertainment. This included increased digital engagement by digital natives and increased use by digital immigrants, people who had previously not been digitally engaged or were only minimally so. As consumers spent on home entertainment electronics, gaming, and streaming services, and because of the upfront investment and a largely positive consumer experience from them, at-home entertainment is likely to stick. Increased digital hardware sales during the pandemic indicate the impact of Covid'19 on consumer entertainment behavior in the near term. They will prime the industry for future growth by expanding the console-owning consumer base for future game releases and by other electronic equipment for other digital options.
The forced rapid adoption of at-home digital engagement has led to the growth of the Fourth Place. In his 1989 book, The Great Good Place, Ray Oldenburg identified three different places where people spend their time - 1stPlace home, 2ndPlace work, and 3rdPlaces. Third Places are the informal out-of-home places where people gather between home and work to socialize in the pleasures of good company and with lively conversation. They include bars, cafes, coffee shops, hair salons, community centers, clubs, many entertainment venues, and other hangouts of everyday social and leisure life.
Third Places are in the real world. We were stuck in one place during most of the pandemic - home - without access to 3rdPlaces. So, we've tried to recreate many of those activities and their social experiences that used to sustain us with online digital technology. This included tours of museums, virtual concert attendance, Zoom wine tastings, dinners online, book clubs, games nights out, virtual watch parties of movies and video content, playing video games with friends, etc. All these digital activities that attempt to recreate Third Place social leisure activities while stuck at home are an entirely new category of occasion and experience that Trajectory in the U.K. has identified as the Fourth Place - a digital space that attempts to recreate real-world leisure and socialization. The pandemic has driven the adoption of the Fourth Place.
4thPlaces are not the same as 3rdPlaces. They change it. Socializing in Fourth Places is very different than socializing in the real world. Trajectory identified five essential characteristics of Fourth Places.
One of the most significant differences and attributes of Fourth Places is they eliminate the need for a common physical locality. There is no difference if you are socializing with someone across the street or on the other side of the world. They greatly expand the group of people you can have simultaneous social and entertainment experiences with. Whereas at 3rd Places anyone can come in, Fourth Places can be closed to only a curated group of people. Another big difference is you can be anonymous in a Fourth Place, pretending some identity, so no one knows who you are.
All Fourth Places are virtual social experiences that create digital communities and include:
1. Watch parties - simultaneously watching T.V., movies, or live sports while communicating via text, audio, or video chat.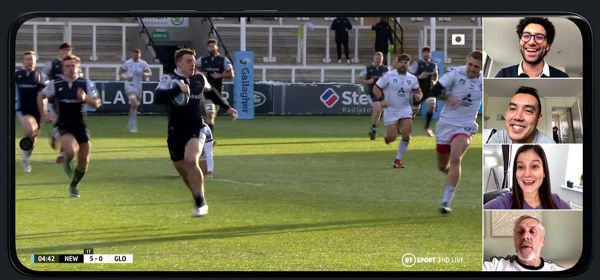 A BT Sport virtual watch party
2. Sharing exercise - simultaneously sharing workouts/exercise while using at-home exercise equipment or participating in an exercise class.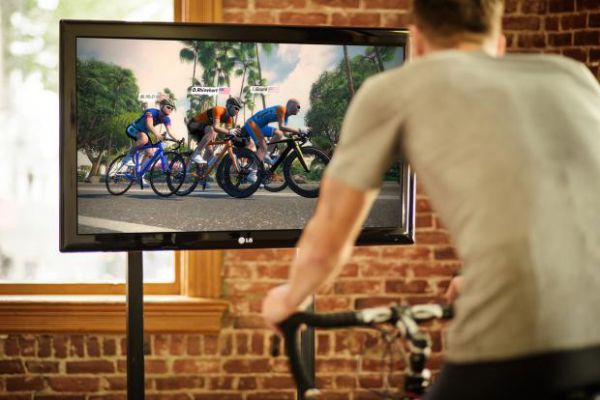 Zwift, an esports platform for virtually cycling
alongside other people from the comfort of your
home, powered last year's virtual Tour de France.
3. Games - this can vary from playing scrabble over Zoom to playing video games. Video games have evolved from just games into social platforms for a newfound way to stay in touch with people and make new friends. There are now social simulation games such as Animal Crossing: New Horizons . Video games such as Fortnighthosted concerts and talk shows. In many respects, the gaming aspect became secondary to a place where people could connect and spend time together in a Fourth Places.
4. Cultural experiences - everything from museum tours to wine tasting to virtual audiences at theater performances.
5. Conversation - from video chat on Zoom to virtual coffee hours, happy hours, to book clubs.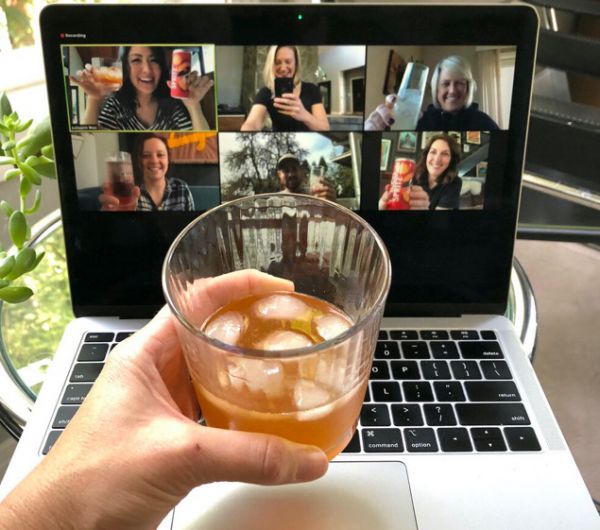 The Zoomification of happy hour
4thPlaces as alternatives to IRL 3rdPlace experiences have many advantages. No need to get dressed - attend in your P.J.s. No need to spend time traveling to a location. No lines to the restroom at virtual concerts. Opportunities to expand your network of friends to people you would never have traveled to be with due to their distant geographic locations.
Trajectory also found that after the pandemic, slightly more than one-half of Brits would like to keep using video calls to stay in touch with family and friends, and the same percentage would like to spend more nights at home. Six in ten (61%) would like to continue the slower pace of life they experienced during the pandemic. There was no wide variation by generation in the percent wanting to continue video calls or spend more nights at home. However, when it comes to continuing a slower pace of life, Gen X showed the greatest desire, with two-thirds desiring it (67%).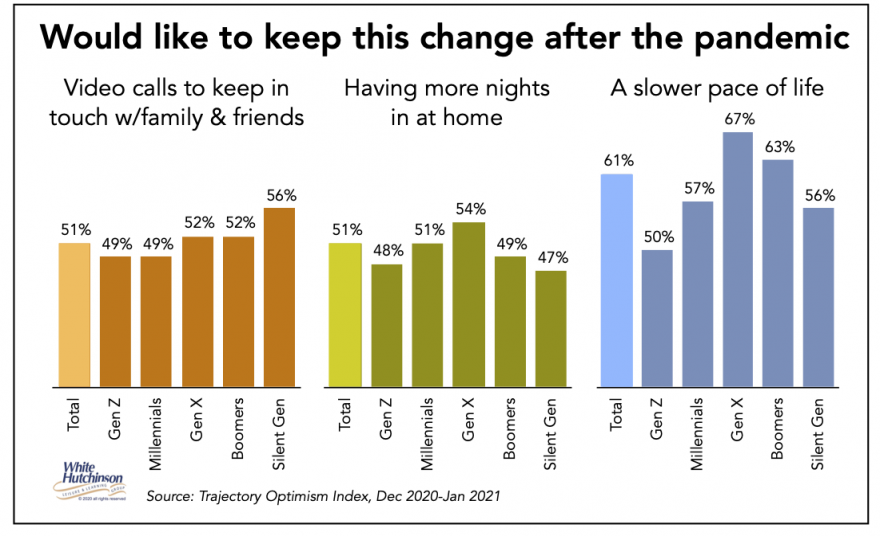 During the pandemic, Fourth Places became the new normal for many people. Trajectory's Dec 2020-Jan 2021 survey found that nearly six in 10 adults (59%) have done at least one Fourth Place experience. Research by SuperData, a Nielsen company, found that roughly one in four Americans (27%) used video games as a way to stay in touch with other people in 2020. A Four Loko survey found that over half of adults (55%) have joined a virtual happy hour for an average of 55 minutes with friends, and 39% plan to continue virtual happy hours after the coronavirus ends. Other surveys in the U.S. have found similar long-term adoption rates for Fourth Place experiences.
So many people will be continuing their pandemic-acquired Fourth Place virtual routines because they have become habits. One of the best predictors of forming a permanent habit is the frequency that we engage in the activity. Many of the Fourth Place activities were done almost daily. Other criteria for developing the habit of making Fourth Place participation permanent are:
Another possible factor is that virtually mediated socialization is safer and less stressful than in-person conversation. We've gotten comfortable being alone together, and many people are now threatened by the prospect of returning to in-person socialization. A very recent YouGov survey found that more than four in 10 people (42%) are nervous about returning to in-person socialization, with the highest users of digital technology, young adults, the most nervous at 57%, and the lowest-tech users, age 55+, the least nervous at 32%.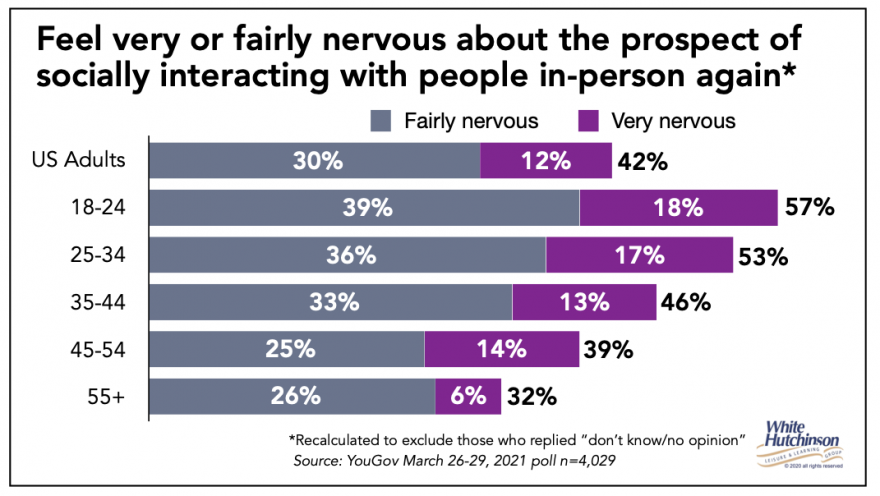 The Fourth Place is a social experience mediated by a flat screen. Trajectory predicts that digital social places will evolve alongside technology into a new digital social space category that will be even more immersive and appealing. It could be the 5thPlace, a VR-enabled, virtually mediated world, an immersive, shared virtual space that's permanently online and active that you visit and participate in as an avatar. It will have its own economy, complete with jobs, shopping areas, and media. Unlike looking at a 2-dimensional screen, it will be a virtual reality world you enter into. It will have presence, making it closer in that dimension of experience to a real-world 3rdPlace, possibly recreating some 3rdPlace experiences.
BigScreenVRis one example of an early-stage 5thPlace. It replicates our offline behaviors with VR-enabled trips to the cinema, rocket launches, and sporting events where you and your family or friends attend as avatars.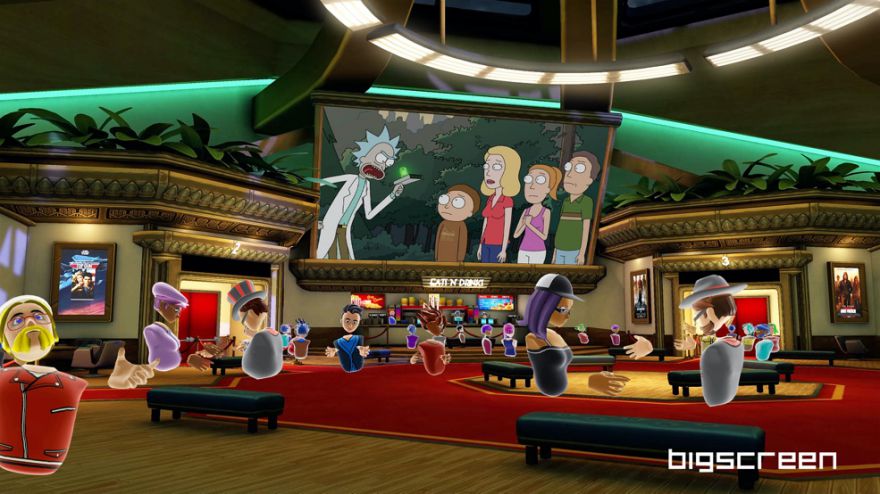 Although developed for the enterprise market, Microsoft Meshis showing where the 5thPlace might be headed. It is a mixed reality (M.R.) program that allows V.R. and A.R. collaboration via multiple brands of goggles/glasses. It melds digital objects with the real world. You feel like you're in the same place with someone sharing content, or you can teleport and be present with people via A.R. even when you're not physically together, what Microsoft calls "Holoportation." Microsoft is aiming to go beyond having us be avatars and turn us into actual holograms. Here's the link to a short video explaining it.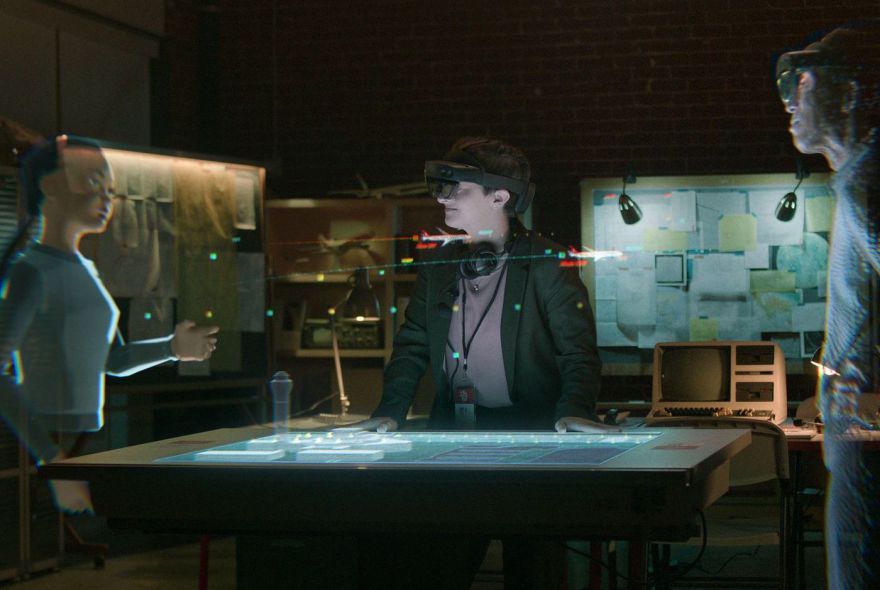 Holoportation via Microsoft Mesh
We now have two distinct and very different social spaces and one evolving model that facilitate social interactions.

Implications
The Covid-19 pandemic has irreversibly altered our habits and our lifestyles. During the pandemic, we rebuilt our entire lifestyles around our homes. For decades, our homes have been becoming more comfortable, and we've been spending increasingly more time there. Now, with the growing option of spending time home nesting in the Fourth Place, the appeal of staying at home is only growing. The arrival of more and advanced Fourth Place options, and soon the 5thPlace, will only make time in our homes even more appealing. Even if just some of our increases in home nesting and experiencing socially-shared Fourth Places stick and continues after the pandemic is long gone, it will have a considerable impact on our participation in out-of-home social leisure and entertainment. They will be squeezed by the increased and growing attractiveness of a night in at home.
Vol. XXI, No. 4, April 2021
---
---