Vol. XIX, No. 9, October 2019
---
---
Video games a force for sustainable social change; it's time for CLVs & FECs to join
Home video gaming is going green. Some 21 of the biggest names in the video games industry, with a combined audience of 970 million players, have committed to harnessing the power of their platforms to take action in response to climate change. The companies including those behind PlayStation, Xbox, Angry Birds, Minecraft, Pokémon Go, Twitch and others made the pledge to the United Nations to increase their efforts to fight climate change and get their throngs of users involved in the effort as well.
Their promises range from planting trees to reducing plastic packaging, from making game devices more energy-efficient, device recycling and incorporating environmental themes into the games. Their commitments will help reduce CO2 emissions by 30 million tons by 2030.
"I believe games and gamers can be a force for social change and would love to see our global community unite to help our planet to survive and thrive," Sony Interactive Entertainment CEO Jim Ryan said at the U.N. General Assembly gathering of world leaders.
It's interesting, actually shameful, that major players in the video game industry are taking action to fight climate change while we see little effort coming from the location-based entertainment (LBE) industry, especially from all different types of family entertainment centers (FEC), including bowling-based and eatertainment type centers. None of the big chains including Main Event, Dave & Buster's, Chuck E. Cheese's*, Punch Bowl Social, Bowlero and Top Golf have announced any substantial sustainability efforts. Nor do we see it coming from smaller chains and independents nor from the attraction and game suppliers to the industries with rare exception.
It appears that the Ocean5 and Table 47 project our company designed and produced unfortunately continues to stand out as the leader in the location-based entertainment center industry on fighting climate change. It was awarded LEED Silver Certification. It's the world's first eatertainment project and the first with laser tag to earn a LEED certification as well as the first project with bowling to receive a Silver certification or higher. Among the LEED recognized features designed into the project are its heating and cooling system operated by 72 geothermal wells that total 3.6 miles in length and its locally-sourced wood décor which was harvested within 200 miles of the project. Environmental sustainability was a major focus for other design elements as well including:
As a result of all its sustainability features, the building is 40% more efficient than a typical building. The energy saved is equivalent to what 36 typical homes use.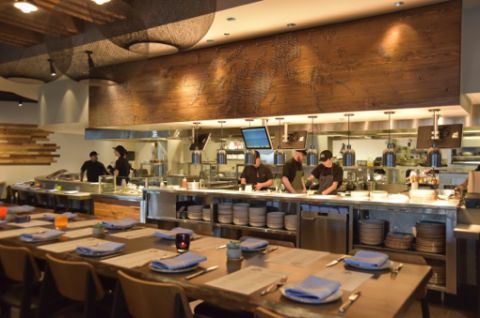 The separately branded Table 47 sea- & farm-to-table restaurant focuses on local, sustainable ingredients and the minimization of food waste. In addition to seasonal sourcing from as many local farmers, ranchers and fisherman as possible, the bar follows sustainable practices by sourcing alcohol based on three criteria - local, sustainable and taste. As a result, many of the big-name spirit brands will not be found here, but rather equal or better tasting ones from local and sustainable producers.
The environmentally responsible center was inspired by Troy Alstead's, the owner and former COO of Starbucks, love of the oceans and desire to help preserve them and the life they support. Kudos to Troy for being a visionary in the industry and making the investment in a showpiece sustainable eatertainment center.
Our company is in the initial phases of working on another eatertainment project that will be sustainable and feature farm-to-table food and drink.
Sustainable practices are not only good for the planet, but also for business. Global warming is becoming increasingly prevalent in social consciousness and impacting consumers' purchasing decisions. A September 2018 report by JWT Intelligence found the likelihood that people were more likely to buy if a company is sustainable was 59% for restaurants and bars and 53% for leisure and entertainment venues. Studies show that the percentages are even higher for millennials than the overall general population. There are many other studies showing that mindful consumers prefer to affiliate with environmentally responsible companies and brands. Sustainability can be a deciding factor for consumers. A company's sustainability efforts can be the decision breaker if all other choices are equal.
It's time for community leisure centers (CLVs) of all types including family entertainment centers, eatertainment, bowling, laser tag and others to do the right thing and join what is now a worldwide movement to become sustainably responsible.
* CEC Entertainment, Inc. that owns Chuck E. Cheese's, was awarded the annual Environmental Sustainability Award by EnTouch Controls in 2015, but we couldn't find any other more current record of any sustainability efforts by them since then.
Vol. XIX, No. 9, October 2019
---
---