Vol. XIX, No. 9, October 2019
---
---
Fast growing plant-forward flexitarian trend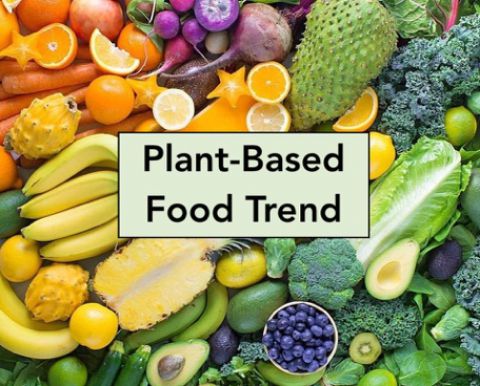 The plant-forward trend to eat more plant-based food is not being driven by vegetarians or vegans, but rather by meat-eaters looking to reduce the amount of animal protein they eat. Melanie Bartelme, an analyst at Mintel puts it this way, "For the majority of consumers, it's not abandonment [of animal products], it's a 'sometimes swap.'"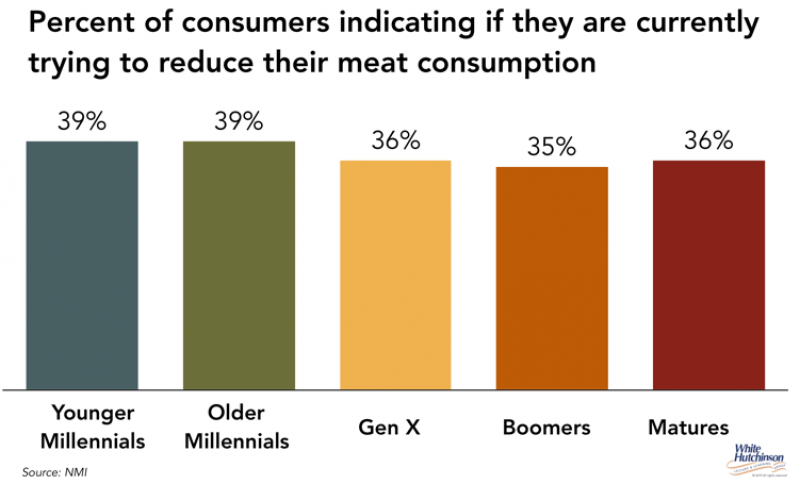 This has spurred what is called the "flexitarian" approach to eating, where meat is not eliminated from the diet, but rather consumed less often and/or in smaller quantities. Flexitarians might eat meat once a day instead of twice, or perhaps six times a week instead of fourteen. They might eat smaller portions of meat or things like blended burgers, which are part vegetable. Flexitarians are a substantially growing part of the population. Eating more plant-based foods is turning into a seismic shift in food culture.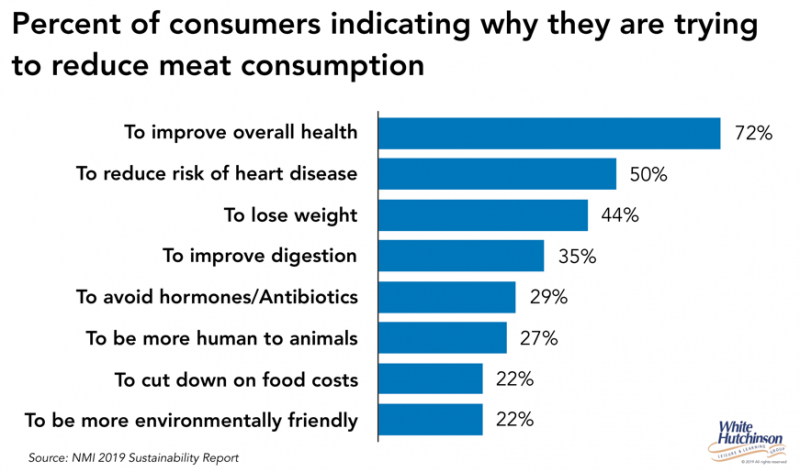 Health concerns are the primary motivation behind flexitarian eating, while environmentalism is a secondary driver. Also, as concerns about animal welfare have become more mainstream, more consumers - especially younger ones - have begun to question whether any animal products are ethical to eat.
The Hartman Group found that plant-based purchasers tend to be younger, more ethnically diverse, with higher incomes, urban/suburban, and more trend-forward with an average age of 40. They also found flexitarians to be more food- and flavor-focused, so health today is less about low-fat, low-carb and more about full flavor, and on some occasions, full (good) fats.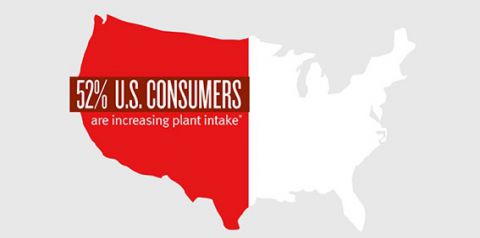 The Hartman Group's April 2019 survey found that 51% of consumers have purchased plant-based milk, meat or dairy alternatives in the past three months (32% purchased meat alternatives). A recent survey by YouGov found that 63% of Millennials are trying to include more plant-based foods in their diet. A recent study from DuPont Nutrition & Health found 52% of U.S. consumers say they're trying to eat more plant-based foods and beverages. Roughly 60% of them also say switching to plant-based foods would be permanent, or they hope it would be. Within the last two years, according to a HealthFocus International study, 52% of consumers have made dietary changes to include more plant-based foods and beverages.
NMI reports in their 2019 Sustainability report that plant-based protein is perceived as healthier for both people and the planet.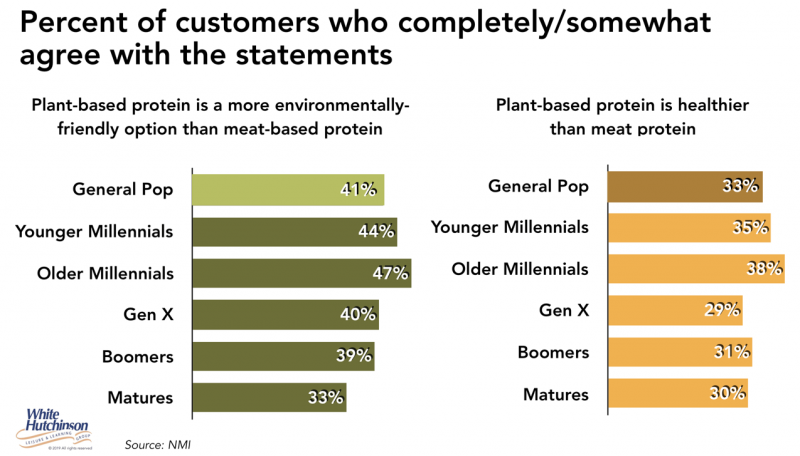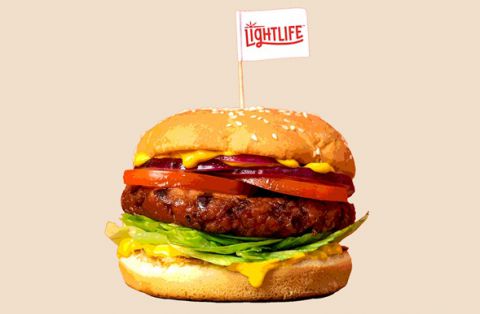 The fast proliferation of meat alternative products such as offered by Impossible Foods, Beyond Meats, Nestlé (Awesome burger), Morningstar Farms, Smithfield Foods and others, with many more on the way, both at the grocery as well as at fast food and casual dining restaurants, is fast fueling consumers' move to flexitarianism. After Burger King's successful rollout of the Impossible Whooper, we have McDonald's testing a meatless Beyond burger (they call the P.L.T. or "Plant. Lettuce. Tomato) and KFC testing Beyond Fried Chicken as nuggets and boneless wings. We even have Dave & Buster's joining the meat alternative menu movement. They will now be serving Greenleaf's Lightlife plant-based burgers.
However, there is more to flexitarianism than plant-based meat alternatives. There are also many plant-based menu options that aren't trying to fake meat. To give you some perspective on the options, here are six different vegetarian sandwiches that students are eating at schools, colleges and universities. Whether they may be your present customers, or for sure your future ones, they definitely have high expectations for flexitarian menu options they expect that aren't plant-based meat alternative (that not everyone really consider healthy as many fake meat products are processed foods).
| | |
| --- | --- |
| | |
| MCC Greenwich (McHenry County College, Crystal Lake, IL): Marinated and grilled poblano peppers and zucchini, baby arugula, spice roasted poblano spread, spinach tortilla wrap. | The Wild Card (California State Polytechnic University, Pomona, CA): Portobello mushroom, eggplant, mozzarella and ciabatta with produce grown at the school. |
| | |
| Chipotle sweet Potato and Avocado Sandwich (Columbia University, New York City, NY): Chipotle roasted sweet potato, avocado, red onion, mixed greens, vegan maple mustard spread. | Indiana Curry Zucchini & Carrot Fritter (Howard University, Washington, D.C.): Curried zucchini-carrot fritter, hummus, pickled red onions, toasted brioche. |
| | |
| Roasted Eggplant Panini (Chartwells K-12, various locations): Eggplant, roasted red pepper, provolone, black olive sun-dried tomato pesto, toasted panini. | Tofu Bahn Mi (Georgia State University, Atlanta, GA): Fried tofu, sesame-chipotle ponzu sauce, Asian slaw, toasted baguette. |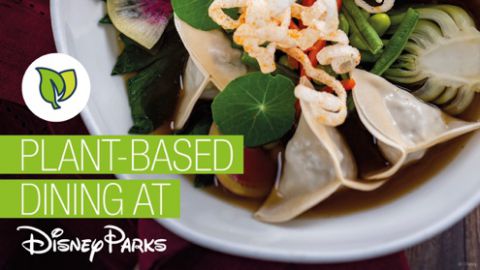 There can be little doubt that plant-based is a solid trend that's here to stay. Disney just launched 400 different plant-based options at all their major quick service and table-service restaurants at their theme parks and hotels. They will all be made without animal meat, dairy, eggs or honey, basically making them vegan. Here's a few of them:
| | |
| --- | --- |
| | |
| Shiriki Noodle Salad: noodles, edamame beans, mushrooms, green mango and cucumber, tossed with a sweet chili sauce. Available at Jungle Navigation Co. LTD Skipper Canteen in Magic Kingdom Park. | Steamed Asian Dumplings: plant-based meat dumplings, served with bok choy, Chinese long beans, red peppers and radish in a delicious and fragrant Asian broth. Available at Le Cellier in Epcot. |
| | |
| Revolutionary Meatloaf: House-made plant-based meatloaf with mushroom gravy, mashed potatoes and root vegetables. Available at Liberty Tree Tavern in Magic Kingdom Park. | Chili Spiced Tofu Bowl: crispy tofu, seasoned with chili-spice and topped with a crunchy vegetable slaw, boba balls and your choice of base and sauce. Available at Satu'li Canteen in Disney's Animal Kingdom. |
It has taken around four decades for the plant-based trend to really take off. T. Colin Campbell is considered the godfather for coining the term "plant-based.' Campbell, a nutritional biochemist at the National Institutes of Health, was presenting a paper about diet in the early 1980s when he realized he needed a phrase other than vegetarian that his colleagues would both understand and not immediately shoot down. So "vegetarian" was out. "Plant-based," with its folksy evocation of farms and greenery, was in.
Plant-based started taking off after Campbell featured it in his milestone 2005 book, "The China Study," that detailed the connection between nutrition and heart disease, diabetes, and cancer and confirmed many of the notions vegans and vegetarians held dear. The book pegged a diet of mostly plants to longer, healthier lives, dovetailed with the rise of wellness culture and the recognition of the environmental impact of meat production.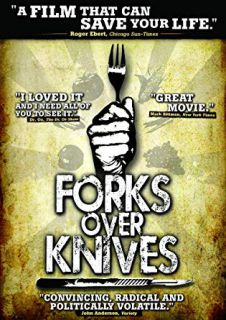 What really brought the plant-based descriptor and movement to the attention of the public was the 2011 documentary film "Forks Over Knives" (available on Netflix). The film changed a lot of people's minds about their diets.
So here we are in 2019 with an explosion of plant-based, including vegan, supermarket products and foodservice menu options. We have little doubt that with consumers' growing interest in wellness as well as sustainability, that we are only at the beginning of a mega trend.
Currently, when our company is developing menus for our clients' location-based entertainment, eatertainment and agritourism venues, we are making at least 30% of the menu items plant-based, with most being vegetarian and even some vegan selections.
Vol. XIX, No. 9, October 2019
---
---