Vol. XIX, No. 2, February 2019
---
---
Rise in visits to non-traditional experiential food & beverage venues
One of the strongest out-of-home leisure trends is the rise in visits to non-traditional experiential food and drinking venues. Adults are looking for and finding new places to drink rather than just a set of bar stools and array of tables. Nielsen CGA's research in the fall of 2018 found that 15% of U.S. consumers of legal drinking age said they had visited a brewpub/taproom in the last three months (23% for age 21-34). Here's some more of the results from the survey: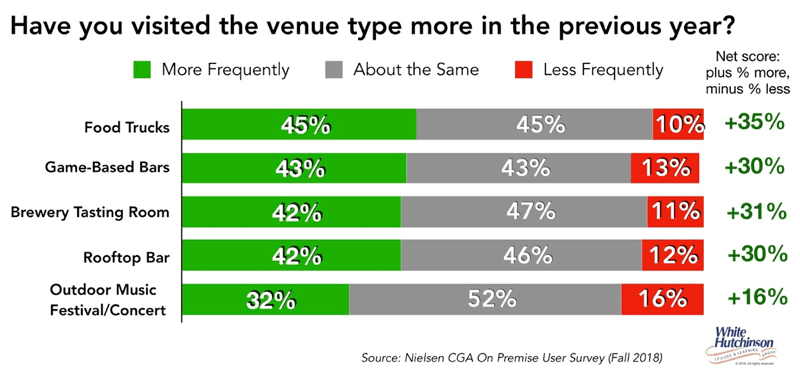 Another non-traditional food and drink venue that is growing in number are food halls that offer the same innovation options as food trucks. In fact, Eater has declared food halls as the new food truck. There were an estimated 180 food halls at the end of 2018. Cushman & Wakefield predicts the number will grow to 300 by the end of 2019. Food halls appeal to what Innova Market Insights has named the No. 1 food and beverage trend for 2019, "Discovery: The Adventurous Consumer." Two-thirds of consumers in both the U.S., U.K and China surveyed agreed with the statement: "I love to discover new flavors." And these adventurous consumers are increasingly visiting non-traditional venues to discovery and enjoy new foods and beverages.
The expanding variety and number of non-traditional experiential food and drink venues, including the fast growing number of food halls, are increasingly raising consumers' expectations for out-of-home dining and drinking experiences.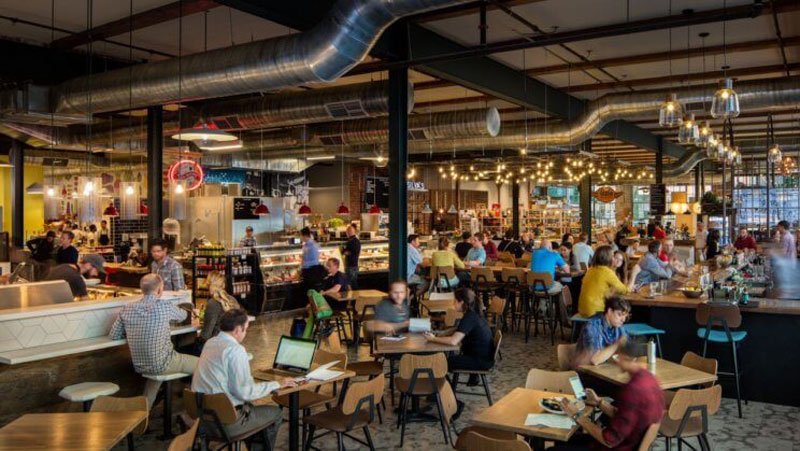 The Denver Central Market Food Hall
Vol. XIX, No. 2, February 2019
---
---