Vol. XIX, No. 11, December 2019
---
---
Out-of-home spending by $100,000+ households, meet the HENRYs
Households with $100,000+ incomes are just one-quarter of all households (25.8%), yet they now account of more than half of all spending for admission at all types of out-of-home (OOH) entertainment and art/cultural (E&A) venues. This even includes moviegoing, one of the most affordable types of OOH entertainment. Households with $50,000-$100,000 incomes are slightly more than one-quarter of all households (27.4%) and account for 27% of spending for all OOH E&A and slightly more or less for individual categories. Households with less than $50,000 incomes are nearly half of all households (46.7%), yet only account for one-sixth of all OOH E&A spending and no more than almost one-fifth (19%) for several categories.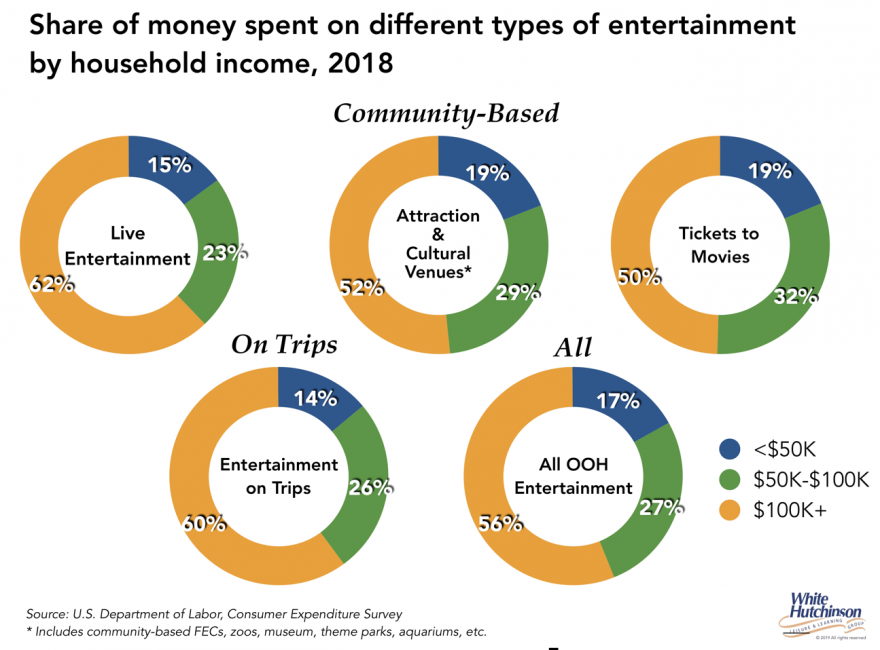 With the middle and lower classes limited in their discretionary spending, there's no question that the $100,000+ households are the prime customer to target for out-of-home entertainment.
An important segment of the $100,000+ market to target are the HENRYs - High Earners, Not Rich Yet - also referred to as 'lower-income affluents.' With incomes between $100K and $250K, they're not quite wealthy. HENRYs are the unassuming mass segment of the affluent consumer market.
HENRYs are mostly millennials who have a penchant for a lavish lifestyle, but with living costs and student-loan debt, don't have much money left over for building wealth. However, HENRYs won't sacrifice their lifestyles, even if it requires budgeting in other areas. They have a propensity to spend on premium, even luxury items, services and experiences that enhance their lifestyles and support their values. They are interested in brands and experiences that express their values and identity, including ones that can build envy, status and social capital when posted on social media. They are not interested in cheaper prices, but rather getting good value for the time and effort invested and the price paid.
Vol. XIX, No. 11, December 2019
---
---