Vol. XIX, No. 11, December 2019
---
---
Kitschy pop-up Christmas bars are everywhere this year
You may have noticed them on your Instagram feed. Dozens upon dozens of pop-up kitschy holiday bars are showing up across the country, all serving a menu of yuletide-themed craft cocktails with names like Bad Santa and Christmapolitan, and adorned with tinsel, ribbon and all manner of Christmas décor.
Greg Boehm started the concept in 2014 at his pop-up Miracle on 9th Street in the East Village of New York. He since franchised his Christmas Miracle bars concept and sells bar owners the framework and marketing to temporarily transform their bars into kitschy holiday drinking dens with themed music playlists, tinsel, ribbon and over-the-top décor, holiday mugs and elaborate themed cocktail recipes. This year he has 90 Miracle establishments around the U.S. and the world participating.
His cocktail recipes aren't simple. The Jingle Balls Nog has lengthy ingredients that include cognac, Pedro Ximenez sherry, brown butter and almond milk. The Christmapolitan, a variation of the Cosmopolitan, contains vodka, elderflower, dry vermouth, spiced cranberry sauce, rosemary and lime, finished off with a light absinthe mist.
The holiday decor isn't just limited to the space: Bartenders dress up, too, sporting everything from ugly holiday sweaters and Christmas-themed aprons to Will Ferrell-style elf costumes and full Santa suits.
Boehm has also launched a Tiki-themed spin-off, Sippin' Santa, where the pop-up has a tiki twist with Santa on a surfboard instead of sleigh, palm trees replace pine trees and drinks are holiday libations viewed through a tropical lens, such as the Kris Kringle Colada (made with dark Jamaican rum, Cynar, allspice liqueur, lime juice, pineapple juice, and cream of coconut). There are 28 Sippin' Santa pop-up this year.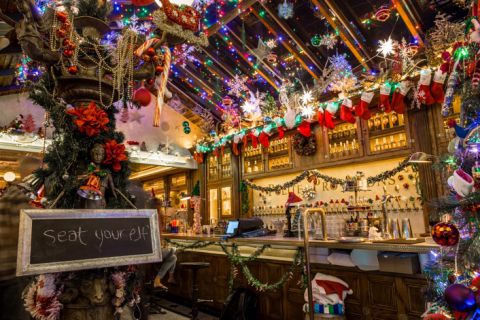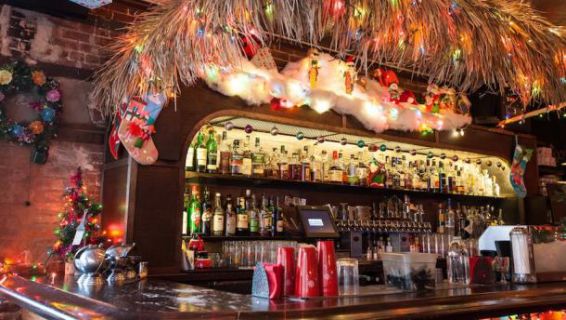 i. Miracle pop-up Christmas bar; ii. Sippin' Santa Tiki-theme Christmas bar.
The recent boom of heavily themed holiday bars isn't limited to just Boehm's concepts: Hundreds of temporary yuletide drinking dens have popped up all over the country (and beyond) in recent years. This year there are at least 12 Christmas-themed bars alone in Atlanta and we found five in our hometown of Kansas City.
Christmas isn't the only time of year that is seeing kitschy themed pop-up bars. They have also started to appear in October such as the Halloween-themed Corpse Reviver bar in St. Louis, Nightmare before Tinsel in Philadelphia, PUB Grimm in Washington D.C. and Apparition in Kansas City.
The limited-time duration and uniqueness of seasonal themed bars adds to their appeal. Instagram is a huge part of it. People want to visit the space to take an Instagrammable selfie to generate envy and FOMO with their followers.
Vol. XIX, No. 11, December 2019
---
---