Vol. XVI, No. 3, March 2016
---
---
The four ways eatertainment can grow an LBE business
This article contains a portion of the presentation Randy White, our CEO, gave during a recent IAAPA webinar about eatertainment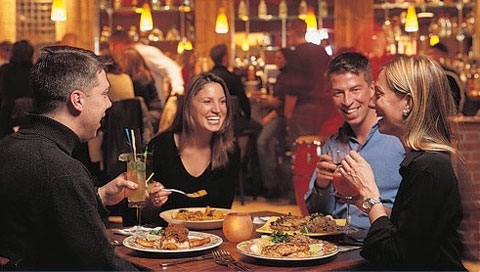 Before we get into the four ways, we need to define what we mean by eatertainment. Eatertainment is a synergistic combination of food and beverage offerings with entertainment attractions in a venue where the food and beverage generates 40% or more of revenues. In many cases, the F&B is the anchor attraction, generating the majority of revenues rather than the entertainment - come for the food (and drink) and stay for the fun. Eatertainment is a completely different category than location-based entertainment (LBEs) and its subcategory of FECs. Eatertainment centers can achieve per square foot revenues of two to three times those of entertainment-focused venues. Two of the eatertainment evergreens are Dave & Buster's and Chuck E. Cheese's. They've been around for over 30 years. That sure attests to a success formula that has legs! Today we have many fast emerging new concepts and growing eatertainment chains such as Pinstripes, Punch Bowl Social, and Level 257, to name just a few.
Primarily entertainment-focused venues of all types are facing increased competition from both other out-of-home leisure venues as well as at-home and digital screen options (see both Do you know who your competition is? and Bunkering, cocooning goes to extreme in this issue). One thing you can't do on the digital screen is dining with family or friends. Eatertainment is proving to be a highly successful strategy for competing in the increasingly crowded entertainment landscape.
Becoming an eatertainment venue will grow a business in four ways. In fact, there are only five ways for any location-based business to grow its revenues, and the first is the easiest to achieve with the least amount of effort and investment. It works for any business. Quite simply it is to stop pissing off customers who don't come back and via word-of-mouth, including on social media, tell other people to stay away.
Now on to the four ways that moving from an entertainment-focused formula toeatertainment generates higher revenues:
#2 - Increase the amount customers spend on each visit:
Eatertainment gets them to not only spend on entertainment, but also spend substantial amounts on food and beverage. It significantly increases per capita expenditures, as much a doubling them.
#3 - Increase how often existing customers visit:
In the case of eatertainment, if you have what our company calls destination dining and drinking, people will come for the food and drink even if they don't use the entertainment. That will drive attendance as people eat out far more frequently than they leave the home for entertainment.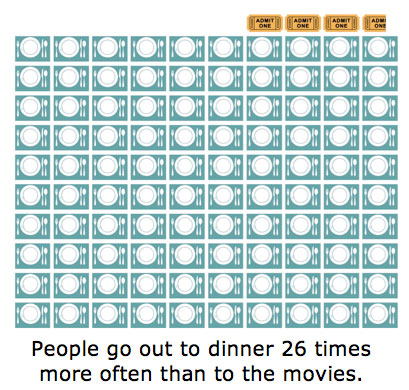 The most popular form of out-of-home entertainment is going out to the movies. It has a far higher participation rate and is more popular than any type of attraction FECs offer. The average North American only goes to the movies 3.8 times a year. Yes, you heard that right, less than 4 times a year. Yet, the average American goes out to a restaurant over 100 times a year for dinner (around 200 times for all meals). This graphic shows how the frequency of going to a restaurant for dinner compares with moviegoing. Being a dining destination rather than just an entertainment destination drives frequency.
You only need to capture a very small proportion of dining out visits to grow attendance. Let's just suppose that an FEC gets its guests to come an average of 3 times a year. Now, if they could get only 1% of those guests' dinner restaurant market share, just that one extra visit for dinner would grow their attendance by one-third.
And even if the guests continue to come only the three times a year, if now they eat dinner on one or more of those visits, or just spend more on food or drink than in the past due to the wider and higher quality options, that would significantly grow revenues.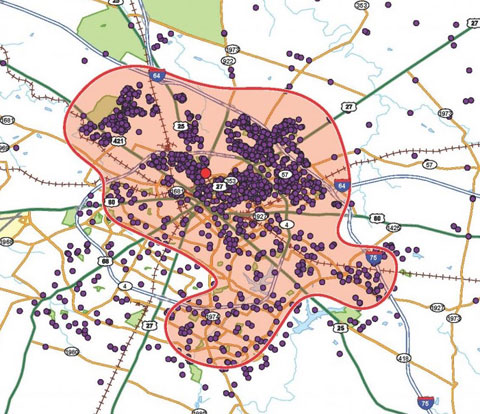 #4 - Attract new customers from the existing market area:
You'll attract consumers who weren't coming before for the entertainment, but who will come for the food and beverage at a dining destination or the combined experience of F&B and the entertainment. When you combine destination F&B with entertainment, you create a more appealing destination than just going to a restaurant or just going to an entertainment center. The combination of destination dining with entertainment is very synergistic, a more powerful draw than just the sum of the two.
Another reason for eatertainment's appeal is that in our time starved lives, it is a leisure time saving strategy, as it takes less time and is less of a hassle to do everything at one location rather than at two separate locations.
#5 - And finally, what is traditionally the most difficult way to grow a business - expand the market area:
There is a direct relationship between length-of-stay and the amount of time people will spend traveling to a business. You might not be willing to spend more than 5 minutes traveling to a convenience store where you will only be for a few minutes. You'll drive 10 minutes or so to a grocery store where you might spend half an hour. You'll drive maybe one-half hour to go to the mall for a major shopping exhibition where you'll spend hours.
When you combine dining with entertainment, you lengthen the stay. So with a longer stay, you can grow the geographic boundaries of a market area beyond what an entertainment-focused center can achieve.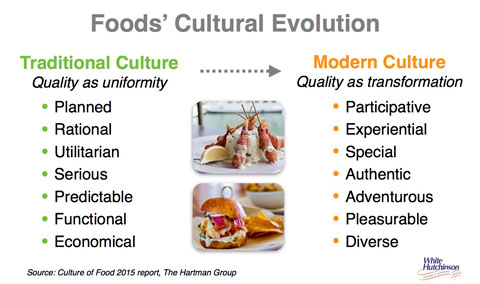 Food culture evolution
Today eatertainment has greater appeal than in the past. Dining has undergone a major cultural change in the past few years. It's sometimes called the Food Network Effect. Our office tried to count all the food and cooking shows now on television and the Internet. We found at least 800 in the U.S. and that doesn't include all the food blogs. In the U.K., the BBC TV channels alone show 443 hours of cooking and food shows a week.
America, the U.K., and many other countries throughout the world are now foodie nations with consumers' growing sophistication and obsession about food and drink.
In addition to all the TV shows, we how have food trucks; food, wine and beer festivals; pop-up restaurants and farm-to-table dinners among many other food and drink limited time and special events catering to and growing our desire for new food experiences.
47% of people now identify as foodies. And this isn't limited to Millennials; research shows it cuts across all generations. And no different than food, people today are also seeking new and unique drinking experiences.
Food has become important to people's sense of identity. They use social media to broadcast their identity and build social capital by photographing what they eat. If it isn't Instagramable, it's not worth eating.
Today, out-of-home food and beverage has a new mindset. It has become a part of popular culture with a continually growing cachet. It is about adventure, discovery, knowledge and bragging rights. This heightened consumer desire has, of course, raised the bar for both the variety and quality of the food and drink it now takes to attract people.
Today, eating out is an experience with a capital E. It is a more powerful draw and has a much wider appeal than any form of entertainment. Don't dismiss EATertainment, as it's the future proofing strategy for out-of-home venues that include entertainment.
Our company has been designing and producing eatertainment venues for a number of years. We are currently working on five eatertainment projects:
Vol. XVI, No. 3, March 2016
---
---