Vol. XVI, No. 4, April 2016
---
---
Sustainable 'social hub' project now under construction
We are honored to be handling the design and production of Troy Alstead's (former Starbucks COO) cutting edge, 57,000-square-foot sustainable social hub project, currently known as Building E, in Gig Harbor on the Kitsap Peninsula in the Puget Sound region of Washington State.
Shortly after leaving Starbucks this March, where he worked for 23 years, Alstead discussed this departure on a Linkedin Pulse post Leading for Impact: Still in the Early Innings
Now that construction is underway in the Olympic Towne Center where the Building E will be located, The Kitsap Peninsula Business Journal broke news about Troy's project and his commitment to sustainability in their article, From coffee honcho to 'social hub' creator.
Building E now has a website thebuildinge.com. The website will slowly grow as more details about the project are released. The website has a link to a video cam that shows construction progress. Right now the video cam is not located near the building site as parking lot infrastructure construction is still underway, so it is showing almost the entire shopping center site. Soon the video cam will be located closer Building E to only show the building's construction progress.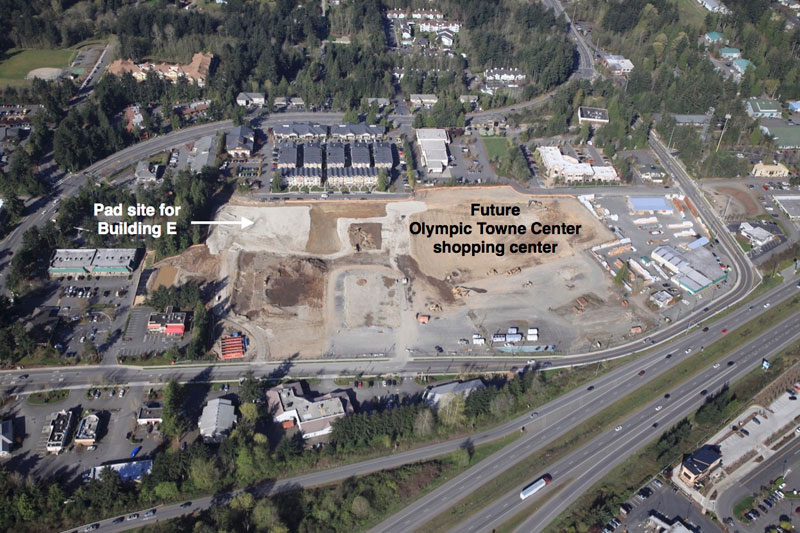 Building E will be LEED-certified and include a certified Green Restaurant. Opening is anticipated for spring 2017.
Alstead intends Building E to be have both "profit and purpose" along with his nonprofit foundation, for restoration of the oceans, Puget Sound and its local waterways.
Follow our eNewsletter
for more information in future issues about this cutting edge project.
Vol. XVI, No. 4, April 2016
---
---