Vol. XV, No. 1, January 2015
---
---
A paradigmatic shift for entertainment venues; the entertainment is now secondary
Society and culture are undergoing a transformation based on the growth and adoption of the Triple Revolution (the Internet, social media and the mobile screen), demographic changes, generational shifts, changed economic conditions and changing values. With those changes, what are traditionally called entertainment venues such as family entertainment centers and other types of community entertainment venues (CEVs) need to evolve and shift the paradigm of what a community destination is to stay relevant to the new leisure order.
So it's a bit of an oxymoron to call it an entertainment venue when in fact the entertainment has become secondary. But that is exactly what is proving successful in the fast evolving CEV industry, less emphasis on the entertainment. The new successful concepts aren't even calling themselves entertainment venues.
Let's take a look at one example in the golf industry. The popularity of golf has been on a long-term decline in America, losing about one-half million players per year over the past decade. Over those ten years, golf participation has declined by 28%. With a shrinking market size, golf is not exactly an industry in which you want to open a new concept. Well, actually yes it is if you understand what it takes to attract younger non-golfers rather than just traditional golfers.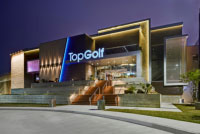 That is exactly what TopGolf has achieved. Two-thirds (64%) of their guests are between the ages of 18 to 34, an age range that accounts for one-fourth of golfers. This is because the majority of their customers are not golfers. 60% of TopGolf customers consider themselves new to the game, it's not the golf that brings them. TopGolf has turned their driving ranges, miniature golf and clubhouses into must attend party spots. CEO Ken May puts it this way, "The Millennials are there to have fun, not necessarily to get good at golf." Playing golf is secondary to partying and hanging out with friends for TopGolf's customers. Food and beverage is important as it makes up more than one-half of TopGolf's revenues. Their menu won't seem out of place in a New York gastropub. Drinks, music and friends make TopGolf a social experience rather than a golf experience.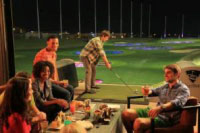 TopGolf created three-levels of golfing bays where groups of up to six people can eat, drink, listen to music or even watch TV and maybe take a swing at a ball on the driving range. The driving range has sunken, circular targets, each divided into pie-like sections, looking a bit like a dartboard. Players can amass points as they try to complete a circuit by hitting each section.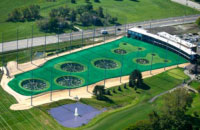 Digital is big at TopGolf. The microchip-embedded balls keep score and track the drives' accuracy and distance and allows for a number of game formats. Since younger customers at TopGolf spend as much time on social media as hitting the ball, TopGolf has purposely designed its facilities to maximize social photo and video sharing. Many locations are purpose-designed to optimize landscapes and views.
TopGolf has 15 locations including three in the U.K. and 9 under construction. They target affluent markets with upscale younger adults earning at least $100,000 per year.
Another example of a paradigmatic shift of a venue that isn't focused on the entertainment and doesn't consider itself as an entertainment venue is the expanding Punch Bowl Social chain. PBS combines bowling, ping-pong, shuffleboard, a video arcade and private karaoke rooms with a from-scratch, chef-driven gastro diner and boutique cocktail bar. Founder Robert Thompson says this about his concept, "First and foremost, we are a restaurant... There's so much to do in one space, they don't have to leave. We refer to it as the sticky factor. People come in intending to just grab a drink, but they end up staying for hours."
With units averaging revenues in the $7.0 million range (higher in some large markets), entertainment only accounts for about 10% of sales.

The name really says it all. Punch Bowl Social is a social destination where friends can gather (around the punch bowl) and share food, drink and have some fun playing different types of entertainment, or even sing themselves silly in the karaoke rooms.
Many new bowling concepts are following this same formula. Rather than being designed for bowlers, a paradigm that developed in the heydays of league bowling that once dominated bowling, the new centers are offering a social and food and beverage experience for non-bowlers.
There are other examples of new venue formulas that include entertainment, but where the food and beverage and the socialization is the primary draw versus what is fast proving to be an out-of-date concept of people coming primarily for the entertainment and recreation. These are the types of new formats that are proving successful in luring today's contemporary consumers out of their homes and away from all their screen-based entertainment options.
Yes, there is a paradigmatic shift underway in destination community leisure venues and it doesn't start with the word entertainment. It's all about let's go out together, eat and drink and have some fun together. You can achieve that with minimal or no entertainment and more and more of the competition is successfully doing just that.
Vol. XV, No. 1, January 2015
---
---