Vol. XV, No. 1, January 2015
---
---
Immersive experiences continue as major trend with escape games
Back in early 2014, we wrote about a top trend identified by AutoDesk, the company that makes sophisticated software for designers, Immersive Design - designers will push the boundaries of what they're making and how the consumer or "spectator" can become part of the experience. The prediction is that you will go and become part of the experience.
Hava Sports & Entertainment has identified Immersive Experiences as one of the top trends for 2015, "Technology, innovation and a consumer desire for deeper, more engaging, thrilling and memorable experiences has ignited a new trend that we shall see more and more of in the coming years."
They identified the huge success of immersive theater as epitomizing this trend. Immersive theater emerged in Asia. It then migrated as a way to repurpose old warehouses in Budapest and Prague for what are called real-life room escape games where you and family and/or a bunch of friends are locked in a room with clues to solve to escape within a set amount of time. The phenomenon has spread globally.
Real-life room escape games evolved from escape the room video games in which the player is locked inside a room and must explore the surroundings in order to escape.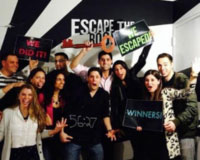 Escape the Room NYC with two locations in New York City is now the 3rd top attraction there. For all their different games, you are locked in a room with a themed escape game and you have 60 minutes to find all the clues and solve the puzzles to gain your freedom. The different rooms can hold from 6 to 12 players. The cost is $28 per player.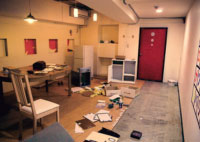 Escape games are popping up throughout the U.S. and other Western cities throughout the world. Some other venues are AdventureRooms that started in Switzerland and now has multiple locations throughout Europe, HintHunt that started in London and now has locations in Paris, Cape Town, Moscow and Dubai, Puzzle Break that started in Seattle and has expanded to San Francisco, Adventure Rooms with locations in New England and LiveGame Escape in Las Vegas.
Vol. XV, No. 1, January 2015
---
---