Vol. XV, No. 3, April 2015
---
---
Families with kids eating out less
According to research by the NPD Group, families with kids twelve and younger have been visiting restaurants less and less, declining by one billion visits over the past six years. These families represent 32% of the U.S. population and account for 20% of all restaurant sales.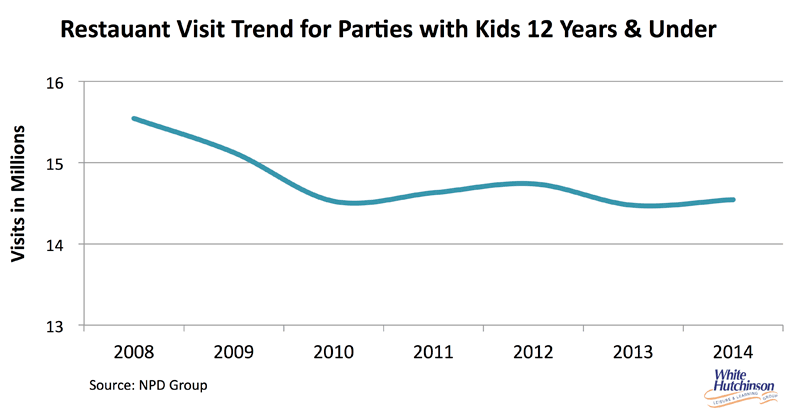 The cost of taking a family out to eat is not the only factor accounting for the decline. According to NPD's Parties with Kids: Motivating More Visits report, there are other key barriers limiting families from dining out besides cost: value for the money; environment; convenience; and menu offering. Most important to parents is the environment. 84% of parents surveyed for NPD state they are much more or somewhat more likely to visit a restaurant if it offers a kid-friendly environment; half (48%) are "much more likely" to visit.
NPD finds that families with younger kids care more about the restaurant environment and menu offerings because younger diners need to be entertained and parents are more involved with what their kids eat.
"Restaurants are leaving money on the table by not capturing more families with kids visits," says Bonnie Riggs, NPD restaurant industry analyst. "The good news is that there are solid tactics that operators can employ, with the help of manufacturers, in attracting families back to the dining table: emphasizing the value components of menus; creating a kid-friendly environment; offering fast and attentive service; and, addressing food preferences kids have at different ages."
Following is a graph showing some of the reasons parents of different generations are taking their families out to dine less often.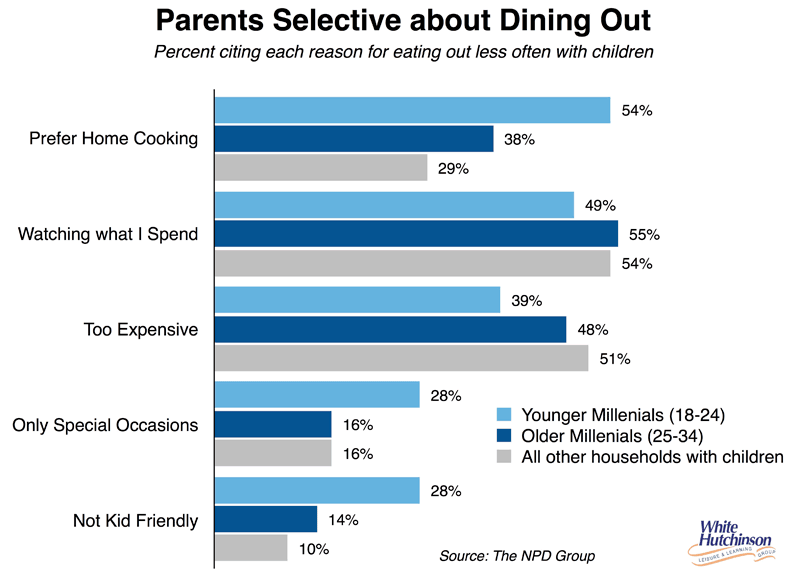 The healthfulness of restaurant kids' menus has become an important consideration for whether the family goes out and where they choose to dine. Here's the top five 2015 trends for kids' menus identified by nearly 1,300 chefs surveyed by the National Restaurant Association. They are listed in the decreasing order they were mentioned: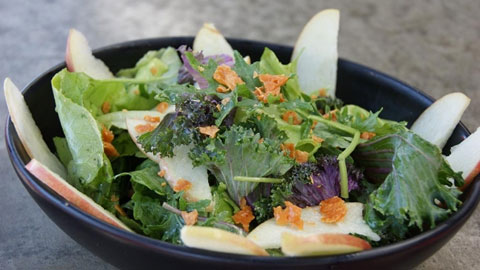 The food options at family entertainment centers and children's entertainment centers are becoming an increasingly important part of the equation of whether a family with children, especially younger ones, will visit. Having a good menu selection of both meals and snacks for kids, including healthful options, is now an essential part of that equation for many families, especially the higher socioeconomic ones, the majority of the market today.
Just as important is the food offering for adults whom often will hangout in the restaurant area of an FEC or CEC while their kids play. For years Chuck E. Cheese's has seen declining same store sales, totally attributable to their declining food and beverage sales. Their average store inflation-adjusted food and beverage sales declined by almost one-half (46%) between 2003 and 2012. A major factor has been the quality and selection of their adult food offerings (or lack thereof). To help overcome the obvious parent "visit veto" attributable to their food offerings, they recently introduced an "all-new menu for grown-up tastes," aiming to grow sales by pleasing grown-ups' palates. They want to become the place where mom can get a cappuccino and dad can chow down on an artisan-like pizza.
The point, Tom Leverton, chief executive of the parent company, CEC Entertainment Inc., said is to recognize that while children drive the desire to visit, it's the parents who hold the car keys. "When you think about Chuck E. Cheese's, you certainly do think about kids entertainment upfront as well as pizza," Leverton said. "We see an opportunity to further improve ... on providing menu offerings that entice the adults more to agree to take their children to Chuck E. Cheese's. If we provide a good experience for mom and dad, they are going to be more willing to take their kid to Chuck E. Cheese's instead of ... going out to a competing place." Leverton added: "We want to make sure the adults are as excited about the visit as the children. The menu was a great opportunity to really do that."
Nationwide, the company rolled out the Cali Alfredo pizza along with an update to its BBQ chicken pizza, now with a smoky barbecue sauce and fried onions. Any pizza on the menu will be able to come in a "thin and crispy" option. It also has introduced whole-wheat tortilla wraps such as Chicken Caesar and a Club wrap. And it added churros with dipping sauces.
Some locations are being remodeled in the coming months to include full coffee bars, featuring cappuccinos and lattes. Others will have full dessert bars.
Today, in an increasingly foodie and health-conscious world, the food and beverage an FEC offers can make a big difference in whether or not a family visits.
Vol. XV, No. 3, April 2015
---
---