---
Have the two largest eatertainment chains forgotten the 'eat'?
The two oldest and largest eatertainment chains are Chuck E. Cheese's (CEC Entertainment) and Dave & Buster's. CEC currently operates over 550 units in the U.S. and D&B has 59. Both have been in operation for over 30 years.
Nation's Restaurant News magazine runs an annual Consumer Picks survey on the popularity of different national brand restaurant chains. NRN's 2012 survey results were just published based on restaurant visits to 152 different national brands by 5,346 survey respondents during the six months from December 15, 2011 to June 15, 2012. The restaurant chains included CEC and D&B.
The restaurant chains were rated based on 10 different attributes:
CEC is in the limited service (order at counter) pizza/Italian restaurant category and D&B is in the casual & fine-dining (excluding steak and seafood) restaurant category.
Of all the attributes, the survey found consumers considered food quality as most important, followed by cleanliness. For the limited service category, value was in third place followed by service (also see another study's importance factor rankings for fast casual limited service restaurants at the end of this article). For the casual & fine-dining category, service was rated as 3rd most important followed by value.
Considering that approximately half of both CEC's and D&B's revenues come from food and beverage, we should expect that both are focused on the 'eat' part of their eatertainment formula and are trying to stay competitive in the restaurant industry where the bar is going up every day. Unfortunately for both, the NRN survey paints just the opposite picture of their performance.
First we'll look at the CEC survey results. Of the 14 different limited service pizza/Italian chains, CEC had the worst overall score, half the value of the top chain, Papa Murphy's. For a family/children's venue, it sure doesn't bode well that they were also worst in the cleanliness category. In fact, they were also worst on food quality, value and craveability. The only attribute they came out high in was atmosphere, where they had the highest score. They came in 2nd worst on service, menu variety, likely to recommend and likely to return.
When all types of limited service restaurants are ranked together including Asian/noodle, bakery/cafes, beverage/snack, frozen/snack, hamburger, sandwich and other limited service categories, CEC's overall score was the worst of all 98.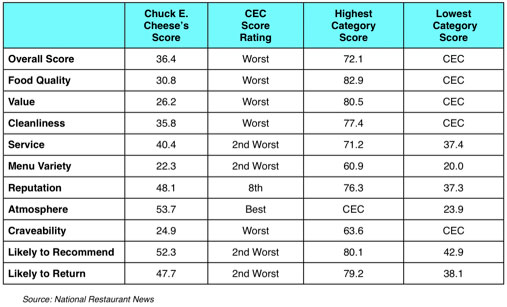 Now to Dave & Buster's. They did a little better than CEC out of the 23 casual and fine dining chains that didn't include steak and seafood restaurants. Their overall rating was 6th worst. They had the 2nd worst rating for likely to return and only came in 3rd place on atmosphere behind Hard Rock Café in 1st place and P.F. Chang's China Bistro in 2nd place. And if you include steak and seafood casual and fine dining restaurants in the rankings for a total of 38 chains, D&B's ranked 33rd, or 5th from last.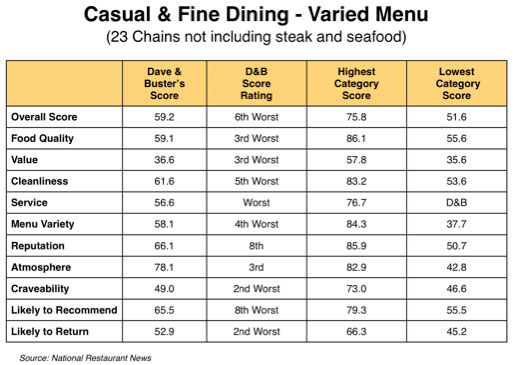 It doesn't appear that CEC and D&B are competitive in the food and beverage category and that probably partially explains their mediocre to poor performance over the past few years, especially compared to the increasing comparable store sales that most restaurant chains are experiencing.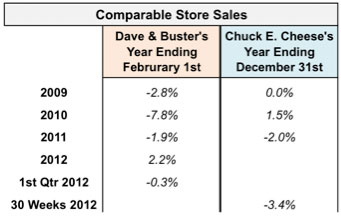 CEC is making an effort to improve their food quality with their new cheesier and crispier pizza with made-from-scratch dough and grated 100% Mozzarella cheese. Our research with moms consistently shows that they consider CEC's pizza as poor to terrible. Obviously, CEC is making an effort to improve the appeal of their food to adults.
D&B is another story. They target adults who today have high expectations for restaurant food, so you would expect them to excel in that category, especially with their tag line Eat. Drink. Play. where the Eat comes first. A search of restaurant review sites, including Google and Yelp, showed comments about their food quality consistent with the poor rating they got in the NRN survey.
There is a little bit of good news about CEC & D&B. Although they rank very low in their respective restaurant categories, they may be making some improvements that are affecting consumers' opinions about them. We went back to NRN's 2011 Consumer Picks scores and found that both eatertainment chains 2012 scores show improvement in all rating categories. CEC moved from an overall score of 30.4 to 36.4 and D&B's overall score improved from 53.2 to 59.2. The largest improvement in both chains' scores among the individual rating categories was in food quality. CEC moved from 18.5 to 30.8 and D&B, from 41.7 to 59.1. However, consumers don't make their dining decision based on scores: they make them based on comparisons with the expectations that are set by all restaurants.
CEC and D&B are good examples of a common problem we see with entertainment venues such as FECs and bowling centers that have a significant food and beverage component. They think they are primarily in the entertainment destination business and that's what drives their attendance. So as a result, it's the entertainment that gets most of the focus and the food and beverage never gets the attention it needs. They also apparently think that packaging entertainment with the food and beverage, including their many reduced price combo offerings, makes up for the low quality food.

The rapidly rising bar of the public's expectations for dining experiences and dining value (it's what you get for your money, not absolute price that matters to those with the disposable income) means that CEC's and D&B's price promotions no longer work as well as they did pre-recession to overcome their mediocre food. Today the consumers with the disposable dining and entertainment dollars that count are willing to pay a slightly higher price for better quality food. That constitutes good value for them.
There's a whole new consumer value equation out there; it's the new normal. To compete today with eatertainment, in fact to compete with entertainment venues no matter what portion of the sales are food and beverage, you better offer a darn good dining product if you expect to win. There's just too much great quality food and beverage out there and its getting better everyday. Consumers today are no dummies when it comes to quality food and good food value.
* A July 2012 nationwide survey by Technomics found the following factors most important to fast-casual limited service restaurant customers. Unlike the NRN Consumer Picks survey, they included taste in their survey, which tied with quality as most important.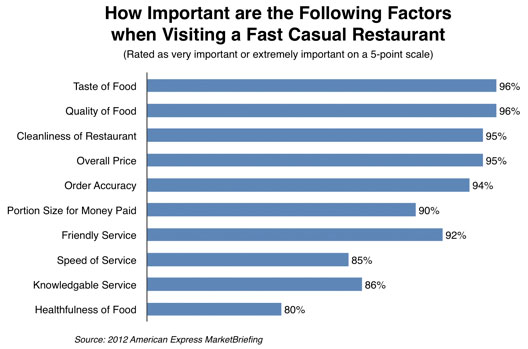 ---