Vol. XII, No. 7, October-November 2012
---
---
Our international projects currently under development
We currently have three international projects in different stages of development:
Cairo, Egypt
Building shell construction is complete and mechanical and interior finish construction has started on Club Liko, a 2,300 m2 (24,700 SF) ladies club and children's edutainment and enrichment center. We have started procurement of all the various equipment that needs to be ordered. Look for an opening of this MENA region cutting edge project later this year.
Beirut, Lebanon
We completed design development drawings for a new 6,000-square-foot family entertainment center in Beirut's most upscale mall and are now working with suppliers for the custom design and procurement of its entertainment and play equipment.
Da Nang City, Vietnam
We are honored to have been selected to design and produce Vietnam's first true multi-attraction family entertainment center. The FEC is being developed on a 2.2-hectare (5.6-acre) site in the heart of Da Nang City in Central Vietnam. The indoor portion of the FEC will be 14,600 square meters (157,000 SF) and include rides, games, duckpin bowling (not mini-bowling), ice skating, a children's edutainment center, electric go-karts and 19 private karaoke suites. Included will be a restaurant village featuring four different cuisines prepared in separate display kitchens with seating for over 600 customers indoors and outdoors in a heavily landscaped garden area. There will also be a separate indoor-outdoor Vietnamese-style coffee cafe. Outdoor attractions will include the world's first children's driving school featuring both cars and motor scooters, bumper boats, a Heege tower and a children's discovery play garden in connection with the children's edutainment center.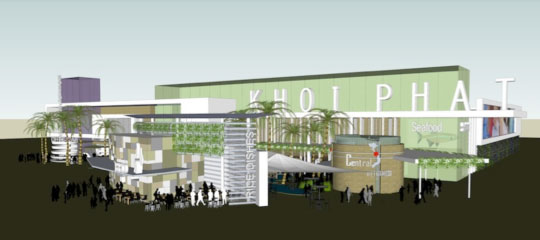 Initial rendering of the front of the Da Nang FEC. The name on the main sign is just a placeholder until the FEC's brand name is developed.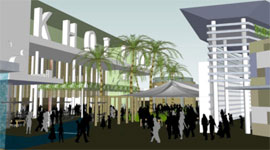 A view looking into the restaurant village that will feature four display kitchens cooking different cuisines.
And to park all the FEC's customers, the center has a basement parking garage for 950 motor scooters and 50 cars. Yes, those are the correct numbers. Almost all Vietnamese drive motor scooters due to the outrageously high cost of automobiles, about triple the cost in the US.

Earlier this year we completed the market and financial feasibility study and concept plan for the FEC and conducted research so we properly culturalize the FEC's design and operations (you won't find private group karaoke rooms in a Western FEC).
We've already made two trips to Da Nang and will be returning in December to continue to coordinate design with the local mechanical-electrical and structural engineers, the general contractor and other local members of the design team.
Watch for more in upcoming issues about this SE Asia family entertainment center project that will set a high standard for the Vietnamese market.
Vol. XII, No. 7, October-November 2012
---
---