Vol. XII, No. 7, October-November 2012
---
---
Best FEC contest announced
Tourist Attractions & Parks Magazine and Foundations Entertainment University will once again recognize those entertainment centers that continue to raise the bar for the family entertainment center (FEC) industry and exemplify excellence in location-based entertainment.
Categories for the 2013 Excellence in Family Entertainment Center Awards are: New Entertainment Center and Renovated Entertainment Center.
Eligibility requirements: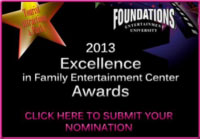 FECs are invited and encouraged to submit their nominations on-line no later than December 15, 2012. A panel of entertainment center professionals will choose the top five nominees in each category and present them for vote to the entire FEC industry.
"Entertainment center owners and operators have to consistently raise the bar to meet their guests' expectations and keep them coming back," said Randy White, CEO of White Hutchinson Leisure & Learning Group & Co-Regent of Foundations Entertainment University. "This is a great opportunity for a center to be recognized for their creativity, dedication and willingness to evolve with the changing times."
Awards will be presented to the winners at the 2013 Amusement Expo taking place March 20-22, 2013, in Las Vegas, NV. The winners and runners up will each receive a scholarship to attend Foundations Entertainment University on March 18-19, 2013, which includes admittance to Amusement Expo.
To nominate your center for this prestigious award, go to www.FoundationsUniversity.com and click on the link for 2013 Nominations. More details about the award and the criteria can be found on-line. Questions can be emailed to bestFEC@foundationsuniversity.com.
For more information about Amusement Expo 2013, visit www.amusementexpo.org.
Vol. XII, No. 7, October-November 2012
---
---