Vol. XI, No. 1, January 2011
---
---
Movie attendance continues its decline
If you have been following our Leisure eNewsletter and its articles over the past few years, you will have read our many articles that have been examining shifts in Americans' entertainment spending and time spent on different entertainment activities. One of the long-term trends we identified is that digital electronics is capturing an increasing share of their spending.
Newly released data on movie attendance is another indicator of that trend. The average North American went to 3.92 movies at the cinema in 2010, a decrease from 2009. This was a 14% decrease from the average 4.28 movies seen in 2000 and almost one-quarter less (-22%) than the peak of 5.02 movies in 2002. During the same time, the average cinema ticket increased in cost by 15% to $7.85 in 2010 compared to $6.84 in 2000 (in 2010 dollars).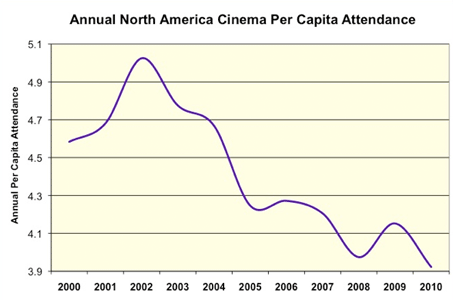 Home entertainment centers, Blu-Ray DVDs, RedBox and Internet streaming on Netflix and other Websites are having an impact on when and where movies are viewed. Electronic games, social networks and other digital media are also competing with movie attendance.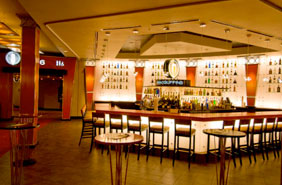 The cinema and film industries have been innovating to try to win back moviegoers by raising the Fidelity (see Fidelity Belly article in this issue) LINK of the movie-going experience with digital projection, 3-D and Imax movies, upscale bars and lounges and in-theatre dining. Some cinema chains are expanding their entertainment offering to include bowling and family entertainment attractions. One theater has even added science lectures relating to the films being shown called "Science on Screen" to enhance the movie going experience. The 2010 data indicates that despite these nascent efforts, cinemas are still losing entertainment market share. Only time will tell whether they will be able to reverse the trend.
Vol. XI, No. 1, January 2011
---
---