Vol. X, No. 4, June-July 2010
---
---
Disney Store goes retail-tainment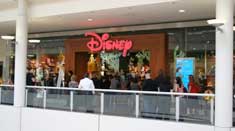 Disney has not been very successful with their Disney Stores, which they launched in 1987 to sell only Disney-related items. They sold the stores to the Children's Place in 2004 and ended up buying them back in 2008 and closing 100.
Now Disney is trying something new. They hired the people who designed the Apple Store, which is not really a store, but rather an experiential destination, to develop a new Disney Store concept. On June 29th, Disney opened the first of 20 of new stores planned for 2010 at The Shops at Montebello just outside Los Angeles. Disney hopes to eventually transform all their stores to the new concept.
The 4,800 square foot store is Disney's attempt to join the retail-tainment movement by incorporating entertainment and interactive experiences to make the store a destination for more than just shopping. Among the new attractions are:
Slide show of the new concept Disney Store in Montebello, CA
Disney's hope is that the store's experiences will drive traffic and create length-of-stay, which in turn will generate sales. The RIDEMAKERZ car building experience is great, but what then? Will you be able to then go on-line and also have fun with your car in a virtual world, such as Build-a-Bear offers its bear buyers at buildabearville.com, or American Girl is launching with its Innerstar University for its doll buyers. Also, later this year, the cars will also be offered at RIDEMAKERZ retail locations, making them no longer exclusive to the Disney Store experience. We wonder why anyone would want to visit the store to use the touch screen kiosk when that is an experience better suited to experience on the internet at a time and place of your choice so you could pre-plan your visit to the store. It also seems to take away from the pleasure of shopping—roaming a store and discovering merchandise. Another issue is whether there is sufficient 'entertainment capacity' so all customers will be able to experience the attractions on busy days.
One challenge the Disney Stores have always had is that the purchase of a Disney item in the store never had the meaning and value of a purchase at one of their parks, where the memory of the park visit attaches to the merchandise and gives it special meaning. Whether the new store concept will overcome this challenge of creating product value is yet to be determined.
The new store definitely does not have the experiential value of an Apple Store visit, which is as much an experimenting, educational and social experience as a shopping experience. The Disney brand is powerful. Maybe it is powerful enough to make their new stores successful with the added bells and whistles.
Additional reading:
Vol. X, No. 4, June-July 2010
---
---