Vol. X, No. 4, June-July 2010
---
---
Editor's corner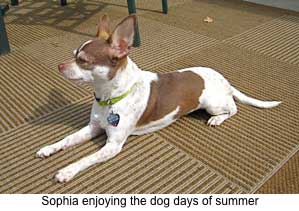 Here we are already in the heart of summer, that is, if you live in the northern hemisphere. Things slow down and it's vacation time for many.
Sophia, our office mascot, says, "Hi, welcome to the dog days of summer." She's a breed native to a hot climate, so she loves summer. She calls it the "non-shiver season." Sophia does not like winter.
Hope you have a great summer. Following is some summer reading for you while you relax sipping some ice tea or your favorite summer drink. Don't miss the article on the future of out-of-home entertainment. It has information that has never been reported on by any publication, whether hard copy or on the Internet.
Randy White
Editor
Vol. X, No. 4, June-July 2010
---
---