Vol. X, No. 5, August 2010
---
---
Foundations Entertainment University adds new back-to-back seminar program in Dallas, September 21-24
Joining the Foundations class this year will be Frank Price, long time industry expert on the business of birthday parties and the president of F.L. Price and Associates, a training, operations and concept development firm that specializes in family fun, recreation and children's entertainment. Frank is also the founder of Birthday University (BU), which is now in its tenth year. Frank will be teaming up with Foundations Entertainment University this September in Dallas to provide an all new BU program, 2010 ... EVOLVING THE ATTRACTIONS BASED PARTY / GROUP PROGRAMS, as a follow up to the Foundations program. Frank's program will begin immediately following the end of the regular Foundations' program on Thursday afternoon and run through Friday afternoon. Attendees of both Foundations and Birthday U – 2010... will receive a discount on a combined registration for both workshops. More information is available on the Foundations website at www.foundationsuniversity.com.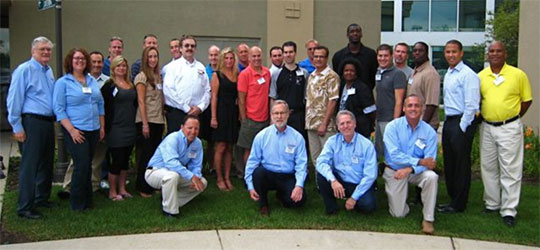 Attendees at the Chicago July 2010 Foundations Entertainment University
Here's what a few of the attendees at the last Foundations seminar in Chicago in July had to say about the program:
For anyone opening their first family entertainment center, Foundations is a must. I highly recommend this seminar!

Chris Brandt of Emagine Entertainment in Novi, MI

I learned more in three days than in a month of college business courses.

Kevin Lewis from Waukegan, IL

FEU is a wonderful concept. Just attending this session has put my mind at ease, knowing that there is such a wonderful support group in the industry. All of the instructors are great and appear to be looking out for the potential new owners.

Robert Phillips of Liberty Hill Family Fun Center in Liberty Hills, TX
Don't miss this opportunity for two incredible programs at a discounted price. The Dallas Foundations will be the last one in 2010.
Vol. X, No. 5, August 2010
---
---