---
Paradigm paralysis stifles entertainment destinations
It's really hard to miss the green movement. Green Consumerism has taken hold with a vengeance, influencing all our purchase decisions and even our vote for political candidates. Eco-consciousness has become a status symbol for consumers, partly replacing traditional status symbols associated with waste, excess and pollution. Yet for some reason, the location-based entertainment industry seems stuck in a time warp, staying far behind most other consumer industries. We have yet to hear of a single FEC, movie theater, amusement park, eatertainment or similar type entertainment facility that has made a serious green commitment. Unfortunately, studies indicate this industry wide paradigm paralysis is probably hurting business.
Most consumers today, particularly women, look beyond your facility's offerings to examine who you are, your social and environmental values and your practices. More than 80% of the U.S. adult population shows some type of green motivation, according to research by the Natural Marketing Institute. Research this year by EnviroMedia Social Marketing found consumers 18-34 strongly believe in a direct link between human activities and global warming, and this group is most likely to drive green trends into the future. This research is affirmed by Yankelovich's Going Green 2 study indicating both Echo Boomers (ages 19-29) and GenXers (ages 30-43) said they were more concerned about the environment now than they were the year before. Research in January by Opinion Research Corporation found Americans who believe in the human-global warming connection are nearly twice as likely to buy green -- despite tough economic times.
As we reported in our January 2009 Leisure eNewsletter, kids are even more environmentally conscious than adults:
83% of children 8-14 wish companies would do more to help the environment
64% of children 8-14 say they'd stop buying from a company that is harming the environment
Nearly half of children 6-8 say they encourage their parents to buy green
These trends are not confined to the U.S. Studies throughout the world confirm the influence environmental consciousness is having on consumers' buying decisions. Heck, even Abu Dhabi, with its plentiful oil reserves, is building Masdar City, the world's first zero-carbon, zero-waste and car-free city.

The restaurant industry is jumping on the green bandwagon with Green Restaurant certification and concepts like Pizza Fusion, which says it is "saving the earth one pizza at a time." So why haven't location-based entertainment venues started to raise the green flag of responsibility and opportunity? We can't really answer that. However, our 20 years of experience in this industry has shown us it always seems to lag behind societal shifts.
A nationwide consumer study conducted late last year by PGAV Destination Consulting and the Missouri Botanical Garden demonstrated how important green practices are to the success of location-based attractions, both today and in the future. The overall finding of the study to the attractions industry was:
Beware - Green Matters
Some key findings:
9 in 10 people are concerned about the environment and half of this group is very concerned.
People with household incomes over $100,000 are often more familiar and slightly more concerned with environmental issues than are people with lower incomes.
The group most single-handedly fueling the green trend is 18-34, encompassing both Generation X and Y. Of that age group, 75% said they were likely to visit an attraction that is pursuing environmentally friendly practices.
Women of all ages are driving the green movement.
69% of attraction visitors are more likely to visit (and 59% to more frequently visit) attractions that pursue green practices rather than patronize those that continue doing business as usual.
Despite the recession, 6 in 10 people expect their spending on environmentally friendly products to increase over the next year.
45% of respondents said they were more likely (and 24% said they were much more likely), to visit green attractions.
When asked about prices for green versus non-green attractions, 8% expect much higher prices and 34% expect somewhat higher prices.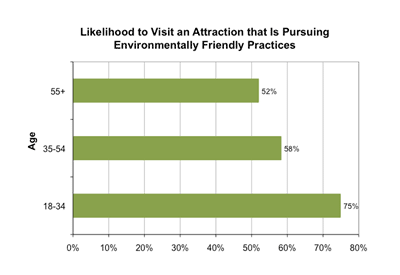 Most significant findings from the survey were answers to questions about respondents' past behavior in deciding which attractions to visit: 30% had already made a discriminating decision, 13% decided to visit and 18% picked one attraction over another because of its environmental commitment.
The survey's authors concluded, "Environmental sustainability is not a fad, it is a trend that will likely become a way of life for most Americans in the coming years. Young people under 35 are largely driving this trend. And as they continue to gain influence, one can expect that green practices and policies will become nonnegotiable among consumers. As such, early adopters may get credit for their efforts supporting the environment, but it will likely become part of the cost of doing business."
Especially in challenging economic times when consumers are even more discretionary in their spending, survival of the greenest definitely needs to become part of the lexicon of the location-based entertainment and attractions industry. It's time to raise the green flag.
Our company has been incorporating green energy savings in our projects for many years. We have been involved in the design of a number of green and sustainment entertainment, leisure and LEED Certified projects. Our design team includes several LEED Accredited Professionals. Our Children's Learning & Play Environments division conducts the Institute on Creating Sustainable Environments for Young Children. The next conference will be June 11-12 in Kansas City, Missouri.
---