---
America's worst restaurants for kids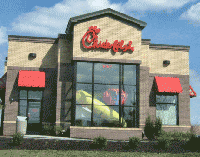 Chick-fil-A has been rated as the
best chain restaurants for kids
A year-long study of children's restaurant meals has revealed vast dietary differences among America's favorite fast food and sit-down chain restaurants. David Zinczenko and Matt Goulding, authors of the new book,
EAT THIS, NOT THAT! For Kids
, calculated calories, fat (trans- and saturated), and sodium, as well as the average calories per children's entrée. They discovered many of America's most popular chain restaurants are nutritional nightmares for children.
The authors compared children's entrees; credited restaurants for having healthy adult options that appeal to the young palate; evaluated healthy vegetable and fruit sides and drink options; and docked points for restaurants still dishing out food containing unhealthy trans fats or for refusing to release nutrition information on their offerings to customers.
Here are the results of their study:
A

Chick-fil-A earned the award for America's healthiest chain restaurant for kids, the adults who drive them there and anybody else wise enough to make it their fast food choice.

A-

Subway and Wendy's

B+

Boston Market, Fazioli's and Jamba Juice

B

McDonald's, Arby's, KFC and Panera Bread

B-

Bob Evans and Denny's

C+

Domino's, Ben & Jerry's and Quiznos

C

Burger King, Au Bon Pain, Cold Stone Creamery, Papa John's and Taco Bell

C-

Chili's, Chuck E. Cheese's, Dunkin Donuts, Jack in the Box, Ruby Tuesday, Starbucks and Uno Chicago Grill

D

Chipotle, Baja Fresh, Krispy Kreme, Pizza Hut and Romano's Macaroni Grill

D-

Cosi and On the Border

F

Applebee's, IHOP, Olive Garden, Outback, Red Lobster and T.G.I. Friday's
---