Vol. IX, No. 5, June 2009
---
---
The grounded consumer: changing the paradigm of shopping center entertainment
In the 19th century, economist Thorstein Veblen coined the term conspicuous consumption, which he defined as acquiring valuable possessions visible to all as a signal of one's wealth, success and status. During the 53 years since Victor Gruen launched America's first enclosed shopping mall, conspicuous consumption has been the key driver for retail and shopping center growth in the United States.
With:
Consumers making what appears to be permanent lifestyle and consumption changes due to the current recession,
Store bankruptcies and closings, and
Shoppers being dissatisfied with the sameness and unexciting experience of visiting many malls and even new lifestyle centers,
the basic model for shopping centers and malls built on a foundation of conspicuous consumption is obsolete. In order to prosper in the future, the model needs to be reinvented to attract the post-recession's consumer's time and money.
What is the answer? How can centers reinvent themselves for the post-recession consumer? A large part of the solution is to incorporate more experiences. We have moved into the experience economy. Experiences, both entertaining and enriching, are taking on even greater importance with consumers as the accumulation of stuff decreases in importance.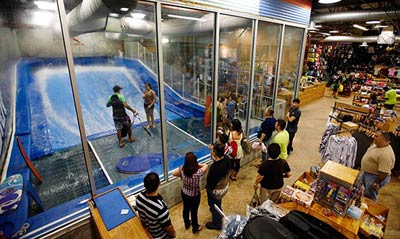 The Flowrider at Adrenalina is just one example of how experiences are
coming to shopping centers.
To read the entire article, click here.
Vol. IX, No. 5, June 2009
---
---