Vol. IX, No. 6, July 2009
---
---
Playgrounds for big boys and girls
You might call it a giant sandbox for adults. But instead of pushing around Tonka trucks and diggers pretending you're a contactor, you get to operate the real stuff, full-size heavy construction equipment. Dig This opened in late 2007 in Steamboat Springs, Colorado, and the dirt and boulders have been moving ever since.
On a 10-acre site, guests learn to move sand, gravel, rocks and other materials, dig trenches and ponds, build dams or really test their hand-eye coordination by stacking rocks into a pyramid! The adventure begins with a short safety lesson and equipment overview. Then, under the guidance of a professionally trained instructor, guests take the controls of a modern, climate-controlled, CAT 315 Excavator, CAT D5 Bulldozer or CAT 246 Skid Steer. Prices vary based on the type of equipment, ranging from $280 for a half day to $750 for a full day. Check out the YouTube video.
Slideshow of Dig This
Americans aren't the only ones who can get in touch with their inner construction equipment operators. Located just outside Kassel, Germany, Mannerspielplatz, which literally translates to "men's playground," offers customers looking for a little testosterone-driven entertainment the opportunity to try their hands at 18 different construction stations. Men can participate in construction challenges like using an Excavator to move boulders, leveling ground with a Bulldozer and zipping around in a Hummer. It also offers the chance to operate ATVs, hovercraft and helicopters. See it on this YouTube video.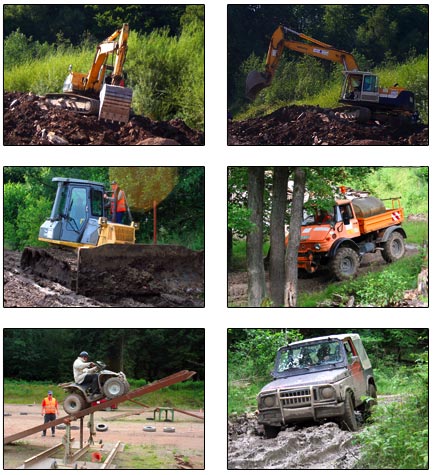 Mannerspielplatz in Germany
Vol. IX, No. 6, July 2009
---
---