Vol. IX, No. 6, July 2009
---
---
Mass customization
Back in 1993, Joe Pine wrote the award-winning book, Mass Customization: The New Frontier in Business Competition, which details the shift companies are making from mass producing standardized offerings to mass customizinggoods and services that efficiently fulfill individual customers' wants and needs. During the 16 intervening years, we have seen a lot of examples of how companies -- especially service companies -- have adopted the principles of mass customization. Examples include Burger King's "Have it your way," the thousands of possible combinations for a coffee drink at Starbucks and the custom preparations at restaurants such as Subway and Chipotle. Today, most consumer expect, in fact may demand, food to be prepared exactly the way they want it.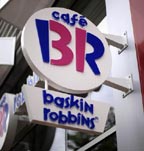 We recently ran across a very clever new example of mass customization combined with do-it-yourself. Yogurtland has a bank of eight yogurt machines offering 16 different flavors of fresh frozen yogurt, and customers get to serve their own. At the beginning of the line, customers pick up their cups (oversized to encourage large portions). They then parade past the machines, serving themselves whatever flavors in whatever portions they want. Next comes a choice of any combination of more than four dozen fruit and dry toppings. What's the price? Yogurtland makes it real simple. Just 30¢ per ounce.
On several evenings we observed a Yogurtland store at Town Square in Las Vegas, a shopping center that caters to residents, not tourists. Each night there was a queue extending outside the store.

Baskin-Robbins is getting into do-it-yourself customization with its new upscale Café 31 concept store. The goal is to counter the market share inroads made by Cold Stone Creamery and MaggieMoo's, which feature workers custom mixing toppings into ice cream on a slab of frozen granite in front of customers. The first Café 31 opened in Foxborough, Massachusetts, in late 2008. Loosely based on Baskin Cafes in Korea, Café 31 is twice the size of a standard Baskin-Robbins store at 2,000 square feet and is filled with long purple couches, cushy pink seats and stools. With chocolate fondue, baked desserts with ice cream (such as ginger apple crisp and molten chocolate cake), cheesecake on a stick, caramel ginger apple crisp and ice cream cake by the slice, "It's part ice cream experience, dessert theatre and test kitchen all rolled into one," said Ken Kimmel, Baskin-Robbins' vice president of the Café 31 concept.
And the customization at Café 31? It's a 6-foot-long build-your-own sundae bar with a fresh whipped cream machine.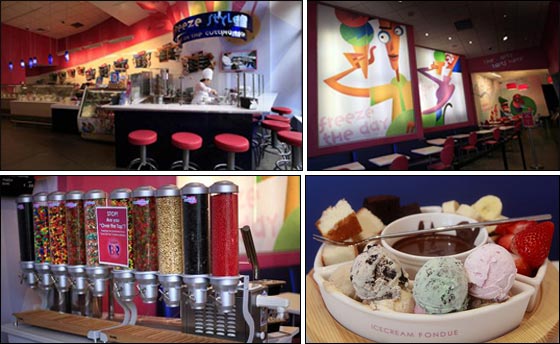 Vol. IX, No. 6, July 2009
---
---