Vol. VIII, No. 5, September-October 2008
---
---
Chuck E. Cheese's same store sales grew 4.5%
Revenues of Chuck E. Cheese's stores open more than 16 months grew 4.5% in the first half of 2008. Some of the sales growth is attributable to an 8% increase in comparable store birthday sales.
Part of the birthday sales increase came from the sale of new food platters as an up sell to parents attending birthday parties. The platters include buffalo wings, sandwiches, vegetables and mozzarella sticks.
CEC Entertainment, Inc. (owner of Chuck E. Cheese's) management attributes their positive results to a number of sales initiatives as well as the physical condition of their stores due to their strong capital reinvestment program. In 2007, CEC invested $68 million in 163 stores. In 2008, they plan to spend $58 million on 35% of their stores including 120 to 130 store game enhancements, 19 to 21 expansions and 14 to 18 remodels.
Like restaurants, CEC is being hit with increasing food costs. However, during the first six months of the year, the company was able to actually reduce food costs as a percent of sales by 0.1%. This was achieved by first working with their cheese supplier to replace their former cheese with a higher moisture mozzarella cheese that spreads better when cooked, allowing a reduction in the amount of cheese used on many of the pizzas. The company says the new cheese provides guests with a cheesier taste. Secondly, CEC reduced the size of their large and medium pizza by ½ inch. The 13-inch is now 12.5 inches and the 15-inch is now 14.5 inches. Thirdly, menu prices were increased by 1.8%.
In the next five years, from 2008 through 2012, CEC plans to open 30 to 40 company owned stores and 20 to 30 franchise stores. The franchise stores are being offered to franchisees in current markets and in smaller markets where the company is not planning to develop in the next few years. One of the current franchisees in Jeddah, Saudi Arabia, with the largest Chuck E. Cheese's in the chain, both in size (69,000 square feet, 6,400 square meters) and volume, recently opened a store in Dubai in the United Arab Emirates.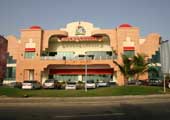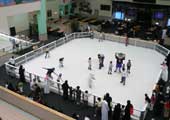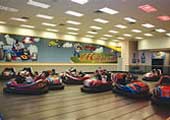 69,000 SF Chuck E. Cheese's located at Corniche, Jeddah, Kingdom of Saudi Arabia
Vol. VIII, No. 5, September-October 2008
---
---