Vol. VIII, No. 6, November-December 2008
---
---
Editor's corner
The past month took me to two very different cultures. First, I was in Kuwait in the Middle East, working on one of our company's children's edutainment projects, then in Qatar. And three days later, I was just north of Des Moines, Iowa, U.S., with our newest agritainment client, Center Grove Orchards. That is one of the rewards of our work: I get to travel to many diverse cultures. Even in the U.S., cultures can vary widely. The culture in Iowa in America's Heartland and corn country is much different than on the Eastern Shore of Maryland, home of the blue crab, or in the heart of the Amish country in Pennsylvania. Both are places I've visited during the past several months.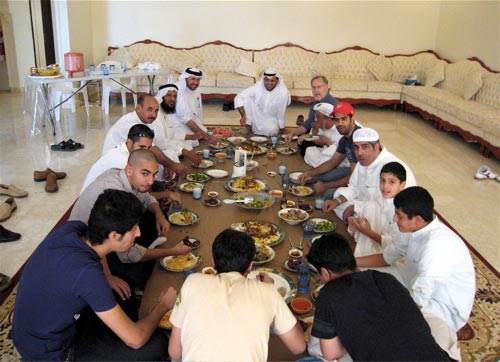 A home cooked meal in Kuwait; no table, chairs, shoes or silverware required.
That's Engr. Saeed Alkuwari in the far upper left, and Randy White in the far upper right.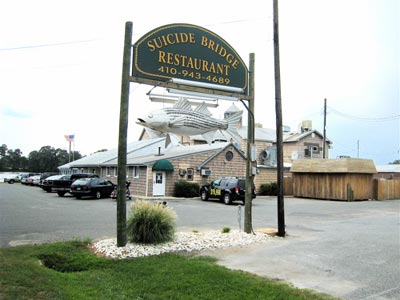 Suicide Bridge Restaurant
Traditional dining in the Middle East is sure a lot different than dining on the
Eastern Shore of Maryland
! While in Kuwait, I was privileged to visit the home of a friend of our Middle East Director, Engr. Saeed Alkuwari, for a traditional meal. When Arabs there have guests, the men eat together. Traditionally, unless its immediate family, only the men come as guests. The women stay separate and eat after the men.
On the eastern shore of Maryland, I pigged out on crab cakes and steamed hard crabs. My restaurants of choice were Harrison's Chesapeake House on Tilghman Island, which is a true working waterman's village, and Suicide Bridge Restaurant, inland at Hurlock, Maryland, at Suicide Bridge on the Choptank River. Considering Suicide Bridge is only 21 feet (6.4 meters) above the river, I was a little perplexed by its name. You can read the legend of Suicide Bridge by clicking here.
Well, that's enough of my food tourism adventures for now.
We hope you enjoy the 14 articles that follow.
Randy White
Editor
Vol. VIII, No. 6, November-December 2008
---
---