Vol. IV, No. 10, October 2004
---
---
Consumers' Choice Restaurant Awards
Each year, Restaurants & Institutions magazine has the Reed Research Group conduct a survey, the Consumers' Choice in Chains, to gauge guest loyalty among R&I's list of the 200 largest chain restaurants. Survey respondents who visited any of the chains during the previous year are asked whether they would go back. Additionally, their level of satisfaction is measured by their ratings for eight attributes: food quality, menu variety, value, good reputation, service, atmosphere, cleanliness and convenience. To determine an overall score, the attributes for each restaurant segment are weighted based upon how important consumers rate each attribute in selecting a restaurant in each given segment. The results of the most recent survey of 2,625 consumers were just published in the September issue of R&I. Results were weighted to match the overall U.S. population by gender, household income, race, region and age.
Here are a few highlights of the survey's results. We've picked the restaurant categories most comparable to the types of food service that family and children's location-based leisure facilities might offer. Scores in red denote the highest score in that category.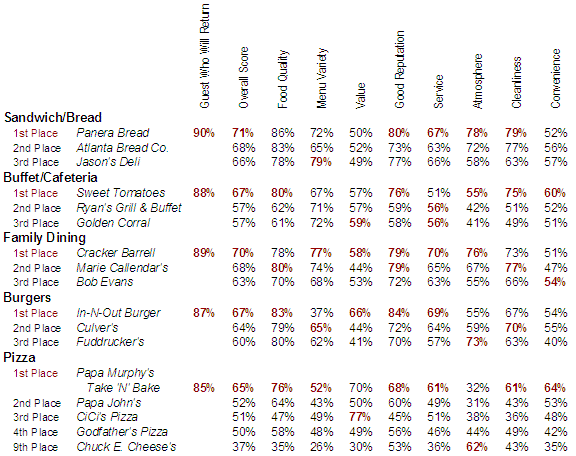 When you look at consumers' top choices in each category, it is interesting to see that those particular chains won because they were rated tops in at least four of the attributes.
Panera Bread was very highly rated. Excluding the ratings for Italian sit-down, seafood, casual dining such as Applebee's, and steakhouses, none of which are shown above, Panera Bread had the highest overall score and attribute ratings for food quality, good reputation, atmosphere and cleanliness. With its high ratings, its no wonder Panera Bread now enjoys average annual unit sales of about $1.8 million. It has become the benchmark by which many consumers judge mid-price, order-at-the-counter restaurants. Excluding the not listed restaurant categories, Jason's Deli rated highest for menu variety, Cici's Pizza highest for value (of all categories) and In-N-Out Burger highest for service (Panera was second).
We included the ratings for Chuck E. Cheese's, which comes in ninth in the pizza category. Although it rated very low in seven attributes, it came in tops in the pizza category for atmosphere. We're not sure if that speaks highly for Chuck E. Cheese's, or poorly for the pizza category. The four pizza chains that are sit-down and not carry-out that have higher overall ratings than Chuck E. Cheese's - CiCi's, Godfather's, Pizza Hut and Round Table Pizza - scored between 38 and 44 on atmosphere compared to Chuck E. Cheese's score of 62. With its low ratings as a restaurant, you would think that Chuck E. Cheese's would not have good sales. Yet, its units average $1.6 million, more than double the sales of any other of the top-rated pizza chains, with the exception of CiCi's, where CEC has 78% higher sales. Shows you the power of combining decent food with entertainment. CEC's sales probably also attest to the persuasion and nag-power of kids when it comes to where the family goes to dine.
Vol. IV, No. 10, October 2004
---
---