Vol. IV, No. 10, October 2004
---
---
Resorts Target Preschoolers
In last month's issue, we wrote about the size of the 2-year-old and under market (The Neglected Age Children). In addition to the 2 and under market, 3 to 5 year-olds are typically neglected in most leisure venues. Preschoolers, children from infancy to age 5, are a mega-market when it comes to attracting families. About 50% of all families with children 18 and younger have at least one preschooler, and about 25% of families with children have only a preschooler.
Vacation destinations are getting the message and starting to target this preschooler family market. Nickelodeon and Holiday Inn have partnered to open the first Nick-themed family resort in Orlando, Florida. Scheduled to open in the spring of 2005, the Holiday Inn Family Suites Resort is undergoing a $20 million transformation into the Nickelodeon Family Suites Resort. The resort's 800 suites include two- and three-bedroom Kidsuites that give kids their own space and entertainment areas and provide parents with a comfortable, family focused environment.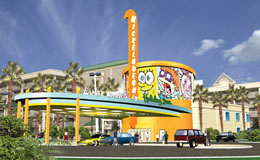 Rendering of Nickelodeon Family Suites Resort in Orlando, Florida
The resort claims that "An infusion of [new] water attractions, newly themed suites, banquet space and a show room, will transform the property into a world class resort destination, a virtual city where 'Kids Rule.' Guests will be as comfortable in their suites as they are in their own homes, but once outside it will be a "cruise-ship-on-land atmosphere." There will be lots of activities to enjoy onsite, including water park-like pools with slides and flumes; poolside game areas; a nationally branded food court; themed pool bars and grill; daily Character Breakfasts; a gigantic game room; scheduled activities for all ages, a recreation team and Nickelodeon live, nightly, scheduled interactive entertainment."
Orlando isn't the only location where resorts are working to attract the preschooler family market. Beaches Family Resorts by Sandals has partnered with Sesame Workshop to the create the Beaches Caribbean Adventure with Sesame Street. Kid-friendly features include story time with Elmo, nature walks with Grover, dance classes with Zoe and cookie baking with Cookie Monster. In conjunction with the launch, a six-week Elmo and Gordon tour will bring Sesame Street live performances to a number of Beaches Resorts during this fall.
As more and more vacation destinations sharpen their acts to increase their appeal to the preschooler and parent market, expectations of both children and parents (and grandparents) are sure to rise. Many community-based entertainment venues are sure to find they will be judged by the higher guest expectations these other facilities create. As a result, we predict that games, rides and soft-contained-play will increasingly become judged as inferior offerings.
Vol. IV, No. 10, October 2004
---
---