Vol. IV, No. 10, October 2004
---
---
World's 1st Parks Department Children's Edutainment Center
White Hutchinson has begun design and development work of the world's first children's edutainment center to be owned and operated by a public park department. The project, temporarily named the Three Rivers Children's Discovery Play Center until its brand name is developed, will be located in the 69-acre Three Rivers Park in the Gary/Lake Station area of Lake County, Indiana.
In 2003, the Lake County Parks Department retained White Hutchinson to conduct a feasibility study for the project. As a result of the study's findings and recommendations, Lake County Parks obtained state authorization to issue $5 million in bonds to finance the project.
The Three Rivers Children's Discovery Center will be the most advanced version of the children's edutainment center concept White Hutchinson first created in 1995 and has been evolving and perfecting ever since. The Center will include a 22,000-square-foot building, about one acre of outdoor play areas, and a 'learning swamp lab' area designed to introduce young children to concepts of environmental conservation. In another first for a children's edutainment center, an inlet area will be connected to the park's 35-acre lake where children can catch small live fish (to be thrown back, of course. Hey, maybe a do-it-yourself fish fry should be considered).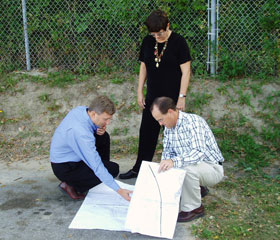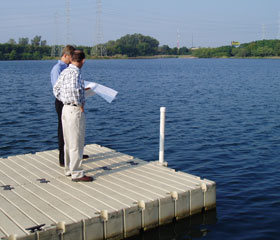 Vicki Stoecklin, Education & Child Development Director, Dave Williams, architect, and Doug Pickert, landscape architect, evaluate existing conditions at the future site of the Three Rivers Children's Discovery Play Center. "Hey, who brought the fishing gear?"
The Center's theme will be based on earth stewardship and creative arts. Possible alliances with area arts organizations are currently being explored to bring artists into the facility on a regular basis to work with children. Recycled art is one area of creative art that lends itself well to the Center's theme.
Plans are for the project to earn a LEED (Leadership in Energy and Environmental Design) "green" building certification. Randy White, our CEO, recently completed his LEED Design Professional training. Designing a green building requires a concurrent or integrated approach, rather than a traditional linear or sequential design. Everything impacts everything else, so all the different design professionals must be continually interacting to find the best whole building design solution. Our company has always used concurrent design, as it assures the best design solutions at the lowest possible cost. Green building design is just another natural extension of our concurrent design process.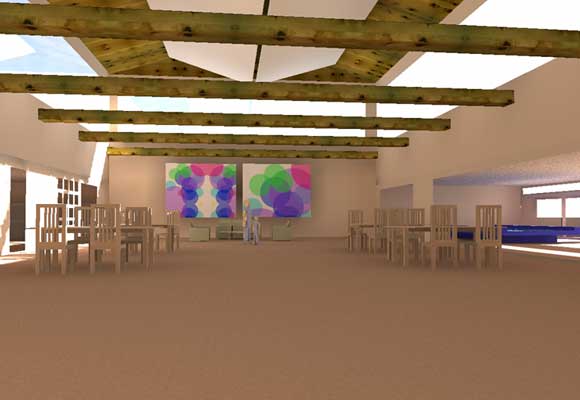 This shows a computer model that tests different design scenarios using natural daylight to totally light all public areas during the daytime, thus saving on the cost of operating electric lights. The modeling looks not only at the illumination levels under different weather conditions, times of the year and times of the day, but also at how uniform the lighting will be. Modeling the daylighting under different design schemes contributes greatly to examining different lighting and energy saving options during concurrent design.
The Lake County Parks Department decided to develop the Center for a number of reasons. Three Rivers Park in the northern part of the county was slated for improvements to enhance Department offerings to northern county residents. The Department's current children's programs have a primary focus on middle age and older children, so a Center focused on children 8 and younger helps round out the Department's offerings to county families. Income from the project will help fund other Department programs (as with commercial edutainment centers, there will be an admission fee to the Center). Lake County Parks already operates a major water park, Deep River Waterpark, which contributes significant funding for their Park programs.
Vol. IV, No. 10, October 2004
---
---