Vol. IV, No. 6, June 2004
---
---
American Girl Café
In the article in our March 2003 issue, It's the Personality That Counts, we discussed the phenomena of Americans trading up for what is known as New Luxury. One of the ultimate New Luxury experiences is the new American Café Restaurant, which is a part of the newly opened American Girl Place in New York City.
American Girl Place is a three-level, 45,000-square-foot flagship store and experience based upon American Girl dolls. In addition to retail, the facility includes the doll hospital where visitors can bring their injured dolls, a hair salon where they can get their dolls' hair done, a Peak Into the Past exhibit showing days-in-the-life of the American Girl characters throughout history and a 133-seat American Girl Theater that shows the American Girl Revue.
The main attraction of the new flagship is the 140-seat American Girl Café, designed to be a girls' first fancy dining experience. There, 4- to 12-year-old girls can enjoy brunch, lunch, high tea or dinner with their favorite doll, who is treated as a V.I.P, sitting in special Treat Seats with their own striped china tea cups.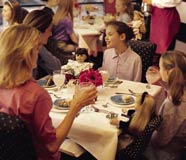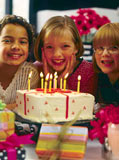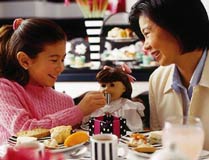 The three-course prix fixe menu is $20 per person for lunch and $23 for dinner for both girls and mothers. Dolls eat free. The café is kid-friendly. The chocolate mousse is sprinkled with crushed Oreo cookies, and girls can use the napkin rings as hair scrunchies. Kamille Adamay, the café's manager, says, "American Girl is for kids, but nothing is dumbed down." Like many elegant New York restaurants, the American Girl Café does not serve soda. The signature dish is a cinnamon bun with slightly nostalgic qualities.
When it opened in November 2003, the café already had 20,000 reservations. Want a reservation for prime time on a Saturday night? Think fall.
For our readers not familiar with American Girl dolls, they were first created in 1986 by Pleasant Rowland as anti-Barbies. The original eight dolls represented girls 10 years old, and each was a different character from the past. For example, Kit Kittredge grew up during the Great Depression in cotton dresses and pretend hand-knit sweaters. Josefina, a Latino girl, grew up in New Mexico in 1884. The company's products target tweens who are between Cabbage Patch and Bratz.
The company was sold to Mattel (ironically, the owners of Barbie) 12 years later for about $700 million. Since then, there are other core doll characters and custom-made dolls in a variety of skin colors, hair textures, etc. The dolls cost about $100, but that is only the beginning of costs for parents and grandparents. There are endless books, accessories and clothes.
American Girl does not advertise, and dolls are available only through the mail order catalog, on-line at www.americangirl.com, at the New York store and the first flagship store in Chicago that opened in 1998.
Vol. IV, No. 6, June 2004
---
---