Vol. IV, No. 6, June 2004
---
---
Restaurant Start-Up & Growth Magazine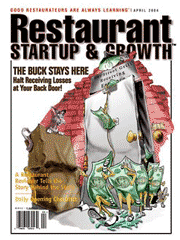 Our regular readers are well aware of our opinion that destination food and beverage are essential to the success of a location-based entertainment facility. But that's a lot easier said than done. There's a fairly new magazine, Restaurant Start-Up & Growth, that is one of the best magazines we have ever seen on starting up and successfully running restaurants, as it offers practical information and advice. The May issue included these articles, among many:
Manage Your Inventory, Boost Your Profits
Strategic Local Marketing for Startup Restaurants
Do You Need a Cash Register or a POS System?
Planning the Opening of Your Restaurant
Cross-Training
Sales, Use and Local Taxes
Annual subscriptions are $39.95. We highly recommend a subscription to anyone seriously interested about F&B in an entertainment facility. Learn more and subscribe at www.restaurantowner.com or you can e-mail RS&G at rsg@spc-mag.com.

Vol. IV, No. 6, June 2004
---
---