Vol. IV, No. 6, June 2004
---
---
Editor's Corner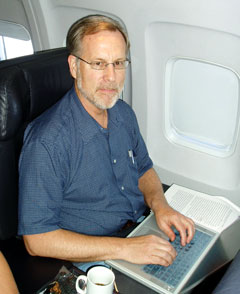 As you can see, I'm back to my "publishing office" at 35,000 feet for this eNewsletter after writing the last issue from balmy Belize.
We are pleased that this eNewsletter gets international readership. Here's what a mum across the pond wrote us after last month's issue:
"Just wanted to say that I so look forward to your newsletter and you have all the main points correct. I am based in Edinburgh in Scotland, UK, but relate to all the main points as a Mum to two young children."
A reader state-side wrote us the following (I couldn't pass up the opportunity to share a little humor with you):
"Another fine issue of the e-newsletter. Great photo of you in Belize.

Re: your suggestion to see www.wikipedia.org, a free open-source encyclopedia, itself a portmanteau word, combining 'wiki' and 'encyclopedia.' I checked online and was relieved to discover that wiki is a software program. All this time I thought wikipedia was a wicked encyclopedia created by Internet-savvy wiccans to reference all things having to do with witchcraft. (Either that, or a Hawaiian online reference work for hula girls in a hurry.)"
Recently I had the chance to dine at Ruby Tuesday. I must say I was impressed with the new Smart Eating menu with its wide choice of low-carb, low-calorie and low-fat selections. Even more impressive was that every item on the menu listed its nutritional information for calories, fat, carbohydrate and fiber. Ruby Tuesday is smart, very SMART. The company is giving customers a wide selection of menu options to meet their diet preferences, as well as giving them information with which to make informed decisions. No wonder the chain is so successful. I was also impressed with how many families were there with younger children. Ruby Tuesday is out to position its image with the dining public as the bar-and-grill chain with the best healthy alternatives. Founder Sandy Beall, who still runs the chain, put it this way, "Over the next decade, if we can maintain a leadership position in this marketplace, it will pay off with more loyal and more frequent guests." Beall definitely understands the winning strategy of loyal repeat guests. He has grown Ruby Tuesday to become a very successful chain of 684 restaurants, competing against bar-and-grill chain giants, Applebee's and Chili's, with virtually no advertising. You don't get to where Ruby Tuesday is today without being really tuned into the eating public and delivering a great experience that diners will want to repeat.
I keep waiting for the location-based entertainment (LBE) industry to come out of the Middle Ages and get with it when it comes to food. Even with so many great examples in the restaurant industry to learn from, most LBEs appear to be wearing blinders. The restaurant industry continues to raise the bar, while most LBEs are still stuck in the outdated thinking that the three basic food groups are fat, sugar and flour. In this eNewsletter, we continually give coverage to what should be the LBE success mantra for today: "Come for the food and stay for the entertainment." Customers just won't show up as much for entertainment alone as they have in the past. It takes destination dining to generate the attendance necessary to be successful.
I recently picked up the brochure for one of the national chain family entertainment centers (FECs). I will leave it nameless to protect the guilty. On the inside of the brochure, 'fun attractions' are listed. The first seven items are entertainment attractions, followed by 'special party and group areas,' followed by the single word 'food.' Of all the brochure photos, the only one with food shows two girls with ice cream cones. That's about as exciting as this FEC chain's food and beverage gets. Need I say more about the state of the industry in which food is nothing but an afterthought?
This issue has our largest number of stories ever, ranging from toilets to moving vans to dinosaurs, and more specifically, T-Rex (short for Tyrannosaurus Rex). Three of the articles address destination dining. One is about a new restaurant-edutainment concept, one about dolls dining out, and the other continues our coverage from last month on children's dining. Read on to learn more.
So enjoy. And don't hesitate to contact me with any comments or suggestions for future articles (e-mail).

Randy White
Editor
Vol. IV, No. 6, June 2004
---
---