Vol. XXI, No. 2, February 2021
---
---
Our agritourism projects
Out-of-home entertainment is not limited to traditional entertainment centers such as theme parks, family entertainment centers, bowling, miniature golf, laser tag, go-karts, etc. The agritourism/agritainment segment is much larger than most people in the location-based entertainment industry realize. There are thousands of agritourism farms in North America offering a wide variety of leisure and entertainment, many having attendances in the hundreds of thousands and generating revenues in the millions of dollars.
The most widely known type of agritourism is the fall festival with pumpkin patches, corn mazes, and a wide variety of activities, food and drink. Also popular in the Fall are the farm haunts and haunted hayrides. During October, agritourism owns out-of-home entertainment. Other times of the year, many farms offer limited-time food festivals, sunflower festivals, and activities such as long-table farm dinners, u-pick, and tours. Some offer fair-weather season adventure challenges and discovery farms. The variety is endless.
Since agritourism is predominately an outdoor activity, considered much safer than indoor entertainment during the pandemic, most farms did very well in 2020. Many had record sales.

Our company has been working with agritourism farms for 26 years on feasibility, master planning, full design, and consulting. During the pandemic, we have been working with agritourism clients in eight different states. Here are two of our more involved projects.
Davis Farmland, Sterling, MA
Davis Farmland was our first agritourism client back in 1994. We have been working with them every year since, helping them grow their business with multiple additions and renovations over the years. These include the original Davis Farmland Children's Discovery Farm ; the start and expansion of the Davis Mega Maze; the conversion of the Mega Maze to the Davis Mega Farm Festival, a beer, wine and food festival with live music plus the corn maze and other agritainment attractions; starting 21+ events at Davis Farmland; and in 2020, the full design and opening of the Davis BBQ restaurant.
One challenge almost all of our agritourism clients face since they are seasonal is hiring and retaining quality help. With the Davis businesses operating from mid-April through the end of October, they could only offer around 8-months' full-time employment to all but top management. Most people are looking for full-time, year-round work. To solve that challenge for the food and beverage operation, it was decided to expand with a year-round BBQ restaurant.
Several years ago, we helped Davis Farmland bring authentic Kansas City barbeque to both the children's discovery farm and the Mega festival. With a full-scale kitchen already at the admission-based children's discovery farm, we worked out a plan to add a 50-seat dining room connected with the existing kitchen that the public could enter directly from the parking lot without going through admissions and an outdoor patio. Davis BBQ opened in early December 2020.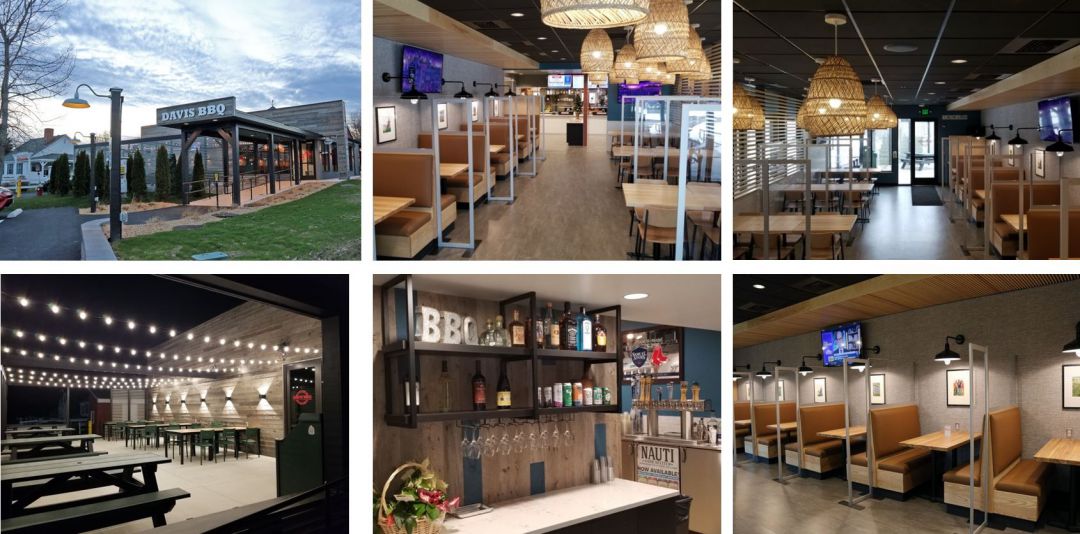 Davis BBQ Restaurant. Dining room photos show breath shields
One unique feature of the restaurant is that it features an adjoining animal barn with a small manger-like, rotating animal collection for restaurant customers to see and interact with. To address hygiene after customers visit the animal barn, we designed a handwash station that includes both an adult and children's sink in the hallway that connects the restaurant and the barn.


The winter animal barn adjoins the restaurant
Farm Event Venue in the South
We are in the middle of re-envisioning, feasibility, and designing a major renovation and expansion of an existing event venue and limited u-pick agritourism farm located in the South. The farm will be developed to offer consumers enjoyable and transformative experiences that celebrate the small farm of the past and the rebirth of the small farm of the future, incorporating the most advanced and regenerative farming practices.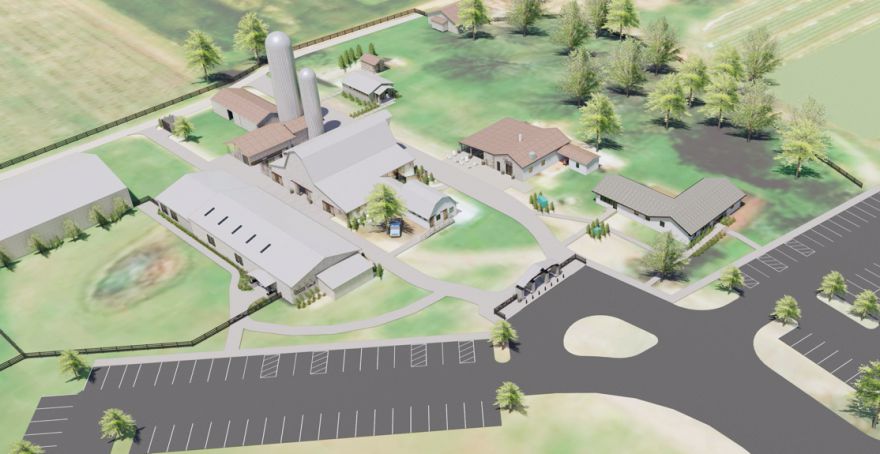 Existing buildings are being upgraded in the private event portion of the farm. For weddings, bridal and groom suites are being designed and built. The kitchen is being renovated to produce baked goods and farm-made ice cream using produce grown on the farm and field-to-kitchen cooking classes. The former milking parlor will be remodeled as a farm history museum. The existing office space is being renovated and expanded.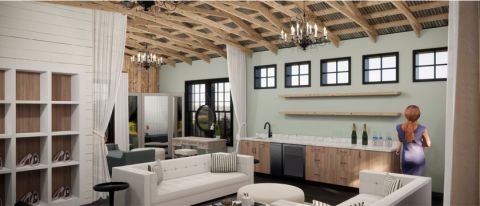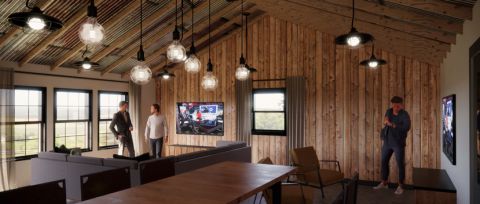 New bride's and groom's suites
Following the redevelopment of the private event area this year, a new public event area will be developed in 2021 for weekend and fall harvest food-oriented festivals from Spring through the Fall.
The existing crops will be significantly expanded, including some historical crops rarely farmed and used as food today. They will be raised using regenerative organic farming techniques. Baked goods, ice cream, and other foods incorporating the produce will be included in the private events and public festivals, including field-to-kitchen cooking classes and field-to-table long table dinners.
Vol. XXI, No. 2, February 2021
---
---