Vol. XVII, No. 6, September-October 2017
---
---
The lure of LTOs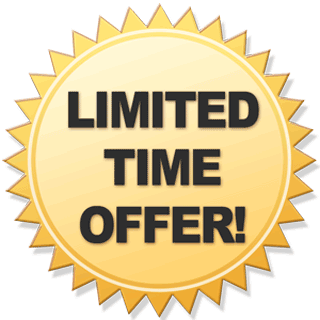 Today we have rapidly expanding options for how to spend our discretionary leisure time. We have multiple at-home digital options, whether it's streaming and binging on some Netflix or other video option, playing video games or using all manner of social media to communicate and socialize with friends no matter where they are located. And if we want a restaurant meal while we're binging out in our comfy lounge chair, we now have UberEats, Grubhub, Doordash and others that deliver restaurant meals to us on demand. When it comes to out-of-home options, the selections are broad and expanding. Today many retailers are incorporating dining and entertainment in their stores. The number of community leisure venues (CLVs) of types is expanding. The out-of-home experience options have become endless.
In the experience economy, we are interested in exploring and enjoying as many different experiences as possible. We collect different experiences for our Experiential CVs. Our identities and social capital are now more what we do and experience and less what we own. Experiences are in; stuff is out.
As a result, same old, same old no longer cuts it. Why keep repeating the same experience when there are so many other ones we haven't yet done to discover, enjoy and share that can be added to our Experiential CVs.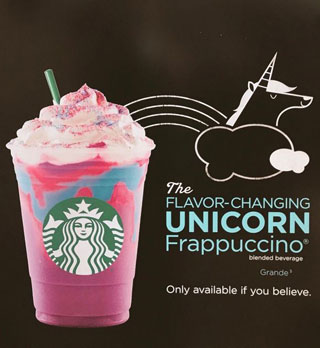 This has become a real challenge for CLVs, especially the traditional family entertainment center (FEC) versions. Their financial model is based on repeat business. But that business formula has now been disrupted by the desire to continually add new experiences to our Experiential CVs. Rather than repeat an experience, we're moving on to new ones. And this is born out by statistical data. Participation at most traditional FEC concepts has been on a decline starting back even before the beginning of the 21st Century.
Instead of repeating the same old thing, there's a new model that first gained popularity in the restaurant industry, the LTO - limited-time offer. It's also been around for a long time in the music and festival industries, just not known as an LTO.
In the restaurant industry, an LTO is a special menu item or drink available for a clearly limited short period of time. An LTO can create marketing hype and social buzz. The FOMO (fear of missing out) trigger is one of the top reasons limited time offers work. Stressing the short time frame that the offer is available sends the message you must act quickly if you don't want to miss out.
If you have any doubt about how an LTO can create buzz and sales, just look at the success of Starbucks' recent Unicorn Frappuccino LTO.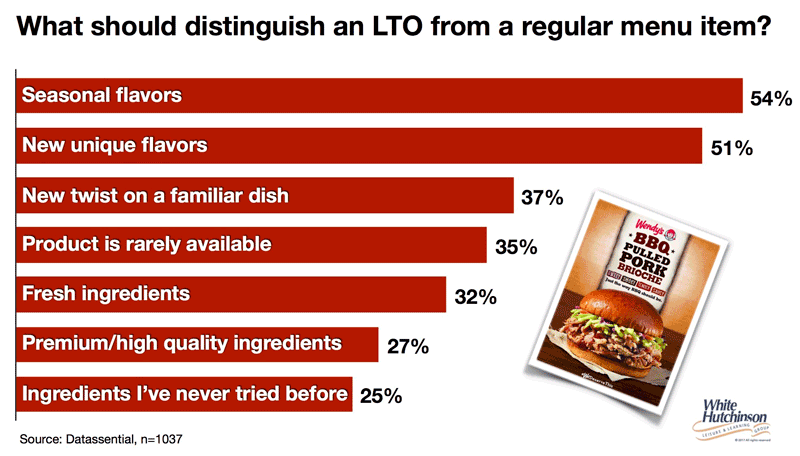 Not only can an LTO get existing customers to return, it can also attract new ones.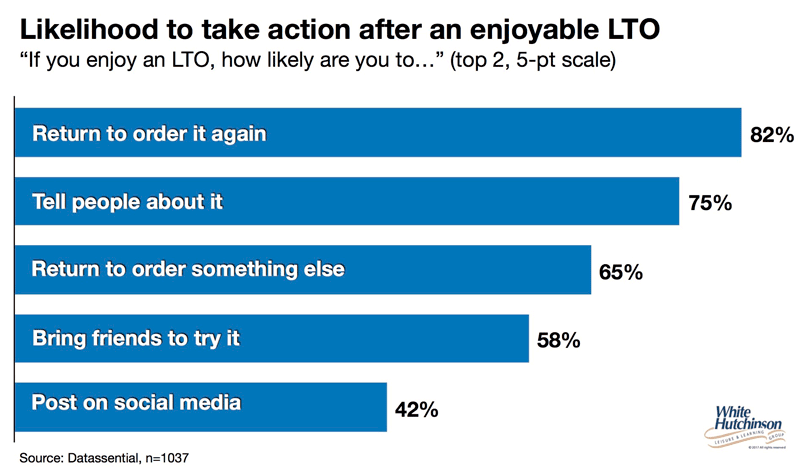 Limited-time offerings motivate the majority of restaurant customers. If you combine the customers who come because of an LTO with those who decide to order an LTO after they arrive even though the LTO was not the reason for their visit, more than three out of four restaurant guests are purchasing LTOs. Younger customers will visit a restaurant specifically for an LTO whereas older guests are more likely to choose an LTO on-site.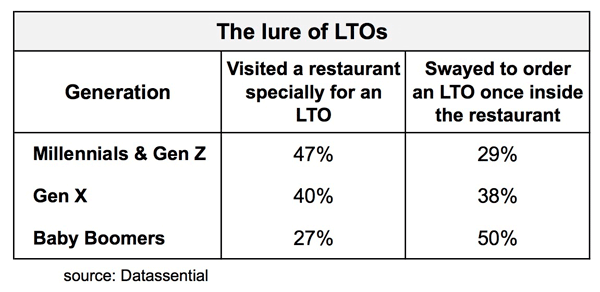 78% of consumers are interested in seasonal LTO offerings. Burgers are consumers' favorite type of LTO. 50% of women prefer trying new alcoholic beverages. And interestingly, parents tend to order LTOs more frequently than non-parents, with nearly three-quarters of them having visited a restaurant specifically to order an LTO in the last month. 38% of parents' last LTO came with a premium price tag.
Limited-time food and drink offerings are not the only experiences that can create LTO excitement and visits. Just look at the prevalence of live events - cultural and music events and festivals of all types - beer, wine, food, arts, music, ethnic, Renaissance, etc. that are only available for a few days or weeks. They drive true FOMO urgency.
An EventBrite survey in April found that more than three-quarters (78%) of all Americans 18 and older attended a live event during the last 12 months. Among Millennials (18-34), often referred to as the experience generation, 89% said they attended at least one live event. That was up from 82% just three years ago. Since the turn of the century, per capita spending on live entertainment has almost doubled (+90% inflation-adjusted) Since 2013, average household spending on community-based live entertainment has increased by 10% (inflation-adjusted).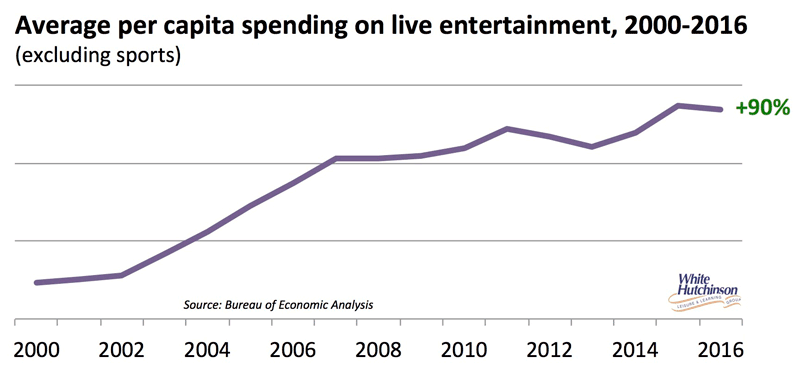 For most young and millennial-minded adults, live events are all about identity-creation, painting a picture of a phenomenal lifestyle and projecting it to their social media networks. They chase experiences over things in order to get likes, comments and interactions, and that dopamine fix. They collect experiences for their Experiential CVs. The EventBrite survey found that nearly half of Millennials attend live events so they have something to share online and 78% reported enjoying seeing other people's experiences on social media as it fulfills their strong desire to connect and discovery worlds they aren't usually exposed to.
Two-thirds (64%) of Millennials are attending more daytime family-suitable events on the weekends than 5 years ago since over half of Millennials (53%) are now parents. 61% of Millennial parents say they attend a live event so they have something to share on social media compared to 34% of Millennials without children. Live streaming is also favored by Millennial parents; 70% use social media to livestream or share their experiences at the time compared to just 47% of Millennials without children.
In additional to the social capital value that live event attendance offers, the survey found that 71% of Americans' increased preference for live events is being driven by a strong desire to connect with people, their communities and the world, up from 66% just 3 years ago.
According to research conducted by FutureCast, a marketing consultancy, 69% of Millennials consider themselves adventurous. For a Millennial, adventure can mean anything from trying a new food to meeting new people at an event - anything goes.
Millennials are not the only attendees at live events and festivals. The interest is age agnostic. There is a new category of consumers we call New School Consumers that embrace many or all of the same values that are so often only attributed to the Millennial age cohort. Sometimes they are referred to as millennial-minded.
In April 2015, our company conducted a nationwide survey of over 2,000 adults on their participation in different types of live events. The results offer evidence that a broader age group other than just Millennials is attending. In fact, young Gen-Xers, age 35- to 44, had a higher participation rate than Millennials.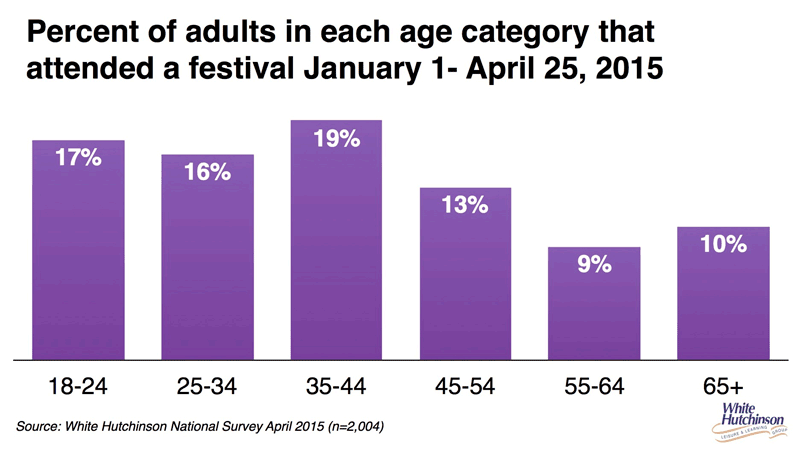 These New School Consumers skew high socioeconomically, no different than the majority of consumers that attend permanent CLVs. Here's the breakdown from our festival attendance survey on participation by income group.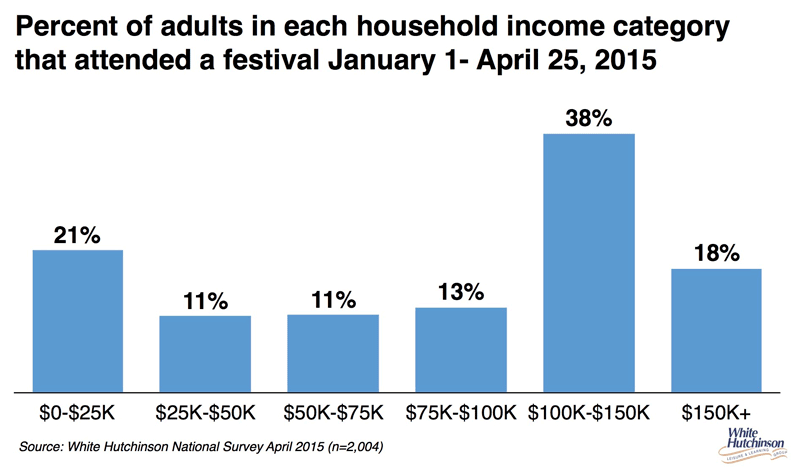 Farmers have learned how to tap into the LTO market with their fall pumpkin patches, corn mazes and haunts. Most are only open around six weeks and many achieve attendances and revenues in that short time period that exceed those of many FECs. There are now more fall agritainment locations than there are Chuck E. Cheese's, over 600 and growing.
Implications for CLVs
The traditional FEC formula of fixed attractions and so so food, often limited both in variety and quality, is dying a slow death since it no longer has the repeat appeal it once did. Fixed attractions, same old, same old, no longer appeals to the majority of consumers who venture from their homes for experiences. They are seeking adventure and discovery; new experiences that they can enjoy with their friends live and share on social media. They either just move on to new experiences each time or are drawn back to ones they've visited by LTOs. The traditional FEC formula no longer offers that appeal.
To succeed, both now and in the future, CLVs need to change their model to offer LTOs. This means both becoming a food and drink destination that can offer LTOs as well as offering numerous LTO special events of all types.
Vol. XVII, No. 6, September-October 2017
---
---