Vol. XII, No. 5, July 2012
---
---
The new hipster Chuck E. Cheese
The Chuck E. Cheese's chain of restaurant-arcades has updated its well-known rodent mascot in an effort to strengthen its appeal to contemporary children and their parents. A national advertising campaign launched on July 5 features the made over Chuck E. Cheese character. The campaign includes four nationally televised spots (click to see one).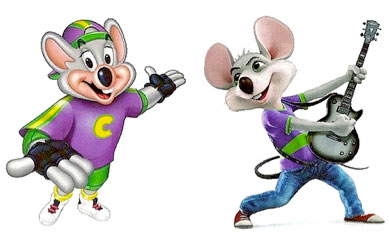 Visually, the latest incarnation of the Chuck E. Cheese has been redesigned with a sleeker, slightly edgier appearance. Chuck E. Cheese has been transformed into a hip, electric guitar-playing rock star with a bit more mischievous attitude... and no baseball cap. This is just one of many makeovers for the 35-year-old mascot, which began its career as a New Jersey rat in a bowler hat and bow-tie wielding a cane who sometimes carried a cigar.
We have our doubts that the new mascot will achieve its goal. The Chuck E. Cheese's chain is most likely suffering from the age compression of children today; they are growing up faster and that affects their tastes and consumer choices. Their declining same-store sales are an indication of this trend. We don't believe the new hipster mascot will appeal to the younger children who are the dominant customer for CEC. Older children to whom the hipster image will appeal have outgrown CEC and regardless of the new mascot, will still consider CEC as sissy. So the new mascot decreases the appeal of CEC to its core customer base and doesn't extend CEC's appeal to an older kid market. Time will tell if we called it correctly.
Vol. XII, No. 5, July 2012
---
---