Vol. XII, No. 5, July 2012
---
---
Editor's travelogue - Vietnam
I just returned from a trip to Vietnam where we are working on feasibility and design of a 140,000-square-foot indoor family entertainment center (FEC) in Da Nang City. I visited Hanoi in the northern part of the country in 2009 for a large mixed-use project that we developed the master plan for. This time I had the opportunity to visit Ho Chi Ming City (Saigon) in the southern part of the country and then Da Nang in Central Vietnam where the project will be located.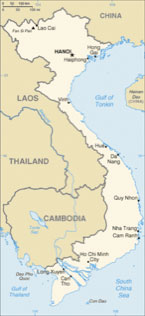 Ho Chi Ming City has the largest metropolitan area in Vietnam with a population of over 9.0 million, Hanoi is second at around 7.0 million and Da Nang is the third largest at around 1.0 million. The overall population of Vietnam is estimated to be 91.0 million, making it the world's 13th most-populous country.
Vietnam is a long narrow country in Southeast Asia with 2,140 miles of coastline bordered by China to the north, Laos to the northwest, Cambodia to the southwest and the South China Sea to the east.
Due to the length of the country, Vietnamese culture varies greatly between the northern, central and southern regions of the country.
One of the most fascinating things to a Westerner about Vietnam is the traffic, the seamlessly chaotic interweaving of motor scooters and automobiles. Amazingly, somehow it works with very few accidents. Traffic was worse in Ho Chi Ming City where the inner city roads were never designed to handle the traffic. Da Nang City is less congested and has many larger roads. But even there, how it works continues to amaze me.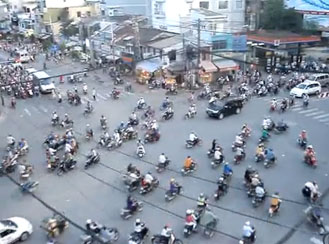 Traffic in Ho Chi Ming City. Click to play video.
What makes driving logistics the most challenging is the mix of vehicles and motor scooters. The vehicles drive in the left lane and the motor scooters in the right lane. So if a vehicle wants to turn right, it has to cut across the flow of motor scooters. And if a motor scooter wants to turn left, it has to cross in front of the vehicles.
Vehicle U-turns are rather amazing. A vehicle in the left lane will just start making a U-turn even if there is on-coming traffic on the other side of the road. The on-coming traffic just makes way for the U-turning vehicle. I'm sure you could call this being considerate and polite, or perhaps it's just self-preservation. Here's a video of a taxi making a U-turn in busy traffic from the far right lane. I saw a lot of U-turns go much faster than this one. You can also see a U-turn in the previous video of Ho Chi Ming traffic starting at 1:16.
And if you really want a thrill, watch the traffic in a roundabout. Here's a video of a roundabout in Da Nang. And here's a video what it looks like while driving on a motor scooter. No, I wasn't insane enough to be driving the motor scooter or even riding it.
By the way, you'll notice in the videos the constant honking of horns as warnings. If you took the horns away from the Vietnamese, traffic would have to come to a screeching halt.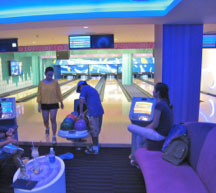 Our Vietnam FEC client served as a great cultural guide during my time in Saigon and Da Nang. This included visiting the few existing entertainment venues—small bowling centers and small children's entertainment centers—and dining at some of the best and non-tourist, non-expat restaurants.
Besides the warmth and pleasantness of the Vietnamese, I was most impressed with the food. If you haven't been to Vietnam, you really haven't had the pleasure of enjoying true Vietnamese food and the freshness and subtlety of its flavors. There are vegetables and other ingredients you just can't get in the U.S.
Ever eat water morning glory (a.k.a. water spinach and rau muong in Vietnamese)? It's the number one vegetable in Vietnam and I fell in love with it. It is typically stir-fried with garlic and fermented bean curd.

In Saigon, the first restaurant we ate at was a local favorite few tourists would know about, Lang Nuong Nam Bo restaurant. It is a Vietnamese BBQ restaurant. It is massive; probably seats 500 or more. And similar to American BBQ restaurants, it's not necessarily fancy and a little 'down and dirty.'

Lang Nuong Nam Bo is where I first encountered the Vietnamese beer culture. They love their beer. In fact Heineken is extremely popular as well as a number of local beers. However, unlike in America, the beer bottles are stored warm and then poured over ice – a large cylindrical ice cube about the size of a tomato paste can. One person in the restaurant continually walks around carrying a bucket of ice cylinders and refills glasses in need of more ice. It reminded me of a phenomenon I encountered in Kansas City years ago of people putting ice cubes in their beer to keep it cold, what then was nicknamed Kansas City lemonade.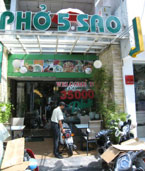 The next morning we visited a location of the popular noodle-soup eatery chain for the Vietnamese, this one named Pho 5 Sao. There we had the popular Pho noodle soup for breakfast.
Next on the cultural dining tour was Quan An Ngon (ngon means tasty) created by Vietnamese entrepreneur Hoai Tan Duong. He created a unique restaurant concept by searching out the best street vendors serving up the best classic street foods, giving them each a small kitchen area to make their specialties, and creating an upscale, nostalgic restaurant. Duong says to find the best, he first looks for lots of parked motorcycles rather than pedicabs (a profusion of the latter might indicate cheap rather than delicious grub). Secondly he makes sure the vendor is serving from a huge pot, which indicated that their dish is so delish they sell heaps of it a day.


Vietnamese street food – pop-up restaurants on the sidewalks


Quan An Ngon restaurant in Ho Chi Minh City
The last food stop in Ho Chi Minh City was a Vietnamese coffee shop, Du Mien Cafe. It's down a narrow street and considered a best kept secret by the Saigonese. This is no Starbucks. In fact, coffee is not the major drink served. Most of all, it captures the outdoor and natural culture of Vietnam.

Du Mien Café in Saigon
In Da Dang, which is on the coast, we dined on fresh caught seafood including crab, shrimps, octopus and a seafood soup while overlooking one of beautiful beaches of the South China Sea. I understand the beach was actually the northern most part of China Beach, an 18-mile long swoop of fine white sand made famous by the 1988-1991 American dramatic television series set at an evacuation hospital during the Vietnam War. Many 5-star resorts now populate the beach.
Next it was off to the ancient city of Hoi An that has UNESCO World Heritage status with its distinctive architecture in the Old Town. Hoi An is about 15 miles down the coast from Da Nang and has a very long and interesting history. It is an exceptionally well-preserved example of a South-East Asian trading port during the 15th to 19th century. Today, Old Town is a major tourist destination with its many restaurants, shops and boutique hotels.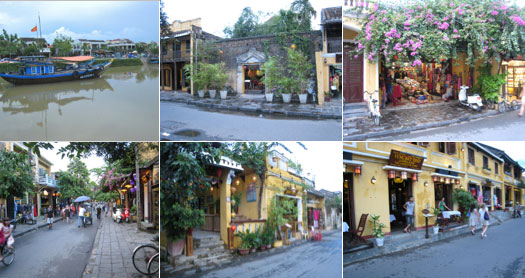 While in Hoi An, we dined at the Morning Glory Street Food Restaurant that specializes in street food and modern Vietnamese cuisine.


Morning Glory Street Food Restaurant in Hoi An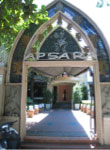 Back in Da Nang the next day, we had lunch at Apsara, a traditional Vietnamese restaurant and then headed to Nia Coffee, a great coffee cafe with great outdoor space. The Vietnamese have a lot more leisure time than Americans, so hanging out in a coffee shop with lush outdoor vegetations has great appeal to them.
One of the purposes of my trip was cultural research. Of course that had to include experiencing the restaurants and cuisine of Vietnam, as the FEC will have a number of destination dining restaurants and cafes. But it also includes understanding social and entertainment traditions and culture. When designing a family entertainment center that will be a first in a country, it is important to understand how sometimes small subtleties in the culture need to be taken into account. You can't just export a Western FEC concept that evolved and works in a Western culture and expect it to have the same success in another country without truly culturalizing it.

Our client said that young adults loved karaoke, so we arranged to visit two karaoke parties so I could understand Vietnamese karaoke in Da Nang. Well, I learned that young adults don't love karaoke; they are somewhat obsessed with it. It is the major form of out-of-home entertainment for them. It is also different from how we experience karaoke in the West.
All throughout Da Hang there are dedicated businesses where you rent private karaoke rooms. Some are multi-story buildings with a large number of rooms. I did a search on Google Maps and found over 100 karaoke business or places that offer karaoke rooms listed.
A group of eight or more young adults will get together and rent a room for several hours, where they will drink beer, snack and participate in karaoke. The karaoke machines rate the quality of their singing, so often they will break into teams and bet on which team ends up with the best score. The comradary and excitement grows as the beer consumption increases.
Needless to say, the FEC we are designing in Da Nang will include a large number of karaoke rooms.
There's a lot more I could tell you about my visit to Vietnam, but the deadline to publish this eNewsletter is approaching, so I'll have to stop writing. It's a long ways to Vietnam from the U.S., around 9,500 miles (15,300 kilometers) depending on your exact route. I spent over 20-hours of actual flying time getting there. But it is well worth a visit if you ever get a chance. I think the southern and central regions are more enjoyable than the faster pace of life in Hanoi, but I'm glad I've had a chance to briefly visit the different regions of the country.
Hey, don't stop reading now. We have nine informative articles for you in this issue plus announcements on three different conferences, one of which we are offering free scholarships to.



Editor
Vol. XII, No. 5, July 2012
---
---