Vol. X, No. 2, March 2010
---
---
Editor's travelogue: six Middle East cities
Many readers have told me how much they enjoy my travelogues, so I thought this month I would give you an expanded one.
February found me traveling to the Middle East to visit six cities in three countries. Here's a recap of my experiences and insights on the trip.
Getting to the other side of world is a long haul. I flew Delta Airlines to Atlanta and on to Paris, where I switched to Air France to Riyadh, Saudi Arabia. That was a 21-hour trip start to finish, with nearly 17 hours of flight time. Leaving Riyadh, I took a one hour, 40 minute flight to Dubai on Saudi Arabian Airlines, followed by a one hour flight on Emirates to Doha, Qatar. I later returned to Dubai on Emirates.
Coming back, I took a 16-hour nonstop flight from Dubai to Atlanta on Delta -- amazed at how far jets can now travel without stopping to refuel -- then on home to Kansas City, Missouri.
As to itinerary, my first stop was Riyadh, the capital in Saudi Arabia. Rapidly growing, Riyadh is the country's largest city with a population of more than 7 million. There is a lot of real estate development under way. Just on the drive from the airport to my hotel in the city, I bet I saw more construction cranes than are currently active in the United States.
Riyadh is a modern city. There are many modern malls, and new ones continue to be built. They feature stores and restaurants of every conceivable brand, not unlike those in the West, and most have massive food courts. Like most malls throughout the Middle East, Riyadh's malls all have a hypermart as an anchor. Nearly every mall has a major family entertainment center (FEC) as the other anchor. Some are as large as 85,000 square feet with 16 rides and 150 games, usually located adjacent to the food court. Our client, Al-Hokair Group, is the largest FEC operator in Saudi Arabia, with about 40 FECs.
Islam is the state religion and governs much of the culture in Saudi Arabia. Muslim women are required to wear abbayahs that cover face and head, but not the eyes. There are no such requirements for non-Muslim women, but the Western women I saw were wearing black abbayah garments. At prayer times, all restaurants and stores are required to close for 15-20 minutes. So you time shopping and restaurant dining around prayer time. And, of course, no alcohol is available in Saudi.
Women are not allowed to drive. That issue is getting significant press there, as paying a driver or taking taxis can take a large chunk of a woman's income. This is especially a problem for single women and single mothers. It appears the government is trying to find a solution short of allowing women to drive, with the possibility of a system of buses for women only.
We left Riyadh and drove four hours across the desert to Dhahran in the Eastern Provence. The highway system was good, but the gas station/rest stops leave much to be desired. Leaving Riyadh, all you see is desert, herds of camels and their shepherds, and the occasional Bedouin encampment. The desert varies from the iconic sand dunes to a rather flat hardpan landscape.
The cities of Dhahran, Dammam and Al-Khobar make up a single metropolitan area. Most of the administration for Aramco, the Saudi oil company, is located in this area. All three cities have malls with FECs. We drove to the smaller city of Hofuf, a major cultural center where many famous families live. Two malls that featured food courts and FECs were nearing completion.
One thing that may surprise you: Fog can be a problem in the general area of Dhahran-Dammam-Al-Khobar, in part because of proximity to the sea. Several years ago, I was on a flight that had to make a stop in Dammam, and we were unable to land because the airport was closed due to fog.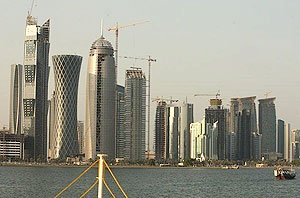 My next stop for business was Doha, on the east coast of Qatar. There's no recession there. The economy grew 10% in 2009 and is projected to grow 16% -- yes, 16% – this year, mostly due to extensive government spending, expansion of the gas industry and real estate development. There are massive infrastructure and real estate projects underway and Doha is in a constant state of being rebuilt. With a population of about 1.6 million (only about 20% are citizens), Qatar is now considered the richest country in the world in terms of gross national product per capita. Qatar's wealth is the result of being the world's largest supplier of liquefied natural gas.
Qatar is also home to Al Jazeera, the Arab television network with both Arabic and English channels. During my trips to the Middle East, I watch the English version when I can. It is not a radical Islamic network. I found the coverage very balanced and the in-depth news coverage superior to CNN's, offering a wider range of news from throughout the world. It is too bad the channel isn't distributed in the U.S.; I find our television very American-centric, without true broad coverage of world news. You can watch Al Jazeera English online.
The old original souq in Doha, Souq Waqif, has been meticulously restored to its historical condition and is a major attraction. An exception to the historic accuracy of the restoration is a street lined with restaurants and coffee shops. In the evening, the souq becomes very busy, with seating spilling into the streets. A visit to Souq Waqif is a great example of an authentic experience.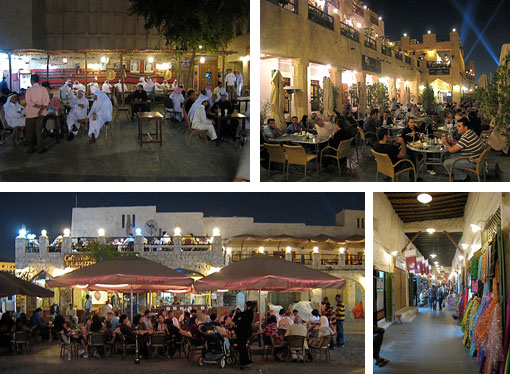 Nightlife at restored Souq Waqif in Doha, Qatar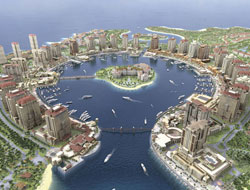 Malls are financially healthy, with several expanding and a number of new ones sprouting out of the ground. One mall, Villaggio, just opened its 200,000+ square foot combined food court and Gondolania Entertainment City FEC that features gondola rides, a large ice skating rink, rides, go-karts and bowling. The mall obviously got its design inspiration from the Venetian Casino and Grand Canal Shoppes in Las Vegas.
One of the largest real estate projects in Doha (there are many) is The Pearl, a mixed-use, $2.5 billion real estate development on manmade land at sea, where noncitizens can own real estate. The first completed sections opened late last year.
Office building real estate development in Doha has gotten a little ahead of the market, so there is a lot of vacancy in many of the newly constructed high-rise office buildings. To help solve the problem, the government plans to stop giving and renewing permits for less expensive office space in villas.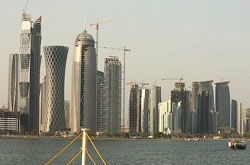 Qatar is a Muslim country, but with a much more liberal -- or as they say in Qatar, "modern" -- approach than Saudi Arabia. Muslim women are not required to cover, can drive and have full rights. However, most older women choose to wear abbayahs and cover their heads and faces. When asked why they still do so when it is not required, they often say it's out of respect for their religion. Many middle-aged women cover their hair but not their faces and wear designer abbayahs. Teenaged girls and 20-something women often wear Western clothing, but with some kind of Arab influence, and non-Muslims can dress as they please. Stores and restaurants do not close at prayer time. Alcoholic drinks are available in restaurants that are connected to hotels.
A little known fact: When the British agreed to Qatar's independence in 1971, they required the country to give Britain one-third of its natural gas and oil revenue for 33 years. Only after that agreement expired in 1994 did the country's growth really take off.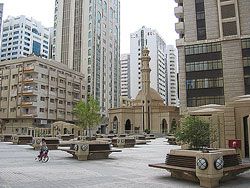 My next stop was the United Arab Emirates (U.A.E.). I went first to Abu Dhabi, which borders the sea. The city is being expanded, in part by reclaiming land from the sea. Abu Dhabi has a very healthy economy, and there is considerable real estate development under way. The city is very dense, more like New York; most buildings are mid- and high-rise. As in Doha, Abu Dhabi's population is a mix of Arab citizens and expats, who freely mingle. I met my friend Pradeep Kumar there, who was the development manager and general manager for LouLou Al Dugong's, the children's edutainment center we designed and produced in Dubai in 2002. Since leaving LouLou's, Pradeep has developed a successful chain of fitness centers in the city called Lifeline. Due to the city's density, most of the fitness centers' members walk to the clubs.
Abu Dhabi is an extremely rich emirate due to extensive oil holdings. It also includes the city of Al Ain, which is inland and known as the Garden City for its extensive greenery. The city of Abu Dhabi has modern malls, all with FECs.
Masdar City, the world's first carbon-neutral, zero-waste city, and Ferrari World, the world's largest indoor amusement park (21 acres or 8.6 hectares) are being built in the Abu Dhabi Emirate.
My last stop was Dubai. I have been to Dubai probably two dozen times over the past 10 years, and the city's transformation is truly amazing. However, the expansion bubble has burst, and real estate development has serious problems. Throughout the city, construction has stopped on buildings (mostly high rise) that are only partially completed. A news report indicated 566 projects have either been canceled or stopped in mid-construction.
When the real estate industry collapsed in Dubai, the industry's employment needs dropped to almost zero. Dubai's resident expat population is declining as people return to their own countries or find work elsewhere in the Middle East. Like in the U.S., there was much speculation in residential real estate, and banks were giving out high percentage of value mortgages without qualifying buyers' incomes. Residential real estate prices reportedly have dropped 50%. There is wide spread residential vacancy, mostly in condominium apartments that they call flats.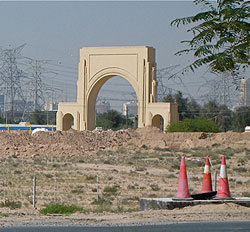 We drove out to Dubailand, or at least what was supposed to be Dubailand, with its many theme parks and attractions. But nothing is there except the gate that was supposed to be the entrance to Universal Studios and the Dubai Outlet Mall. Other than the gate and one mall, there is no construction activity, just desert. Major developments near Dubailand were planned, including residences, hotels and offices. All you see now are dozens of unfinished high-rise buildings in various states of construction, with all construction stopped. It reminds you a little of a war zone.
The outlet mall has Dubai's first Chuck E. Cheese's. It is thesecond in the Middle East, with the first in Jeddah, Saudi Arabia. Chuck E. Cheese's is about 30,000 square feet by my estimation and includes rides, four lanes of 10-pin bowling and an ice skating rink. Unfortunately, along with the mall's tenants, Chuck E. Cheese's will be in serious trouble because surrounding theme parks and developments never materialized and the location is in the middle of nowhere, about a 20-minute drive from the rest of the city.
You can tell the recession has hurt Dubai by the vehicle traffic. When I was there in 2008, traffic was terrible. You could spend hours trying to get through the city. Residents avoided taking the bridges or tunnels across Dubai Creek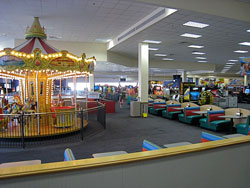 (more the size of a river) due to the traffic congestion. Two years later, I could travel throughout the city quickly and with ease.
Based on my observations, it is likely that Dubai's major real estate development companies, many of which are government owned, and the banks that financed the real estate projects, are in much more serious trouble than has been admitted. Many halted projects could cost more to finish than they are now worth. It could easily take a decade for Dubai's real estate market to recover.
Dubai is still a great city to visit. There is a lot to see and enjoy, including many resorts, shopping malls and souqs. I visited The Dubai Mall for the second time this trip. It claims to be the world's largest mall. If you walk through it from start to finish, your feet will agree. I consider it the finest mall I have seen in the world. It adjoins the world's tallest skyscraper that just opened, Burj Khalifa, at 2,716 feet (828 meters) tall. Despite all the recent press about it, there's one thing that hasn't been reported. At the base of Burj Khalifa is the world's tallest performing musical fountain, which is like one in the Las Vegas Bellagio.
The Dubai Mall has four levels and over 1,000 stores. Its interior design is upscale and very tastefully done, rather than over the top or heavily themed like many malls. You might say it is a classic design. All its spaces are well proportioned. In addition to the stores, which include Bloomingdale's, there is what I consider the best-designed food court in the world on the top level. The 30+ restaurants are scattered throughout the space and many are free standing, unlike traditional food courts with eateries all lined up around a perimeter with a sea of seating in the middle. So there are intimate pockets of seating. There are lots of windows letting in daylight and some seating is outdoors adjoining a waterfall wall. For entertainment in the mall, there is a large skating rink, Dubai Aquarium & Underwater Zoo(part of which faces into the mall for free viewing), plus the 22-screen Reel Cinemas, SEGA Republic and KidZania.
Just opened, SEGA Republic is a two-level 76,000-square-foot FEC. The games and redemption prize area are on the lower level, with more games and nine adrenaline-type rides upstairs. In Dubai, prices are typically similar to those in the U.S., so I thought SEGA Republic was a little on the pricy side. As a benchmark, skeeball there cost $1.08 to play. Many of the games were very expensive to take part in, including the ride simulators. To enter SEGA Republic, you had to purchase a debit card with a minimum of 10 dirham ($2.72) on it. The debit card itself cost 3 dirhams ($0.81). The facility was rather dark and very noisy. Based on its mix of rides and games, it should appeal to older children, teenagers and probably 20-something men. It will be interesting to see if it proves profitable, considering the facility's sizable investment.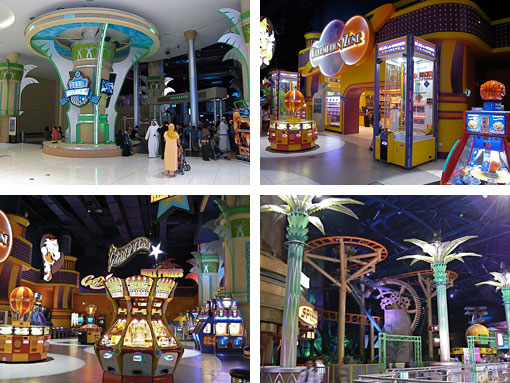 Sega Republic FEC in Dubai Mall
KidZania also recently opened at The Dubai Mall. It is a children's role-play city of approximately 80,000 square feet on two levels. The admission price is $34 for children 4-16, $25.80 for children 2-3 and $24.45 for adults.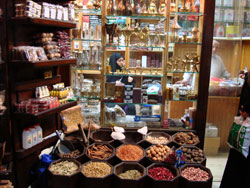 The one other place I visited in Dubai was the Spice Souq. It's in the old town part of the city in the Deira area on Dubai Creek where dhow taxi boats still operate. Surprisingly, in all my trips to Dubai, I had never been there. I bought a kilo (2.2 pounds) of cinnamon sticks, a kilo of ground cinnamon and raisins from Iran, which are unlike any we can get in the U.S.
I will be back in Dubai in April to give presentations at the Middle East Attractions Forum, and for Foundations Entertainment University, as part of the Dubai Entertainment & Amusement Leisure Expo (DEAL). I plan to check out several of the newer or recently expanded malls I didn't get to on this trip or my previous visit in late 2008.
Something I really enjoy about traveling throughout MENA (Middle East and North Africa) region is that each city has its own unique personality and style of architecture, such as in Europe and many U.S. cities. You can travel less than an hour by plane and be in a completely different world and culture. Although there are similarities because of the shared Muslim religion, there are also many differences. These are due to the two denominations, Sunni and Shi'a; how the religion is p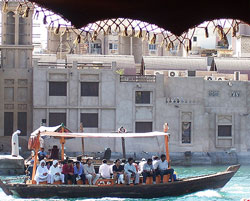 racticed in each country; the foundations for each country's economy (not all are oil rich), and the mix of each area's expat populations.
Another great thing about visiting the Middle East is the variety and quality of ethnic cuisines you find in the restaurants there. On this trip I had great Indian, Syrian and Arab/Lebanese meals. I think one reason the ethnic food there is so good compared to what is served in the U.S. is not only are you closer to each cuisine's country of origin, but the restaurants there can also get fresh, authentic spices and other food products.
So, that's my recap of 17,000 miles of flying and seven days in three Middle East countries. Hope you enjoyed reading it.
If you live in that area of the world, don't miss my presentations in Dubai at the Middle East Attractions Forum on the Great Recession and Edutainment, April 24-24, and our Foundations Entertainment University, part of the Dubai Entertainment Amusement & Leisure Show (DEAL), April 25-26.
Randy White,
Editor
Vol. X, No. 2, March 2010
---
---