Vol. VIII, No. 4, July-August 2008
---
---
Free online listing at maps.google.com
In today's high tech society, many potential customers first look at online reviews about a location-based business before making a decision to visit. With increasing prices, pinched budgets and time poverty, consumers are being especially vigilant to make sure they don't waste their money or time. Research shows that women more then men will consult the Internet on potential purchases. That's why it is wise for location-based leisure facilities to have an online presence at sites where consumers go for reviews. A business with no reviews could easily be judged unfavorably.
A number of popular Websites offer businesses the free opportunity to be listed, post pertinent information about the business including hours, polices, photos and even add YouTube videos.

Maps.google.com is the Web's most desired location for local businesses. It is the most visited for local reviews, because it lists local businesses and reviews in its search results. You can sign up at the Google Maps Local Business Center to create your listing. First you'll need to set up a Google account. Once you are up and running on the site, you can invite customers via an e-mail link from the Google site to submit reviews (consider using www.tinyurl.com first to reduce the long Google URL to six characters).
Other Websites worth considering for listings and reviews are local.yahoo.com and yelp.com.
However, Web reviews and postings have a serious downside. Through what interactive marketing expert Pete Blackshaw calls "consumer-generated media" - blogs, social networking pages, message boards, product review sites - even a single disgruntled customer can broadcast his complaints to an audience of millions.
In June 2006, a man named Vincent Ferrari had a shockingly combative conversation with an AOL sales rep; he recorded it and posted it on YouTube. More than 62,827 viewings later, AOL's reputation was irretrievably damaged.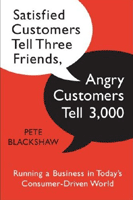 In the digital age, disgruntled customers are now in the driver's seat, argues Blackshaw in his thoughtful and engaging book, Satisfied Customers Tell Three Friends, Angry Customers Tell 3,000, which is about running a business in today's consumer-driven world.
Blackshaw says that credible companies will get favorable reviews and buzz. But if you lack credibility, you're going to be outed, which can leave a lasting mark. "I've worked with a lot of clients who have been severely damaged by very hostile commentary that has almost taken up permanent residency in search results and Wikipedia and other places," Blackshaw says.

Through remarkable stories of mass consumer advocacy and the power of bloggers and ordinary Joes with an Internet connection and a bone to pick, Blackshaw advises readers how to build credibility into their businesses through blogs, Web sites and video postings.
Vol. VIII, No. 4, July-August 2008
---
---