Vol. VIII, No. 1, January/February 2008
---
---
Current projects
Story Stores, Inc. – RoadStoryUSA, somewhere in U.S.A.
Assisting Story Stores with concept development, attendance and financial projections and design of their innovative RoadStoryUSA concept that combines learning, playing, shopping, and dining in a single venue.
Western Texas, U.S.A. – Cinema-restaurant-entertainment-bowling complex
Developing plans for a 65,000-square-foot entertainment center that includes six movie theaters, bowling, a destination restaurant, family entertainment attractions and games, and party and meeting rooms.
Lagos, Nigeria – Children's play and discovery (edutainment) center
Completing preliminary plans, cost estimate and financial projections for a 4,190- square-meter (45,000 square feet) children's edutainment and enrichment center that will also include a learn-to-swim pool.
BellaBoo's Children's Play & Discovery Center – Three Rivers Park, Lake County, Indiana U.S.A.
The building shell is up and watertight on this 23,000-square-foot children's discovery and play (edutainment) center we designed for the Lake Country Parks and Recreation Department. Equipment procurement is being completed. Opening is projected for late spring 2008.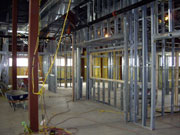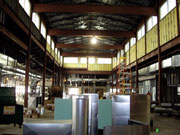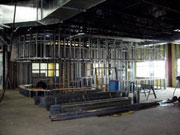 Montgomery, Alabama, U.S.A. – Hotel, bowling, restaurant, meeting and conference center and family entertainment complex
Working with the owner of an existing hotel on expansion to include a meeting and conference center, destination restaurant and a family entertainment center with bowling.
Play Café, somewhere in Wisconsin, U.S.A.
Assisting client with market feasibility and site selection for a play café project.
Walters' Pumpkin Patch, Burns, Kansas, U.S.A.
Assisting this existing fall agritainment attraction with master planning for expansion and improved traffic flow, throughput and sales.
StoneFire Pizza Co. #2, Kenosha, Wisconsin, U.S.A.
We have completed full architectural, interior, kitchen and site design for the 2nd StoneFire Pizza Co. facility to be located in Kenosha, Wisconsin that is currently under construction. We are now working on procurement of all furniture and equipment. This upscale family pizza buffet-entertainment center will be located in a 54,000 square foot building with five dining rooms with seating for 740 guests, dedicated birthday party rooms, seven major indoor attractions and outdoor attractions including miniature golf and a discovery play garden. Opening late 2008/early 2009.
Nibbles' Play Café – Wheeling, Illinois, U.S.A.
Construction is near completion on this at-home moms' play café.
Central Florida, U.S.A. – Retail, cinema, entertainment and restaurant complex
Developing a master plan for a 35-acre retail, restaurant, cinema and bowling center complex.
Eastern Europe – Retail store
Assisting retail design of a 9,300-square-meter (100,000-square-foot) store with experiential entertainment and destination entertainment design components.
Cherry-Crest Farms, Ronks, Pennsylvania, U.S.A.
Developing a master expansion plan for this existing agritainment facility.
Silverlake, the Family Place, Erlanger, Kentucky, U.S.A.
Completing master plan, cost estimates and financial projections for a 50,000-square- foot expansion to this successful fitness, health and swim facility.
Family Bowling & Entertainment Center, Washington State, U.S.A.
Assisting client with initial stages for market and site evaluation for a family bowling and entertainment center.
Vol. VIII, No. 1, January/February 2008
---
---