Vol. VIII, No. 1, January/February 2008
---
---
Flavors for kids
In our July-August 2007 eNewsletter issue, our featured article was Kids dining out is not child's play, which discussed factors that go into creating a successful dining out experience for both children and their parents. This month we will explore in more depth flavors that appeal to children.
It's not easy designing food flavors that will keep kids coming back for more. Not only do children's preferences differ as much as their personalities, but their tastes change as they mature into adolescence.
Children learn a lot about food flavors before their first taste of solid foods, according to Julie Mennella, Ph.D., Monell Chemical Senses Center in Philadelphia, Pennsylvania. Children's first flavor experiences are in amniotic fluid and breast milk. "We've shown that babies learn about these flavors, and they will be more accepting of a fruit or vegetable if the mom eats these foods while she's pregnant and lactating, she said. "Once the babies are weaned, regardless of the breast or formula fed, if the mother gives the baby a taste of the food or lets the baby eat the food for eight or nine days, they will be more accepting of the new food. If the mother gives the baby a variety of foods, they will be more accepting of a new food. We know that flavor preferences established early in life track into later childhood.
"Children, babies, infants prefer things that are sweeter, and that preference doesn't decrease until late teens. They prefer things that are saltier. And some children may reject bitter more when they are young, according to Mennella. Gene variations play a role in making some children more sensitive to bitterness. "But we really don't have to learn to like sweet tastes, children are born with that, according to Mennella. "There have been studies that show sweets actually make them feel better. It reduces pain. Mennella also said that in addition to sweet and salty, almost all children like fat and about a third are partial to sour.
Children's flavor preferences change as they age. Younger children like it simple. "Younger kids, probably age 4 to 6 or 7, like single flavors and flavor combinations, according to Marianne Swaney-Stueve, global manager of youth research for International Flavors and Fragrances Inc. (IFF) in New York. Jessica Jones-Dille, industry trend analyst with WILD Flavors, Inc. in Cincinnati, Ohio, said, "Products designed for young children are generally more mild and easier to understand from a concept point of view. Flavors are natural and simple for younger children.
Things change for tweens, ages 8 to 12, who have more daring tastes. "They are able to choose a little more what they want. They are trying to be independent and try new things, said Swaney-Stueve. This is the age when fantasy flavors are popular, which don't "necessarily even have to say what fruit it is, but it is fantasy in name, and has a generic kid profile, she explains. Examples of fantasy flavors are Arctic Blast and Riptide Rush.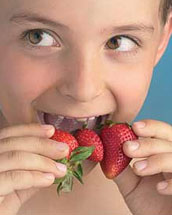 For tweens, the name is often more important than the flavor. Diana Rosenthal, marketing manager, natural products division of Mastertaste in Teterboro, New Jersey, said, "a survey found that kids are more likely to try a product because of its unique name, not the flavor.
At around age 12, fantasy flavors lose their appeal. Swaney-Stueve said, "Fantasy becomes too elementary and too kiddy for them, so now you can even go a little more adult with some of your flavors, like looking at some coffee flavors, though they may not taste like coffee. The intensity changes, too. As they get older, it doesn't have to be so hit-you-over-the-head strong, and the profile is actually changing, too. Finally, by the time kids reach their teens, their flavor preferences switch from kiddy, artificial, candy-type notes to more true-to-fruit.
Markus Eckert, technical vice president for Mastertaste, points out that teenagers tend to prefer products with flavors generally thought of as adult or grown-up. He said, "Chocolate and coffee are increasingly popular to a teenager wanting to appear older and more mature. . . In addition, teenagers tend to be attracted to extremes, such as extra caffeine, sour, hot, bitter, sweet, etc.
Children's flavor preferences are not consistent across around the globe. Swaney-Stueve noted, "Flavors in the U.S. tend to be a little more candy than a lot of the other regions. An example is that in America, strawberry flavor has cotton candy or bubble gum notes, whereas in other countries, strawberry tastes truer to a fruit flavor. Flavor intensity also varies around the world. Flavors in Europe are far less intense than in the U.S. Also, some European flavors are totally unfamiliar to American children, such as black currant. Others, such as pear, are very popular in Germany, but aren't found in many children's products in the U.S.
Cola, as popular as it is in soft drinks in the U.S., does not appeal when it is in other products, whereas in Europe, cola-flavored products do very well. In fact, in Europe, cola is among flavors that come out on top.
Traditional favors like chocolate, strawberry and vanilla continue to be very popular not only in the U.S., but also globally.
Kristen Heimerl, director of marketing of sweet goods for Givaudan in Cincinnati, Ohio, observes, "The longstanding belief that kids prefer familiar flavors is also being challenged as a result of the shifting environment. As a result of exposure and interaction with friends and/or families of different ethnicities, they are more curious than ever before about the foods and flavors their peers consume that are different from their own. This is driving a shift toward greater exploration and acceptance of 'new' foods and flavors.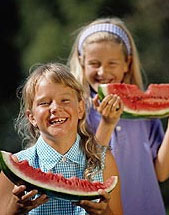 Kids flavor preferences are always evolving. Watermelon is one example of a flavor that has changed over time. According to Swaney-Stueve, the old nostalgia candyish watermelon "has evolved. Now kids like true-to-fruit watermelon. So the watermelon [flavors] we have now that kids are eating has green notes. It's not so candy fantasy. It actually really does taste like watermelon. That's probably the biggest of the mainstream flavors that we've seen a shift in over the last probably five years.
Jones-Dille noted there is a general movement that "flavors for kids are becoming more and more natural tasting - closer to the sweetness, acidity and flavor profile of the real fruit.
According to Swaney-Stueve, new combinations of old flavors are proving popular with younger children. "Raspberry-watermelon is one that's been getting a lot of appeal lately. We are seeing some appeal for peach-berry, which is surprising... I think we made the assumption that peach was too adult or too fuzzy, but it's turning out to be one that they are actually very positive towards right now.
When it comes to parents, health matters are front and center. However, with healthy foods for children, it's important to maintain taste. "Moms are going to know it's healthy, but the kids still want it to be for them and to taste good, cautioned Mary-Ellen Callahan, youth research analyst for IFF. "We've found in focus groups, moms say that if the kids didn't finish the box, they aren't going to go back and buy it again. They are going to buy foods that kids will actually eat.
Vol. VIII, No. 1, January/February 2008
---
---