Vol. VI, No. 6, December 2006
---
---
Legoland to launch new mini-venue
A new venture will redefine the Legoland park concept to bring it indoors. Branded as Legoland Discovery Centres, the first will open in April in Berlin, Germany, with a 4-D cinema, a castle ride, and other activities geared to a two- to three-hour visit. Expect other roll-outs in urban areas.
United Kingdom-based Merlin Entertainment, the new owners of the four Legoland parks, plans to open a new mini-Legoland concept by next April in Berlin, Germany. To be called Legoland Discovery Centre, the indoor venue will be 37,600 square feet (3,500 square meters) and include a Berlin Miniland, a castle ride, a factory tour experience, Lego toy play areas and a 4D cinema. Merlin reports the new concept is designed for urban areas and will have a length-of-stay of two to three hours and annual attendance for 250,000.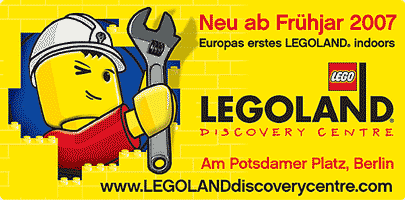 Mark Oakley, a spokesperson for Merlin, said: "We firmly believe Legoland Discovery Centre

represents a new, high value attraction with rollout potential in Europe, North America and elsewhere."
The first Legoland Discovery Centre will be in the new Sony Center at Potsdamer Platz. Potsdamer Platz was once the pulsating heart of Berlin in the Golden Twenties, was later destroyed almost entirely and then cut in two by the Berlin Wall. The center of the Sony Center will be a public space with a roof that has a futuristic air to it.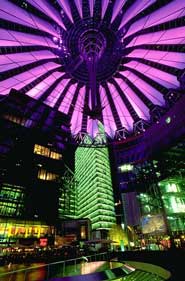 The roof of the Sony Centerat night.
Negotiations are also reportedly underway to locate a Legoland Discovery Centre at Blackpool coastal resort in the UK as part of a super-casino project planned there. Merlin has also announced a LegoLand Discovery Centre will be added as a second gate at the newly acquired Gardaland theme park in Italy.
Vol. VI, No. 6, December 2006
---
---