Vol. VI, No. 6, December 2006
---
---
Founder rats on the cheese
The founder of Chuck E. Cheese's bit the hand - or should we say rat - that fed him when he publicly criticized what's become of the original concept he created nearly 30 years ago. Which is interesting, when you consider how well the aging pizza-entertainment concept is still bringing in the dough.
Nolan Bushnell is the creator of Chuck E. Cheese's. He launched the concept in 1977 as Chuck E. Cheese's Pizza Time Theatre. Now, more than 20 years since he has had any involvement in the business, he has become critical that the concept hasn't aged so well.
"Chuck E. Cheese's should be an innovative entertainment place," said Bushnell. "It's still animals, attractions... I don't see a lot of innovation or change. I think it's gotten a little stagnant."
At a restaurant conference in Dallas, Texas, where he spoke, Bushnell indicated he did not want to come off sounding like a Chuck E. basher. However, he is less of a fan of the concept he created now that it's centered on arcade-style video and redemption games, as he fears that it lessens human-to-human interaction. Speaking about the brand in its current form, Bushnell said, "That's not what I envisioned. I envisioned people having fun together. That's not the Chuck E. Cheese experience."
We're surprised that Mr. Bushnell has turned on his own creation, one that has stood the test of time. There aren't many concepts that have lasted 30 years and are still cranking out good profits. In fact, CEC Entertainment, Inc. (the publicly traded company that owns Chuck E. Cheese's) is in the top 5% of businesses in the U.S. based upon pretax return on assets, according to William Baldwin, a principal with Dallas-based Baldwin Anthony Securities. And looking at both its profit margin and EBITDA (earnings before interest, taxes, depreciation and amortization) as a percentage of revenues, it is also a top performer. The chart below compares CEC Entertainment with a number of well-known companies.
| | Revenue | EBITDA | Percent | Profit Margin |
| --- | --- | --- | --- | --- |
| CEC Entertainment | 761.9 m | 180.69 m | 23.7% | 92.% |
| Panera Bread | 769.4 m | 131.65 m | 17.1% | 7.3% |
| General Electric | 40.7 b | 12.54 b | 30.8% | 10.8% |
| Cheesecake Factory | 1.2 b | 0.18 b | 14.6% | 7.2% |
| Landry's Restaurants | 1.4 b | 0.19 b | 13.4% | 2.6% |
| Walt Disney Co. | 33.2 b | 6.64 b | 20.0% | 8.9% |
On average, CEC has achieved an EBITDA of $475,000 per store, or an overall rate of 25% over the past five years. In 2006, same-store sales are expected to increase 2.5% - 3%.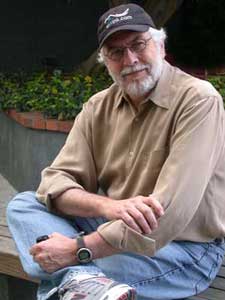 Noland Bushnell,
founder of both Chuck E. Cheese's and
the new uWink social interactive gaming cafe.
Perhaps Mr. Bushnell feels Chuck E. Cheese's should remake itself in the model of his new uWink - Food - Dining - Media restaurant that opened Oct. 16 in the Woodland Hills section of Los Angeles, California. The concept is based on social interactive gaming, described uWink's website:
"uWink provides delicious modern comfort food made with fresh ingredients ordered via touch-screen terminals at the table and served by runners, quickly and accurately.
"uWink's at-the-table-entertainment includes games, table-to-table tournaments, selected internet fun, edutainment, and movie trailers. The dynamic projected interior provides diners with scrumptious i-candy and a hip, ever-changing environment."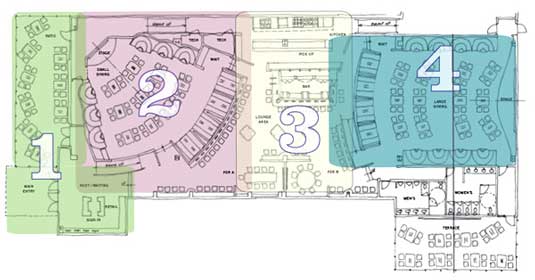 uWink floor plan
Zone 1 - The Patio
The patio is the place where guests can exercise their choice to enjoy the evening outside. Passersby will notice guests having fun at their tables and the large exterior monitor that reflects all the fun being had inside.
Zone 3 - Studio Bar
The central bar and lounge area features the most active drinking and entertainment experience. A few steps above the main dining areas, the bar provides a great place to see and be seen and home to the 6 player PARTY TABLE, the social interaction lubricant game.
Zone 2 - Studio A
Visible from the entry host, Studio A provides a more intimate dining experience. Comfortable booths at the edges and smaller dining tables with chairs provide a variety of seating and at-the-table entertainment options.
Zone 4 - Studio C
The largest of the dining experiences features a formal presidium stage and a variety of seating options. Ideal for the table-to-table and room play, this area also can become an instant quiz show venue or presentation stage.
Click here to see a video of uWink (Windows Media Player file, 90.5 MB)
To read a review of uWink in The Stinger Report, click here. (The Stinger Report is a great free ezine if you are interested in the games and technology side of entertainment venues. To subscribe, click here.)
uWink could be great for adults, but it's not a model necessarily appropriate or appealing to children, especially children under 6 who make up a large part of Chuck E. Cheese's customer base. Perhaps Mr. Bushnell has grown too old to remember that kids still love animals that they like to whack on moles (although that's probably not environmentally correct in today's age). Yes, children are techno-savvy, but that doesn't mean they shouldn't have opportunities for more physically interactive game play. Heck, they can get all the high-tech games they need in their homes. The whole idea is to motivate them and their parents to get out of the home and visit a facility like Chuck E. Cheese'. And concerning Mr. Bushnell's comment that people don't have fun together at Chuck E. Cheese's, that's not our observation. Sure, it isn't something that has high appeal to parents, but parents don't go to Chuck E. Cheese's for themselves, they go so their kids can have fun. And it is still a social experience for the whole family when they sit down and eat a meal there. Nor do we see Chuck E. Cheese's getting a little stagnant, as per Mr. Bushnell's comments. Over the years the stores have been constantly upgraded, including the games, the décor, security and food. Remodeled and new stores are bright with lots of natural daylight, unlike the dark, totally closed in stores when Mr. Bushnell was involved with the company.
CEC Entertainment, Inc., is undertaking a number of moves to further increase the profitability of Chuck E. Cheese's. They are reducing new store development to 8-12 new stores a year and focusing more on improvements to existing stores, which are proving highly profitable. During 2006, they will have remodeled 55 stores, expanded 15 and made game enhancements to 80-85 stores, all at a cost of over $50 million.
The purpose for the reduction in the number of new store openings is three-fold.
reduce cannibalization of sales at existing stores
concentrate on the most profitable, densely populated areas
free up money for highly profitable remodels and expansions of existing stores.
CEC plans to more than double spending on existing stores to $50 million, versus $24 million in previous years.
From 2001 to 2006, CEC has undertaken 133 remodels that have increased the size of gamerooms and decreased the size of the showrooms at an average cost of $400,000 each. Results have been very favorable, increasing sales 9% per store in the first year ($150,000) and a further 2% increase in year two over year one. The remodels have increased cash flow $100,000 for a 25% cash-on-cash return on the investment.
Likewise, expansions have been profitable. Between 2001 and 2006, 33 stores were expanded at an average cost of $665,000, increasing revenues by 14% ($230,000) in year one and resulting in a $150,000 increase to cash flow.
New stores planned for 2007 will be 12,000-15,000 square feet in size and average $1.9 million in sales. In terms of marketing, CEC is planning to increase coupon newspaper inserts, e-mails to its 1.3 million best customers and cross-promotions. CEC considers its major competition to be G- and PG-rated kids' movies.
Mr. Bushnell's uWink, sans animals, can only hope that it becomes as profitable as Chuck E. Cheese's.
Vol. VI, No. 6, December 2006
---
---