Vol. V, No. 3, April 2005
---
---
Golden anniversary for largest operator of LBEs
Fifty years ago this month, the world's largest operator of location-based entertainment started business in Des Plains, Illinois. Today, the company operates over 5,800 children's entertainment facilities worldwide and is the originator of the ultimate kids' nag factor. Haven't guessed who it is, yet? Here's another hint. The original 1955 menu was:
| | |
| --- | --- |
| Hamburgers | 15¢ |
| Cheeseburgers | 19¢ |
| French fries | 19¢ |
| Soft drinks | 10¢ & 15¢ |
| Milk shakes | 20¢ |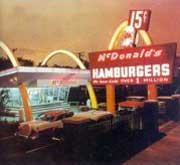 That's right, it's McDonald's of Golden Arches fame. The corporation currently operates 5,800 PlayPlaces throughout the world and is the inventor of the Happy Meal. McDonald's operates almost 12 times as many children's play venues as the second largest operator of children' entertainment venues, Chuck E. Cheese's.
McDonald's first Play Land (the original name for the play areas) opened in 1971 in Chula Vista, California, long before the invention of soft-contained-play equipment. It wasn't until the early '80s that McDonald's incorporated soft-contained-play units in its PlayPlaces (Burger King was actually the pioneer with soft-contained-play in fast food restaurants). Happy Meals debuted in St. Louis in 1977 with a circus-wagon motif on the box and went national in 1979 at the cost of $1. Goodies inside with the meal included a McDoodler stencil, puzzle book, McWrist wallet, ID bracelet and McDonaldland character erasers. Life for parents hasn't been the same since!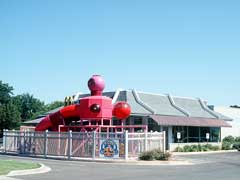 What has become a worldwide institution and a major franchisor in the fast meal and not-so-healthy menu (currently undergoing changes with salads, Apple Dippers, etc.) actually started as sort of a franchise, itself. Ray Kroc first heard about a restaurant in San Bernardino, California, that used eight new Multimixers to make milk shakes. As a former paper-cup salesman who called on Dairy Queen, Tastee Freez and other pioneering fast food chains, and later an exclusive sales agent for Multimixers, Ray knew that eight Multimixers meant a large sales volume. Quoted as saying, "Boy, this I gotta see," Ray traveled from his home in Oak Brook, Illinois, to meet Dick and Mac McDonald to check out their restaurant in 1954. He saw McDonald's and stayed for several days from morning to night with, as he said, "Stardust in my eyes. This will go anywhere in the world."
Ray couldn't talk the McDonald brothers into a partnership to expand, so he struck a deal to be their sole licensing agent and to pay them a royalty of 0.5% of sales. Ray founded McDonald's Corp. in 1955 when he opened his first restaurant in Des Plains, Illinois. He bought out the McDonald brothers for $2.7 million six years later. Today, McDonald's logs over $50 billion in sales worldwide.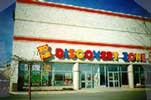 Not only has McDonald's changed the face of the fast-food restaurant industry, it has had a major impact on the location-based entertainment (LBE) industry -- at least those LBEs that try to make a profit by charging admission. It was back in 1989 that the first Discovery Zones opened in Kansas City, Missouri, based on the pay-for-play formula of charging for kids to play in large soft-contained-play (SCP) units. McDonald's, as an astute studier of children, took note and in 1991 starting opening its own 10,000- to 12,000-square-foot SCP pay-for-play centers called Leaps 'N' Bounds. The centers didn't pan out for McDonald's to generate the profitability that had been anticipated. To refocus on the core restaurant business, McDonald's sold the 49-unit Leaps 'N' Bounds chain in 1994 to Blockbuster, then the majority owner of Discovery Zone, for $100 million worth of stock in Discovery Zone.
However, McDonald's had learned a lot from its experience with Leaps 'N' Bounds. So the company started introducing SCP units in the restaurants in separate indoor areas named PlayPlaces. However, instead of charging admission, the SCP was free for the purpose of increasing restaurant visits and spending by families with young children. It worked. We have heard reports that PlayPlaces increase a restaurant's sales anywhere from 15% to 30%.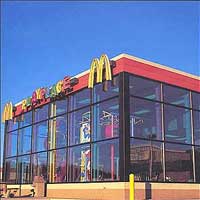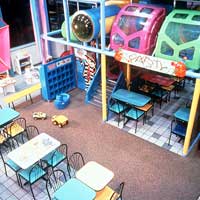 Typical McDonald's contemporary interior PlayPlaces.
This sure didn't help Discovery Zone, also then known as DZ, which was already struggling from multiple issues, such as lack of repeat appeal and being nicknamed disease zone and dirt zone by moms. It's hard to charge for SCP, even if the unit is bigger, when right down the street there's a free one at McDonald's, with Happy Meals attracting kids with toy bribes.
Discovery Zones' multiple woes resulted in Chapter XI bankruptcy filing in March, 1996. A hotshot Wall Street financier brought the company out of bankruptcy in July, 1997, and attempted to turn it around with some remodeling, including the introduction of laser tag. This only confused the units' image in terms of age focus. A second petition for bankruptcy was filled in April, 1999, and the company was liquidated, with almost all 130 stores closing, except for a few franchises. Chuck E. Cheese's bought DZ's assets, assumed leases on seven locations and purchased an additional 13 stores DZ owned for a little over $16 million, and then converted them to Chuck E. Cheese's. At that point, the pay-for-play SCP concept became industry roadkill.
McDonald's stock in Discovery Zone became worthless. But in the years since the company sold the Leaps 'N' Bounds chain, it has had many millions of kids chow down on Happy Meals and romp in PlayPlaces, perhaps making up for the loss.
Even with 30,000 locations in 119 countries, McDonald's continues to expand, adding PlayPlaces to many restaurants and continuing to dish out Happy Meals to eager children.
Vol. V, No. 3, April 2005
---
---