Vol. IV, No. 4, April 2004
---
---
Foundations Entertainment University - It's Not Too Late!
It's not too late to register for the April 20-22 Foundations Entertainment University. If you are thinking about or planning to develop a location-based entertainment or family entertainment center, this is a must-attend event. Foundations will be an eye-opener to the many mistakes that developers make. As we say, "People don't plan to fail, they fail to plan." Foundations will give you the information you need to successfully plan your facility. This Foundations will also include a visit and behind-the-scenes tour of the industry's latest cutting edge family and children's edutainment facility, Paradise Park. There will also be an optional tour of Advance Laser Tag, one of the industry's newest and state-of-the-art laser tag facilities.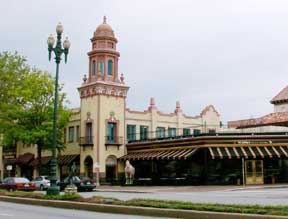 Foundations Entertainment University will be held on the Country Club Plaza, Kansas City's premier entertainment, dining and shopping district.
Attending Foundations will be the best investment you will ever make in developing your project. If you have any doubt, just take a look at what previous attendees have said by clicking here.
The April Foundations is being held on Kansas City's historic and premier dining, retail and entertainment district, the Country Club Plaza. Plan to stay an extra day, see the Plaza and enjoy the wonderful spring weather in America's heartland. Learn more or register at:
Vol. IV, No. 4, April 2004
---
---