Vol. III, No. 7, August 2003
---
---
Children's Edutainment Centers
How we developed the concept
You might remember that back in the early 90's, there were only three basic children's entertainment center concept:

Discovery Zone and Leaps & Bounds, based upon soft-contained-play and games
Chuck E. Cheese's with animatronics and games
Jungle Jim's Playground (now Jeeper's ), based upon rides and games
A client approached us in 1993 to develop a new concept, as he felt there must be a better answer for parents and children. So we developed a research program of focus groups, for children from 5 to 12 and for mothers located in both a major Eastern seaboard city and our hometown of Kansas City, which at the time had more out-of-home options for children than any other city, including two children's museums, a number of Discovery Zones and Leaps & Bounds, Chuck E. Cheese's , a Jungle Jim's Playground , a children's discover farm, Kaleidoscope (a children's art experience operated by Hallmark Cards), plus others. We also conducted a telephone survey of families in Kansas City to determine where they went for entertainment and how often.
Talk about an eye-opener! What we heard and discovered was not in sync with where the industry was. From both parents and children we continually heard that they preferred museums, discovery farms and play-based activities. Our telephone surveys showed the majority of family out-of-home visits were not to entertainment and amusement facilities, but rather to the other soft leisure locations. The children's focus groups were held sequentially by age. It was enlightening to see the developmental differences of children's behaviors and preferences in the focus groups. We quickly realized you cannot group children up to age 12 in the same age category and expect things to work for all the children.
We developed a preliminary plan for a new play-based concept based upon our findings for children up to age 9. Unfortunately, our client was not able to secure a site and financing, so that project was never developed.
About one year later we started design work on a 35,000-square-foot family entertainment center in Cancun, Mexico, named Wol-Ha and included a children's pay-for-play area based upon our findings and continued research. It included such things as water tables, a pretend supermarket, a pretend house and an infant/toddler area. The children's area was a big hit.
Next came Dinotropolis in Caracas, Venezuela. It was a 50,000-square-foot children's entertainment center. Although it included rides and games, we also developed a play-based area for younger children. In surveys, the play area was the most popular. We knew we were onto something.
About the same time we conducted feasibility studies and developed plans for Davis' Farmland in Massachusetts that included both animals and outdoor play areas for children up to about age 8. When it opened, we again saw the power of children's hands-on play to generate attendance.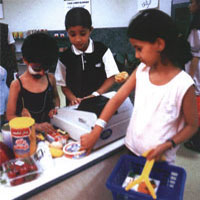 We then designed Bamboola in San Jose, CA, and adopted the term children's edutainment center to describe it. We did extensive research on all the nuances of properly designing children's environments for that project. Bamboola continues to be a big hit with California families.
Following Bamboola , we hired Vicki Stoecklin as our Education & Child Development Director to broaden our expertise with design and programming for children and families. Randy White, our CEO, has become self-taught in the field of child development and children's play by reading all the literature, continually following the latest research findings and attending special symposium and conferences throughout the world. We continue to perfect the design and programming of children's edutainment centers based upon our continuing research, including observations of our opened centers. We have added water playgrounds, new features for the outdoor adventure play gardens, new indoor events and enrichment and workshops areas. We have also developed school field trip curriculum for child care, kindergarten and grade school students. More recent versions of our centers include LouLou Al Dugong's in Dubai, U.A.E., Totter's Otterville in Cincinnati, OH, and in several months, our latest children's edutainment center at Paradise Park in Lee's Summit, MO. We have new centers on the drawing board with even more improvements, new events and programs.
Vol. III, No. 7, August 2003
---
---