Vol. II, No. 8, November 2002
---
---
McDONALD'S GOES EATERTAINMENT
McDonald's has opened a new prototype restaurant in Columbus, Ohio that greatly expands their eatertainment PlaySpaces concept. They are calling it a "Town Center" restaurant. The facility is 11,500 square feet and has 210 seats. It is designed to resemble a town center with an outdoor park and a raised stage and includes a miniature play drive-thru for kids, giant soft foam play equipment shaped like Happy Meal items, a tweens area that includes a karaoke booth for recording CDs and game tables, and an Adults Area with living-room style furniture and high-back booths.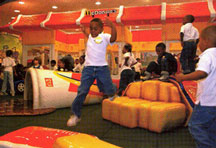 The restaurant also includes a McTreat Center near the front entrance with a walk-up order window. A variety of McDonald's ice cream treats and desserts, cookies, brownies and pastries, as well as hot and cold drinks are featured. The McTreat Center will feature another McDonald's first - Lazzara specialty coffee, imported from Italy.
McDonald's touts many of the components as being edutainment that stimulate imagination and learning. One commentator has described the new concept as just another attempt by McDonald's to colonize the minds and emotions of children and families.
In next month's Leisure eNewsletter we will be discussing edutainment and how the term is being misused as a marketing ploy by many facilities, including McDonald's.
Vol. II, No. 8, November 2002
---
---