Vol. II, No. 6, September 2002
---
---
NEW PROJECTS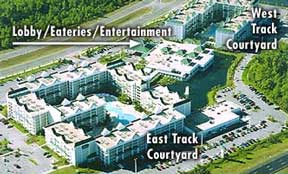 Holiday Inn Family Suites Resort, Orlando, Florida This cutting edge, family resort at Lake Buena Vista, just one mile from Walt Disney World in Orlando, has retained White Hutchinson to conduct a family and child friendly audit and to assist them with expansion and renovation plans. The resort opened in January 2000 and is the world's first and still only all suites Holiday Inn Resort. It features 800 two and three bedroom themed family suites. There are five different types of suites designed to meet the needs of different markets:
2-Bedroom Kidsuites with fun, colorful theming and separate space and entertainment areas for parents and kids.
CinemaSuites which feature a separate home theater room complete with a 60" television and surround-sound system.
Classic Two-Bedroom Suites for families with older children.
SweetHeart Suites designed with romance in mind.
Residential Suites designed for extended stays with full-service kitchens.
Learn more about our family friendly audits at:
www.whitehutchinson.com/leisure/familyaudits.shtml
During the past thirteen years, the White Hutchinson Leisure & Learning Group has assisted over 230 clients with all aspects of planning and developing family and children's leisure and learning venues. Don't hesitate to give us a call or drop us an e-mail if you would like to discuss how we can assist you with your project.
Vol. II, No. 6, September 2002
---
---