Vol. XXIII, No. 7, July 2023
---
---
Has location-based entertainment spending recovered?
Has location-based entertainment spending recovered now that we've entered the post-pandemic era? The U.S. Federal Government does an excellent job of tracking consumer spending. The U.S. Department of Commerce's Bureau of Economic Analysis (BEA) collects data from businesses on their revenues every quarter. The BEA has released data for the first quarter of 2023.
One category of consumer spending the BEA tracks is location-based entertainment, campgrounds, and related recreational services. The category includes location-based entertainment (LBE), such as amusement parks and family entertainment centers (FECs), but excludes spending at motion picture theaters, live entertainment venues, and spectator sports.
The BEA data shows that spending is recovering from its low pandemic level in the second quarter of 2020 for LBEs, campgrounds, and related recreation venues but still has a way to go to match prepandemic spending in the last quarter of 2019. First-quarter 2023 average household spending was still over one-third lower (-38%) than in the pre-pandemic 4th quarter of 2019.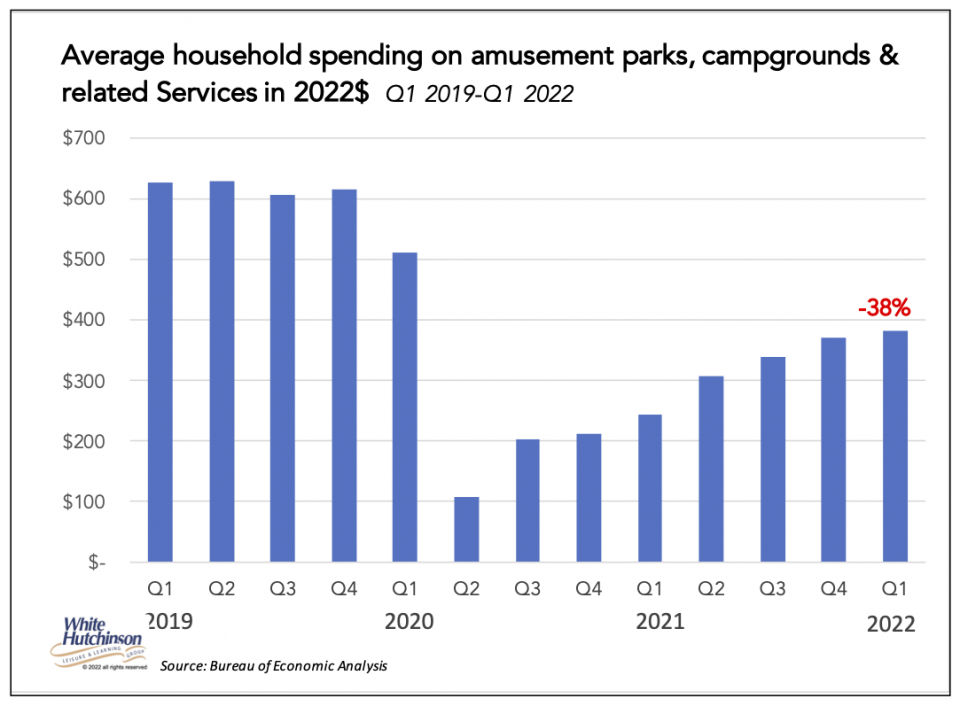 Contrary to the above, many of our location-based entertainment clients report record revenues exceeding pre-pandemic levels. This indicates that there must be a significant number of venues that went out of business or still have very depressed revenues.
One reason overall spending at LBEs, campgrounds, and related recreation venues may be down is that although nearly two-thirds of American adults (64%) say that the Covid-19 pandemic is over, the majority of adults report their life is not back to normal as it was before the pandemic (May 30-June 6 poll). And 18% report they are still "very/somewhat worried" about catching Covid-19. 36% report "not too worried."
Subscribe to monthly Leisure eNewsletter
Vol. XXIII, No. 7, July 2023
---
---