Vol. XIX, No. 8, September 2019
---
---
The scoop on live events and festivals
Live events and festivals of all types are the growing out-of-home competition for traditional location-based entertainment venues.
When it comes to younger adults, Eventbrite's surveys found that 80% of millennials have attended three or more food, wine or beer events each year and 90% have attended at least one live event, an increase from 82% three years previous.
They found that festival-goers fall into three distinct groups:
The survey found that millennials are attending events of all types for multiple reasons. Nearly three-quarters say they attend events to express who they are and share their experience with the world. Nearly half (48%) say they attend events so they have something to share on social channels. This is even higher for millennial parents - 61% admit to attending events to gain social media material to share.
When Eventbrite looked at beer festivals and events, they found that the number one reason that millennials attend is for exposure to new beers and breweries (cited by 96%). Number two was doing something fun with friends. Number three was meeting the brewers or people behind the brewery.
In terms of the beer festival format: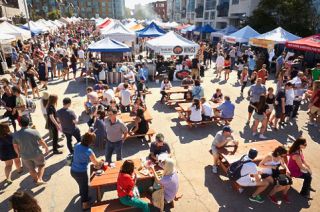 Food is the second most important factor adults consider when deciding to attend any type event, outranking both the quality of the performers or speakers or who else is attending. In fact, 62% say they would go to an event just for the food.
"Millennials, more than any other generation, actively seek unique, live experiences in which they can explore their passion for food, wine and beer - all while surrounded by friends," said Christine Bohle, head of consumer partnerships for Eventbrite.
Attendance at outdoor performing arts festivals is on the increase from 20.8% of adults in 2012 to almost one-quarter in 2017 (24.2%) based on research by the National Endowment for the Arts. Attendance rates are very similar for adults between age 18 and 64.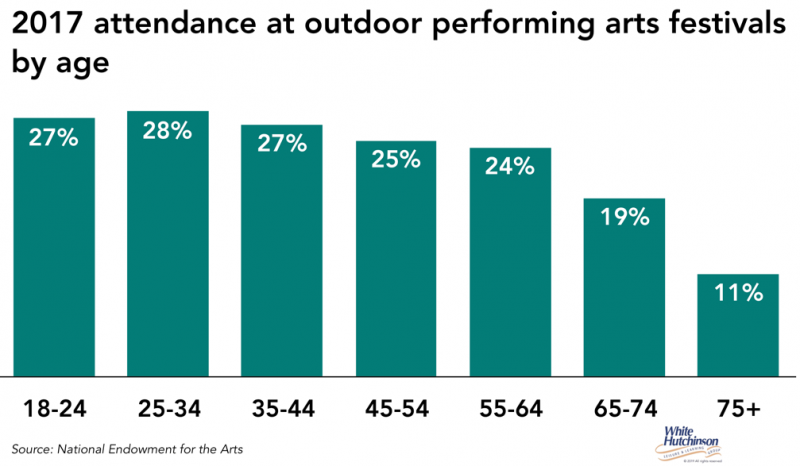 There is a direct correlation between levels of education and attendance rates.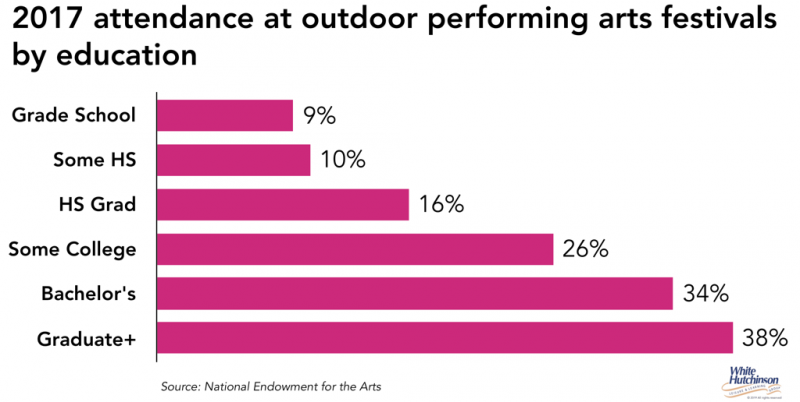 Nielson research shows that 52% of the U.S. population attends some sort of live music event each year. Of those that attend live events: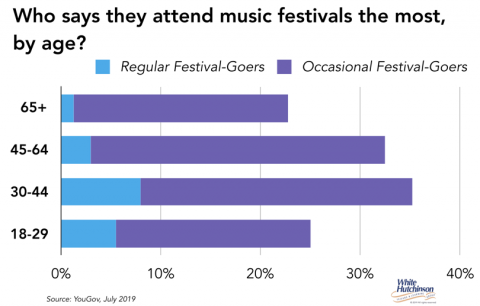 A 2019 YouGov survey found that music festivals aren't just for young people. They found that more adults between the ages of 30 to 44 were regular or occasional music festival goers than any other age bracket. People 45-64 aren't far behind, and young people lagged both groups.
And what it the number one thing the 30- to 44-year-old festival goer wants from the vendors? You probably guessed it, food. This group, more than average Americans, agree with the statement: "I like to experience new foods and cuisines (49% vs. 39% average Americans). This group is also more likely to agree with the statement: "I don't eat junk food, and I don't let my family" (47% vs. 28%). 39% also say they like to try new drinks.
30- to 44-year-old's attitudes about quality food and drink are in line with their feelings about leisure. They are looking for quality leisure experiences. 54% say their free time is precious to them and that time is more important than money (35%), meaning they will pay a fair premium price for a high quality experience.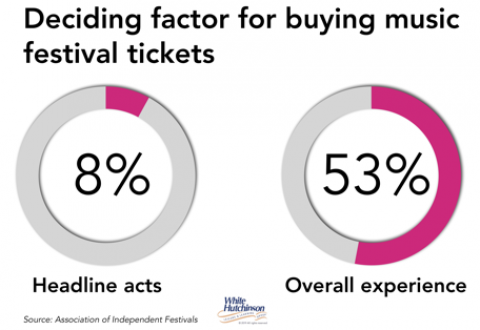 An audience survey by the Association of Independent Festivals in the U.K. found that headline acts are a deciding factor of buying tickets for only 8% of music festival-goers. 53% said the overall festival experience is the reason they bought their tickets.
If you have any doubt about the appeal and growth of live events and festivals, we tracked festival-type events in the Kansas City metropolitan area this year between Memorial Day and Labor Day. We found 111 of them and are sure we missed some. That didn't include live music events that were not at a festival. That's an average of more than one a day and a whole lot of competition for all types of OOH entertainment. We've found comparable festival frequency in both smaller and larger cities. Here's the list of the 111 in Kansas City.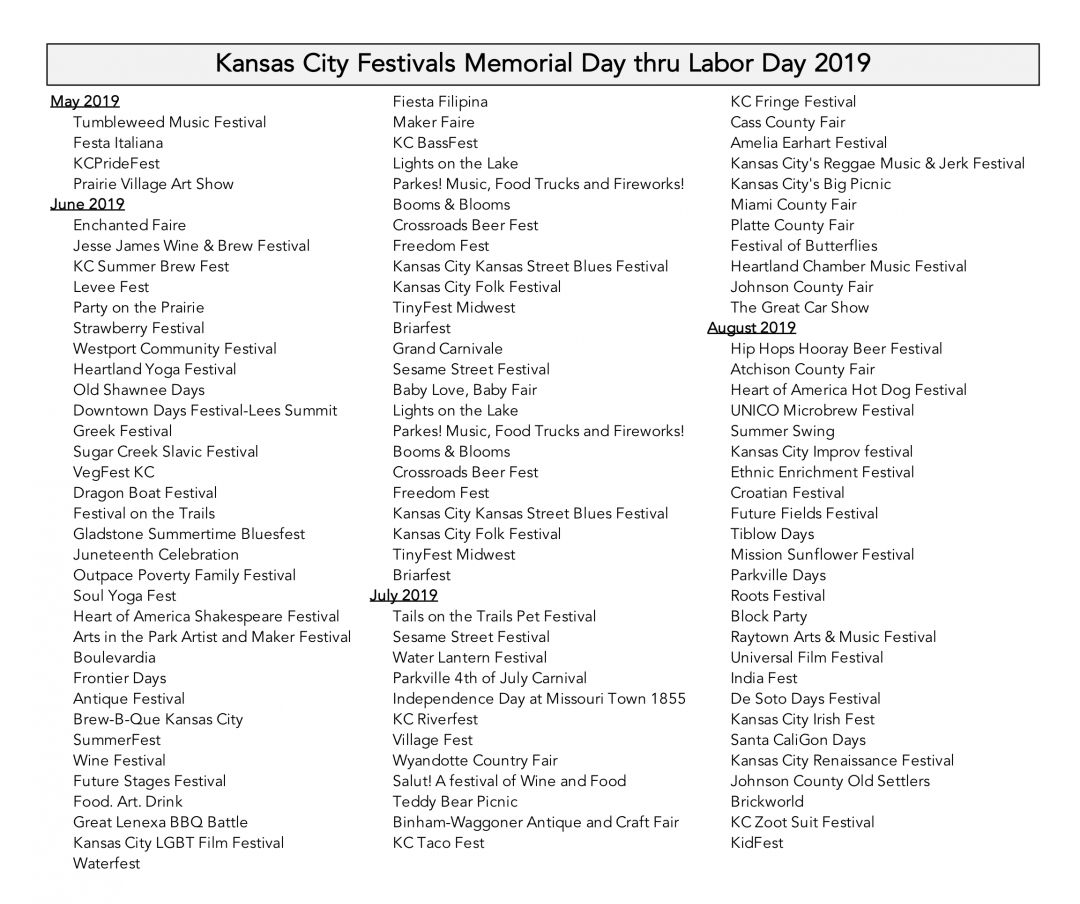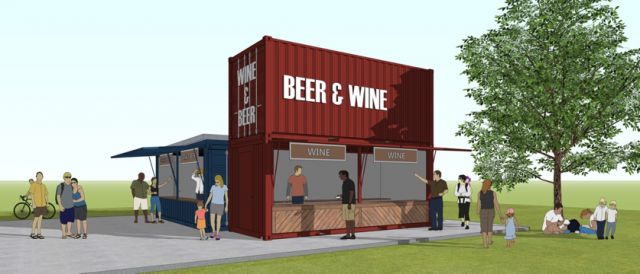 Our company has shifted the design and production of projects for our clients to making sure they can accommodate live, one- and limited-time events. We are currently finishing up designs for one client of permanent festival grounds that will utilize shipping containers for all the food and drink facilities and for the entry and exit areas.
Vol. XIX, No. 8, September 2019
---
---