Vol. XV, No. 6, July 2015
---
---
The new era of food, wine & beer festivals
We are in the midst of a new era for food and beverage and we have Millennials to thank for it. They are drinking more alcohol than previous generations and are highly engaged with food and culinary culture. 50% of Millennials now refer to themselves as "foodies."
Millennials are increasingly spending their time and money on event-based experiences. In fact, more than three in four Millennials (78%) would choose to spend money on a desirable experience or event over buying a desirable item, and 55% of Millennials say they're spending more on events than ever before - a trend that shows no sign of slowing.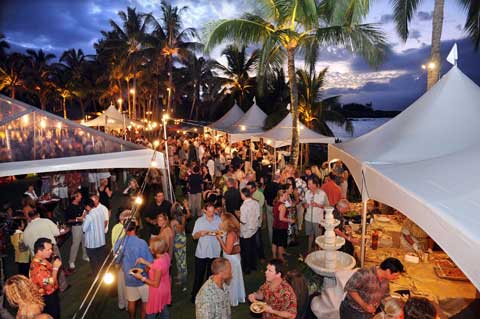 Within the food and beverage industry, this translates into food, wine, and beer events. Millennials, more than any other generation, actively seek unique, new ways to come together to learn, taste, try, and embrace the latest developments in craft beers, wines, spirits, and local, artisanal foods.
Recognizing the incredible growth of and high demand for food and beverage events, Eventbrite, an online event ticketing service company, conducted a global survey of more than 5,000 attendees of at least one festival with a focus on food, beer or wine during 2014 to better understand who the modern festival-goers are and how the Millennial audience in particular might differ from older generations. The survey results revealed new and interesting insights about Millennials (defined as young adults between the ages of 18 and 33) that should be of interest to anyone in the location-based entertainment or restaurant industries, as these festivals are growing in number as a new form of out-of-home leisure competition.
The following are edited excerpts form Eventbrite's research report.
Food and drink is the key to Millennial social life
Nothing brings Millennials together better than the chance to bond over a glass of beer or wine, or share delicious food, as evidenced by the 80% of Millennials surveyed who said they attended three or more food, wine, or beer events in the past 12 months, and the nearly half (44%) attended five or more. These events varied from tastings and seasonal parties to special events and pop-ups, to a range of different food, wine and beer festivals of all shapes and sizes.
Millennials' high attendance at these events indicates their yearning for live experiences. Instead of sitting down to a one-course meal at a restaurant with expensive drinks, they are acting as food and craft beverage connoisseurs, seeking tasting experiences with a variety of items served. And events give the "foodie" audience the perfect opportunity to see behind the scenes of the products they eat and drink: eight in ten Millennials say they want to know more about how their food is produced than brands typically disclose.
Food and beverage events give Millennials the perfect opportunity to combine their love of live experiences with their passion for unique, quality food and drink.
Millennials love festivals and they want more of them
97% of Millennials who attended a food, wine or beer festival in 2014 plan to attend the same number - or more - of food and beverage festivals in 2015. 40% want to attend even more than they did in the past.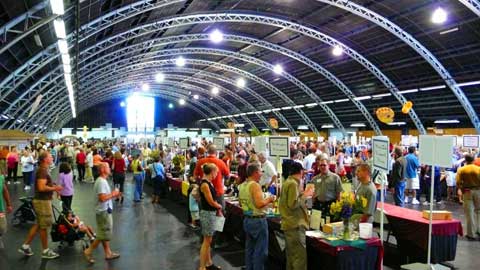 Young festivalgoers aren't just attending these events for lack of something else to do - they're genuinely enthusiastic about them. A huge majority of respondents (89%) say that attending these food, wine, and beer festivals is something they look forward to and get excited about, and an impressive two-thirds (67%) report that attending these types of events is one of their favorite things to do. So, why all the excitement?
Millennials prioritize food and beverage festivals because they offer a chance to connect with friends. 59% of the survey respondents say that food, wine, and beer festivals give them another way to experience life that they're looking for, and this experience almost always involves their peers. What's more, nearly half (45%) of Millennials say that going to a festival is about being part of the social scene, and nearly two-thirds (61%) feel they've missed out if they see photos of friends at a festival nearby that they didn't attend.
The bonding experience doesn't end with the festival, either: about two-thirds (64%) of respondents say they love to talk about the event with family and friends afterward.
Social media is how Millennials make plans
We're living in an age when people rely heavily on social media to stay informed about the latest updates, from gossip to the big event everyone's going to next weekend. Unsurprisingly, the study reinforced this trend, as Millennials in aggregate reported social media as the number one way they find out about food and beverage festivals of all kinds. Many also say that they rely heavily on word-of-mouth buzz (the second most popular answer in aggregate), which takes place both online, on social media, and through direct interaction with others.
The study found that food festivals in particular are seen as Instagram-worthy, with 85% of respondents likely to post pictures online of their favorite moments, and 84% likely to post pictures of the food itself.
After attending a food or beverage festival, 99% of Millennials say they recommend the winery, brewery, restaurant or food purveyor afterward.
Beer festivals trump wine and food festivals among Millennials
Beer festivals in particular are in incredibly high demand among this more experiential generation, especially as the craft beer trend continues to rise. Almost half of Millennials (47%) rank beer festivals first among their preferred event choices - that is four percent more than Gen Xers and 16% more than Boomers.
Millennials are approaching beer through an authentic lens. These young adults are drawn to craft beers because of the perceived authenticity of the product. Millennials in general are more likely to appreciate locally sourced products and ingredients and are less trusting of big corporations than any other generation. Small microbreweries often align with these values, and Millennials feel a greater connection to a brand that comes from their own city.
Among those who aren't beer lovers, an equal number of Millennials versus Gen Xers or Boomers prefer food festivals (21%). However, Millennials are less keen than the older generations when it comes to wine festivals (11% of Millennials vs. 17% of Gen Xers and 22% of Boomers).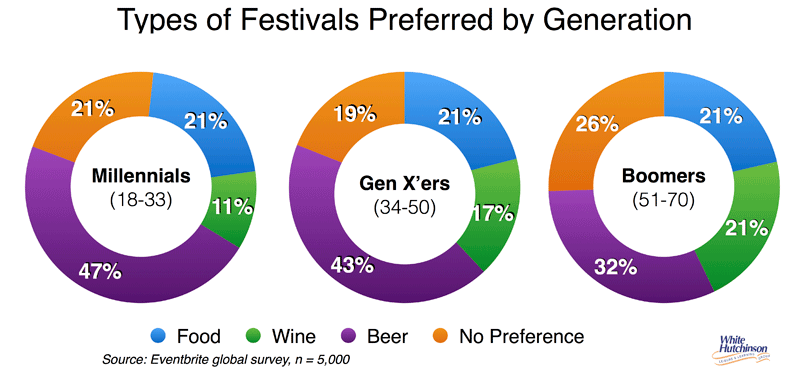 One-fifth of Millennial festival attendees said they have no preference for the types of food and beverage festivals they attend but are just looking for any food-or drink-related reason to get out of the house.
Millennials are willing to pay more for a great experience
Ticket price tops the list of Millennials' considerations when choosing to attend festivals, but that doesn't mean they're not willing to pay for a great experience. Contrary to the belief among many organizers that people only attend some festivals because they're free, around half of Millennials reported that they were willing to spend $36-50 per ticket to a food and beverage festival. In fact, only 3% of respondents reported choosing to attend an event because it was free.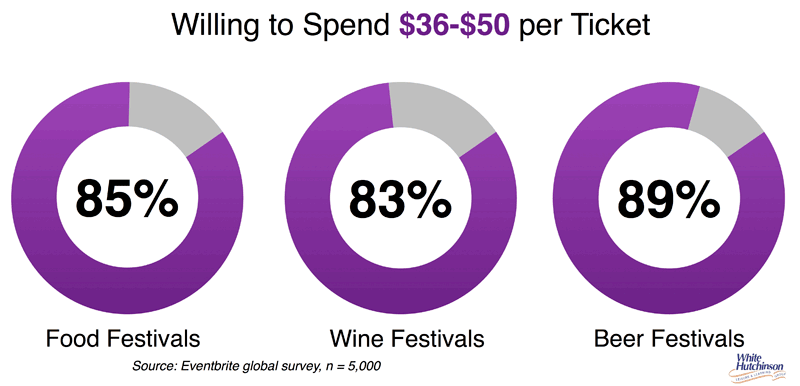 On the other hand, 40% of Millennials agree that they are willing to pay more for an exclusive experience at a festival, such as a VIP tent or a special pouring. It's important to get the pricing right to attract both a broad audience and those seeking a more niche experience.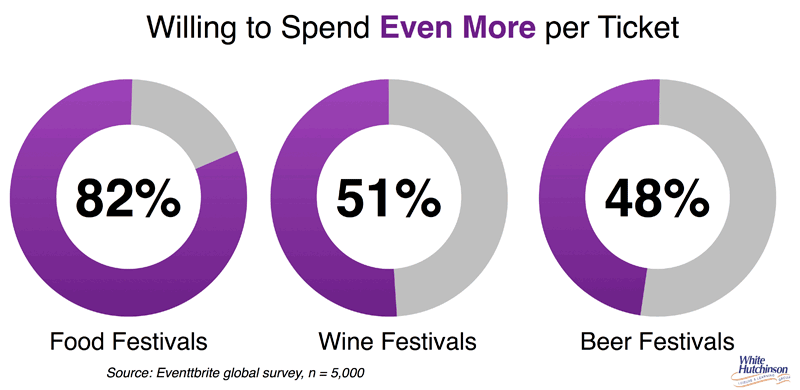 It's not all about festivals
Millennials are an event-hungry group, attending a range of live experiences from fundraisers and 5k races to networking events and dinners. Respondents have participated in a wide variety of food and beverage industry events beyond festivals; tastings were popular with nearly two-thirds of attendees, and half of respondents reported that they like to attend seasonal parties such as St. Patrick's Day or Fall Harvest celebrations.
Why such a variety? Millennials like and want a range of experiences, and they're more than willing to use their discretionary income to fill their evenings and weekends with a host of cool things to do that involve food, wine, and beer. Sampling trends among Millennials indicate that they are more willing than any other generation to try new things. According to research conducted by FutureCast, a marketing consultancy that specializes in millennial trends, 69% of Millennials consider themselves adventurous. For a Millennial, adventure can mean anything from trying a new food to meeting new people at an event - anything goes.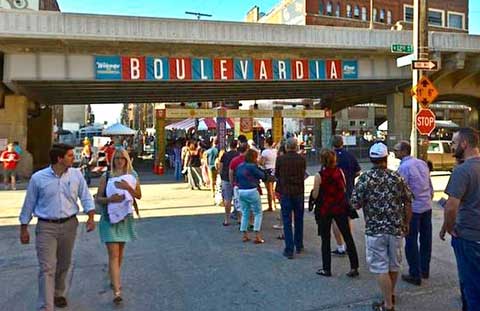 Proliferation of festivals
Just to check out how prolific these food- and drink-oriented festivals and events are, our company took a look at what was happening on our hometown of Kansas City the weekend of June 20-21. The Boulevardia food, beer and music festival is anticipated to draw 50,000 people over the three-day weekend. Meanwhile, just a half-hour's drive from Kansas City the Excelsior Springs Wine Festival is being held the same weekend.
We checked around the country to see just how many of these food, beer and wine festivals are being held that same weekend in June. We found listings for 107 and we're sure that is a low count. And when we searched for the entire month of June throughout the entire U.S. We found 512 and are sure there are a lot more than that.
The broader attendance demographic
This April our company conducted a nationwide survey of over 2,000 adults on their participation in different types of live events. The festival category was not limited to only food and drink festivals. Nevertheless, it offers some insight on a broader demographic of attendance at food, wine and beer festivals by other than just Millennials. In fact, during those four months, 35- to 44-year-olds had a higher participation rate at festivals than Millennials.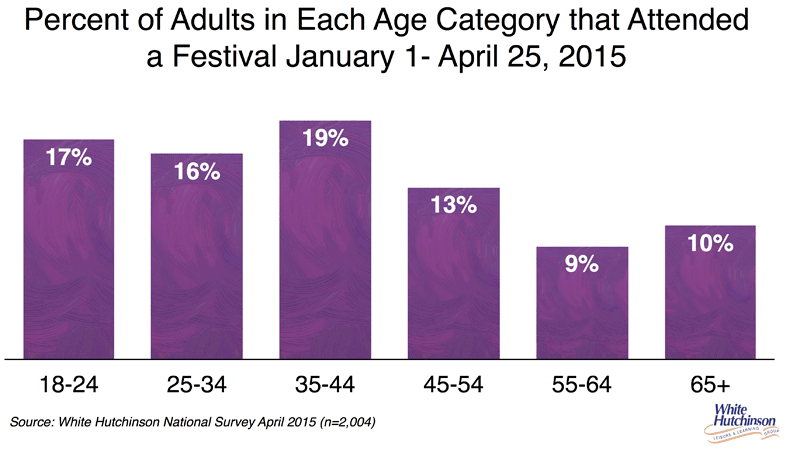 It is important to remember that Millennials are not the only attendees. Interest in food, beer and wine is age agnostic. In fact, wine interest skews to an older age group and a greater share of older adults are the ones who have the higher incomes to afford attending these festivals. There is a new category of consumers we call New School Consumers that embrace many or all of the same values that are so often only attributed to the Millennial age cohort and will also be food and drink festivalgoers.
These New School Consumers skew high socioeconomic. There's the breakdown from our live event survey on participation by income group.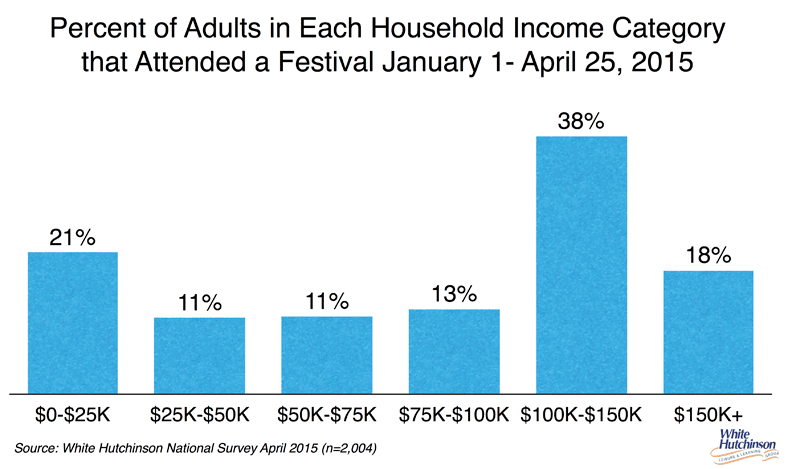 The challenge for LBEs
Live events focused on food, beer and wine are a big draw for Millennials as well as other age groups and they generate large amounts of FoMO social media marketing. They, along with on-demand at-home and mobile digital entertainment options, are part of the rapidly expanding, endless entertainment landscape that has become fierce competition for consumers' leisure time and disposable dollars that location-based entertainment centers of all types now need to position themselves to compete with.
You can access the full Eventbrite report Millennials and the New Era of Food, Wine & Beer Festivals by clicking here.
Additional reading:
Vol. XV, No. 6, July 2015
---
---